KANAZAWA--Ten years after the Great East Japan Earthquake and tsunami, Satoshi Murakami continues to carry his "house" on his back across the country and the skepticism that sparked his journey remains.
The 32-year-old artist says that "living migration," as he calls his practice of carrying a miniature home made of foam boards, is an attempt at a fundamental rethink of what life is about.
He said his experience in parting with a fixed residence has been well worth the effort.
The inspiration for Murakami's artistic version of a vagabond life dates to the disaster of March 11, 2011, which befell eastern Japan immediately before he graduated from the Department of Architecture at the Musashino Art University in Tokyo.
He learned about the reality of disaster-hit areas, where towering waves swept away houses and people could no longer return to their homes because of radioactive fallout from the accident at the Fukushima No. 1 nuclear power plant.
"Our society has turned out more vulnerable than you might think," Murakami said he thought. "Why don't I try living without being tied to a particular place of residence?"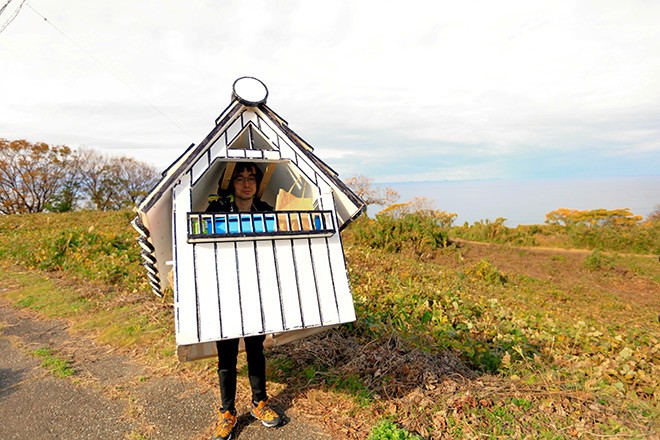 The handmade home that Murakami carries around while he is on the road measures 1 meter across, 1.7 meters from front to back and 1.2 meters tall. It weighs about 10 kilograms and is complete with roofing tiles, a door with a lock, windows and a nameplate.
Murakami says it feels warmer inside it than one might think.
Since people are not allowed to sleep in parks and on streets without permission, Murakami asks for permission to unload his portable house on the premises of Shinto shrines, Buddhist temples and private estates.
"I am just a passer-by. I am looking for a site to be on tonight," he explains.
Most typically, he gets replies of the sort, "The person in charge is not available, so I can't make a decision on it," and "I just don't understand what you are doing."
Being given the cold shoulder never discourages Murakami from turning to someone else.
Those who come across him are taken aback by the sight of a man carrying a portable house and look at him strangely. He said he has probably been questioned by police officers on several hundred occasions.
"Streets and towns take on a different look when I am living like this," Murakami said. "Some treat me like a suspicious figure, and others make fun of me. That does give me lessons."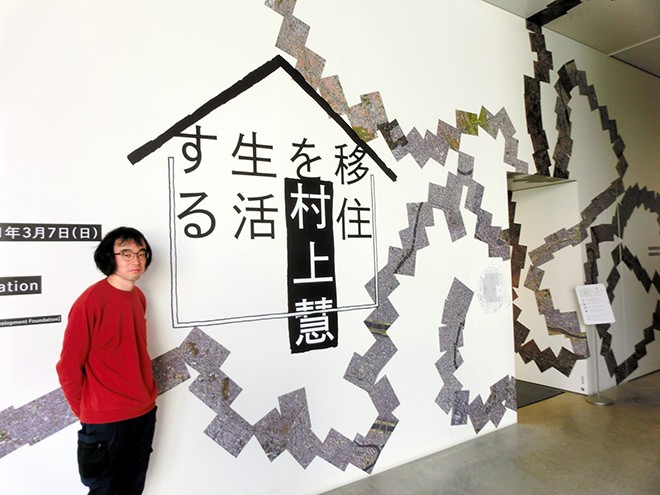 Most recently, he was on the road for a month through mid-December in Ishikawa Prefecture, where his first exhibition is being held in the prefectural capital of Kanazawa.
The "Living Migration" exhibition, which summarizes his undertaking of more than six years, runs through March 7 at the 21st Century Museum of Contemporary Art, Kanazawa.
The exhibits include the three successive houses that he carried during his nomadic life, his pen-and-ink drawings of the residences that allowed him to stay on their grounds, snippets from his diary and videos.
Murakami has published a picture book titled "Ie wo Seotte Aruku" (Walking with a house on the back). He is also the author of a book titled "Ie wo Seotte Aruita" (I walked with a house on my back).
SKEPTICISM INSPIRED BY DISASTER
After the disaster of March 11, 2011, Murakami, who hails from Tokyo's Katsushika Ward, grew skeptical of the framework of society preoccupied with the ideas of houses and domiciles.
That led him to set off on his itinerant life in April 2014. He went to a hardware store to buy timber for the framework and boards of plastic foam, with which he built a portable residence.
"If only I can manage to find myself a place to sleep in, everything else will take its own course," he said he thought at the time.
Murakami set off from Tokyo, with spare clothes and a sleeping bag in his backpack. He has since visited the Tohoku, Kansai and Kyushu regions, with about 300 "changes of address" made along the way. He has walked some 4,000 to 5,000 kilometers.
In a tsunami-hit community in the Tohoku region, he had an opportunity to unload his house on the site of a swept-out property. In Kumamoto Prefecture, which was struck by a pair of devastating earthquakes in 2016, he laid it down on the site where a quake-damaged residence once stood.
He made the rounds of disaster areas because he wanted to etch scenes from those areas in his memory.
As he went on with his life of a wayfarer, Murakami learned that temples and shrines are relatively easy to negotiate with.
He initially thought he would be more likely to be accepted by religious establishments because they are public in nature and are open to everyone.
On occasion, however, he was asked not to stay on their premises precisely because they are public places.
Murakami walked more than 20 km a day at the longest. A truck driver once gave him a ride out of kindness.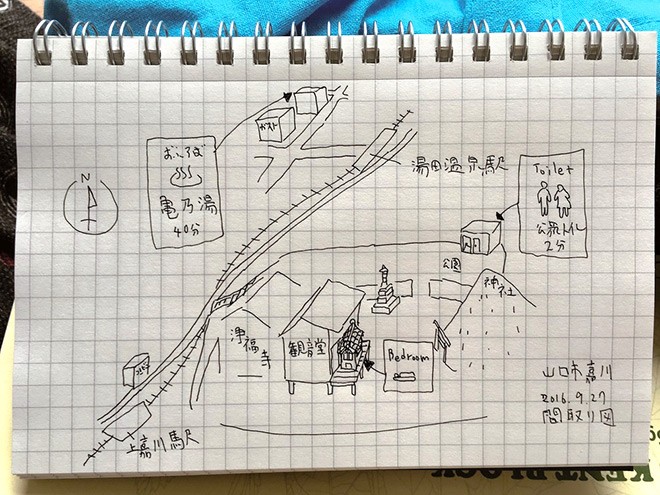 The only thing he can do in his house is to lie down and sleep inside it, so he checks out facilities near where he is staying, such as public lavatories, bathhouses, coin laundries, cafes and convenience stores. He draws a "floor plan," which likens the map of the surrounding area to the interior of a residence.
He makes pen-and-ink sketches of buildings on the estates that have given him shelter and posts a diary on his blog. Quite often, people who happened to see him have posted photos of him on Twitter and strangers have invited him to stop by their homes.
He has also been presented with things to eat and letters of encouragement, which has taught him about the kindness of people.
"In any residential area, change the way you live, and it may take on a totally different look," Murakami said. "I hope what I am doing will prompt people to think about things like that."