The central government's "reconstruction and revitalization period" for the Tohoku region is nearing an end and various infrastructure projects have been completed, but one thing remains missing in certain areas: people.
Under the post-disaster rebuilding period (fiscal 2016 to fiscal 2020), seawalls have been erected to protect the coast from future tsunami, projects are under way to promote new industries and shore up existing ones, and housing has been built for returning or new residents.
But more than 40,000 people, mostly residents of Fukushima Prefecture, are still living in evacuation, and many have no immediate plans to return to their hometowns.
FUKUSHIMA: FEW RETURNING; HOPES HIGH FOR NEW INDUSTRIES
Ten years have passed since the Great East Japan Earthquake and tsunami on March 11, 2011, triggered the meltdowns at the Fukushima No. 1 nuclear power plant.
At one point, more than 80,000 residents of 11 municipalities in Fukushima Prefecture were told to evacuate. The evacuation orders were lifted by March last year, except in "difficult-to-return zones" around the crippled nuclear plant.
The derestricted areas, however, are now home to only about 14,000 people, less than 20 percent of their pre-disaster population. Around 36,000 people who fled the nuclear disaster remain in evacuation, both in and outside Fukushima Prefecture.
Two big issues have emerged in the rebuilding process: how to restore the ties of communities that unraveled during the long evacuation period, and how to provide psychological care for disaster survivors.
In September last year, the Great East Japan Earthquake and Nuclear Disaster Memorial Museum opened in the town of Futaba, Fukushima Prefecture, the only municipality that remains entirely off-limits.
A southern area of the town hosts an intermediate storage facility for radioactive soil, while the lengthy decommissioning process continues at Fukushima No. 1 nuclear plant further beyond.
Akiko Anbe, a resident of the Odaka district of Minami-Soma, Fukushima Prefecture, works at the memorial museum, where she gives her witness accounts of the disaster. She said she had to remain in evacuation for more than five years, and a friend of hers from Namie, also in the prefecture, committed suicide while in evacuation.
"It's all because of the nuclear disaster," Anbe, 74, said. "I want to tell facts and lessons to people so nothing of the kind will happen again."
The central and prefectural governments have established the Fukushima Innovation Coast Framework, a plan to create new industries to help rebuild the prefecture. Last year, the prefectural government opened campuses of the Fukushima Robot Test Field, a research base, in Minami-Soma and in Namie.
A separate plan is also under way to create an "international educational and research base" for nuclear plant decommissioning processes and robots in the eastern coastal strip of Fukushima Prefecture.
Some younger people, including those who moved to Fukushima Prefecture, have started their own businesses there.
Tomoyuki Wada, a resident of Minami-Soma who lived in evacuation for some time, has set up a company called Odaka Worker's Base, whose operations include providing support to entrepreneurs. The company's goal is to create 100 new businesses to deal with challenges facing the region.
Wada, 44, has established a cafeteria and a glasshouse on his own. He also provides support to "local vitalization cooperators" who are starting their own businesses, such as breweries. The "cooperators" are workers commissioned by local governments, under a national framework, to come and help revitalize provincial communities.
"I wish to give birth to new forms of livelihoods and create a community that we want to live in," Wada said. "There is a frontier here."
FISHERIES: ADDING VALUE IN RECOVERING INDUSTRY
Marine resources are abundant in the Pacific waters off the Sanriku coast of the Tohoku region, where the warm Kuroshio and cold Oyashio currents meet.
Statistics indicate the fishing industry along the coast is returning to its pre-disaster state, including in the way fishing vessels have been repaired.
Fisheries Agency figures show the combined catch value in the three disaster-hit prefectures of Iwate, Miyagi and Fukushima recovered to 93 percent of the 2010 level in both 2015 and 2017.
But an agency official sounded less than sanguine about that.
"Rebuilding is not about restoring figures to their previous levels," the official said. "Rebuilding is about adding value and developing new customers to shape industries into a form that allows them to develop sustainably into the future."
Many disaster-hit communities are trying to add value to their products.
In the city of Kesennuma, Miyagi Prefecture, fishing industry officials have teamed up with a chamber of commerce and industry, a tourism association and other parties to promote swordfish, a local specialty.
Swordfish products are familiar in the city, which boasts the largest catch volume of the fish in Japan. But their public recognition leaves much to be desired elsewhere in the country.
The parties in 2015 set up the Kesennuma Swordfish branding promotion committee and called on more restaurants to use swordfish as a main ingredient in their curry and sukiyaki dishes.
They have also set a goal of reaching out to a larger workforce pool by improving income levels in the fishing industry.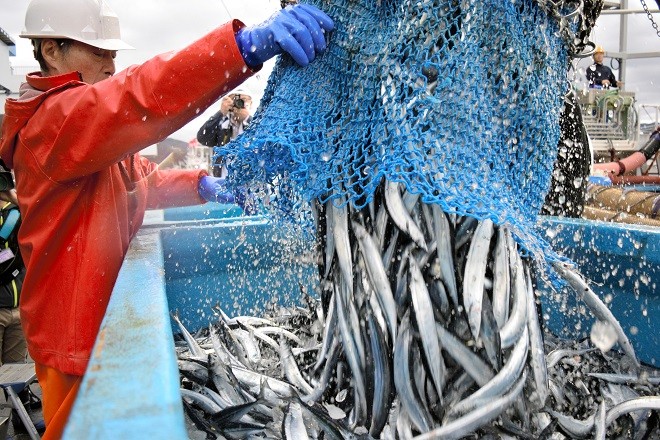 In the city of Rikuzen-Takata, Iwate Prefecture, activities are being conducted in pursuit of sustainable development.
Every year, the SET nonprofit organization has planned and operated events that organize hundreds of university students to help fishermen in Rikuzen-Takata and discuss a lack of successors in the industry.
However, such events were called off this fiscal year because of the COVID-19 pandemic.
SET was founded 10 springs ago by a group led by Shunsuke Mitsui, who was attending a university in Tokyo when the quake and tsunami hit.
Around 30 participants of SET's events have moved to the Rikuzen-Takata area. Four of them enrolled in a fishermen's cooperative as associate members.
"I hope to expand the base of employment by increasing the number of 'loosely engaged' workers, who take part only when they want to," Mitsui, 32, said.
In other promising news, a network of "reconstruction roads" will soon be opened, providing Sanriku better access to Tokyo and Tohoku's inland areas.
Local officials hope the roads will speed up the distribution of marine products and prompt a further increase in the number of visiting tourists.
"That will make it easier to devise ways to revitalize our community," an official with the Kesennuma Swordfish branding promotion committee said.
Community cohesion and bonds will likely remain keywords over the next decade.
HOUSING: TEMP SHELTERS GONE; RESIDENTIAL PLOT UNDEROCCUPIED
Temporary housing units for quake and tsunami survivors of Iwate and Miyagi prefectures are all expected to go out of service by the end of March.
Temporary shelters at one point accommodated up to 270,000 people in the three prefectures of Iwate, Miyagi and Fukushima. These dwellings included "constructive" temporary housing, or houses for rent and other buildings that were leased by the public sector for disaster survivors.
The accommodation period in temporary shelters is two years in principle, but it was prolonged on multiple occasions while rebuilding work dragged on.
Five years were needed to eliminate all temporary housing following the 1995 Great Hanshin Earthquake that destroyed parts of Kobe. Such work in the Tohoku region is expected to take much longer.
In the meantime, residential plots in newly developed zones remain underoccupied.
A new housing plot was built on raised ground in the downtown Takata district of Rikuzen-Takata, which suffered enormous damage in the tsunami.
Many tsunami survivors there rebuilt their homes elsewhere during the prolonged restoration of the district.
Noriaki Yanashita, the fourth-generation proprietor of a barber shop founded in 1918, managed to rebuild his shop in the Takata district in June last year. Before then, he had been operating his trade in a temporary housing unit since the year after the quake and tsunami.
"I thought the work would take long, but I never expected it would take this long," Yanashita, 44, said.
About 300 hectares of land were developed in Rikuzen-Takata. Less than 30 percent of space, however, is in use under private ownership.
"Where I live is mostly vacant land plots, which become overgrown with weeds in summertime," Yanashita said. "There is no community here whatsoever."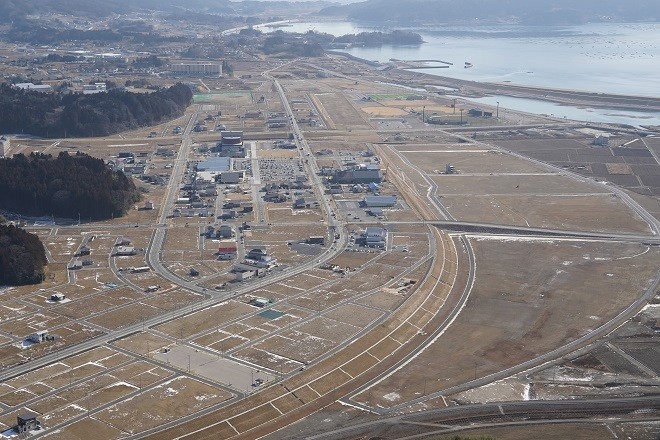 His pre-disaster neighbors have laid the foundations of their livelihoods elsewhere.
"I only wish it had taken less time," he said. "You get nothing by coming all the way here and having your home built here."
Rebuilding work in disaster-hit areas have mostly proceeded within a framework presented by the central government or other parties. That has left a number of problems unresolved, including how to preserve communities.
Similar problems have emerged after more recent natural disasters, prompting the central government to focus on "pre-disaster recovery," or having a regional rebuilding plan ready before a disaster strikes.
Pre-disaster recovery efforts are under way in areas that are likely to be damaged from a future earthquake along the Nankai Trough, a seabed depression to the south of Japan.
(This article was written by Koji Shimizu, Hiroyuki Kimura and Takaoki Yamamoto.)