Operation Tomodachi, the relief effort mounted by U.S. forces to assist Japan in the aftermath of the 3/11 disaster, stands as enduring testimony to close cooperation and what can be achieved without rehearsal in a time of dire need, says Robert Girrier, who commanded the USS Ronald Reagan Carrier Strike Group during the mission.
A retired rear admiral, Girrier was asked how the U.S. military dealt with the radioactive fallout from the crippled Fukushima No. 1 nuclear power plant, what memories he had about the support and rescue activities he oversaw and his views of the current state of the Japan-U.S. alliance.
Excerpts of the interview follow:
Q: This year marks the 10th year anniversary of the Great East Japan Earthquake. How did you first learn of the earthquake as commander of Carrier Strike Group 7?
Rear Adm. Girrier: When the earthquake happened (on March 11, 2011), I was embarked on the Ronald Reagan aircraft carrier and our strike group was in transit. We were on our way to a joint exercise with South Korea on the Korean Peninsula: This had been scheduled well in advance. As we were en route in the open ocean, I remember watching the news of the earthquake and tsunami via satellite on the carrier, and thinking "This is a big disaster." We were all thinking, "This is significant, this is going to change everything, in terms of our schedule."
As expected, my operational boss, the Seventh Fleet commander, contacted me and directed us to make best speed immediately and to standby off the coast of Honshu, east of Sendai, and await further instructions. Await to be invited in by the government of Japan. So, we moved out quickly, altered course, increased speed, headed in that direction. It was anticipated a formal request for assistance would be coming shortly.
Normally, humanitarian assistance and disaster response is typically conducted by our amphibious types of ships. They have a long history of working with the Japanese Self-Defense Forces throughout the region. It's the amphibious type of ships, normally, that are ideally suited to this type of disaster response mission. They have lots of helicopters and are experienced in operating in the littoral environment--they come in really close. In this case we were initially responding with a strike group, which is a different kind of asset. We were simply the closest on hand at the time.
The Marine and amphibious forces when they arrived, provided extensive support to Japan in opening up the ports of Hachinohe, Miyako and Kesennuma. I didn't have personal experience with those specific events directly, but they were extensive activities and closely coordinated with (our) Japanese counterparts.
Q: What was your first reaction and concern when you heard the Fukushima No. 1 nuclear power plant exploded?
A: While en route, we were pretty far off at sea, (but) we were generally aware of the circumstances from the world news. Damage to the Fukushima power plant was reported, and logically, that raised the potential for radiation concerns; we knew upon approaching we should be careful and prudent. Not knowing exactly what we'd find upon arrival in the vicinity, while transiting, we thought through precautions such as observing a standoff distance as we made our approach. We arrived on Sunday, March 13 in the morning.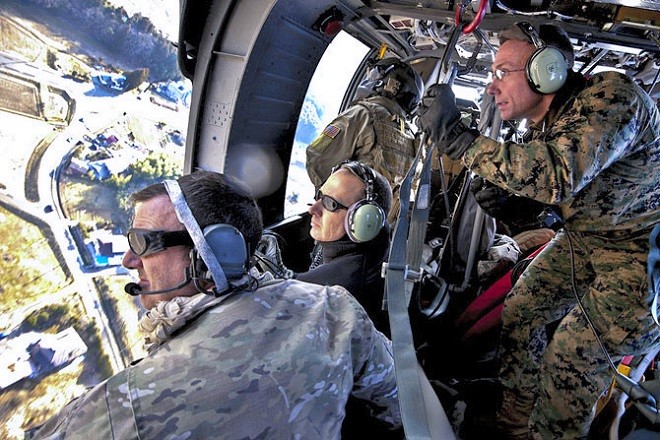 In terms of unique capabilities that a strike group brings in this particular case, a nuclear aircraft carrier continually monitors its propulsion plant and surrounding environment. We were bringing more sensitive measuring equipment on our ships than those already on scene. We had qualified nuclear propulsion plant operators and radiation control technicians, specialists highly trained in nuclear propulsion operations and we monitored conditions continuously as a routine matter. On reflection, I think an aircraft carrier was well-suited as an initial response platform to conduct these support operations given these unique circumstances.
Q: What kinds of disaster response did the U.S. Navy provide during Operation Tomodachi?
A: The first thing I did when we arrived in the area, standing off well over a hundred miles (160 km) from Fukushima, was to fly over to the Japan Maritime Self-Defense Force Escort Flotilla 1 command ship. My counterpart explained the situation and I responded: "We're here to support. Tell us what you need." We exchanged liaison officers. We put some of our officers on their ships as liaisons, and I brought two MSDF officers back with me to the Ronald Reagan.
We said "Hey, where do you need us to help out," and "Where do you need us to search?" As we share the information, we shaped and refined our relief plans.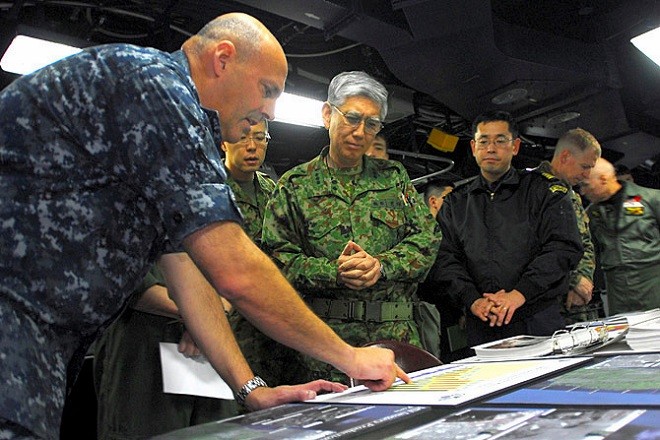 In terms of the size of the force, I believe it was at least 22 ships, 132 aircraft and more than 15,000 people on the U.S. side engaged in Operation Tomodachi. The destroyers from our strike group assisted the MSDF in searching more than 2,000 square miles (5,180 sq. km) of ocean, looking for any human remains. We flew many helicopter missions along the coast. We were looking for displaced persons and pockets of people rendered homeless as a result of the tsunami--anyone needing support. We flew those missions continuously through our time there.
The helicopters would land in a schoolyard ball field for instance, anywhere it was a safe place for a helicopter to land. More than 260 tons of foods and relief supplies were ultimately delivered.
At the request of the SDF, we also employed our F-18 fighters to fly reconnaissance missions; flying sorties up and down the coast. We conducted numerous air reconnaissance flights, producing thousands of images. The purpose of this reconnaissance was to map out areas where roads and infrastructure were disrupted. We provided this information back to the Japanese authorities in order to help them prioritize their recovery efforts.
It helped them with a more accurate picture of the damage sustained and their planning to address it.
Aside from delivering emergency supplies, when our aircrews interacted with Japanese citizens, they would ask, "What do you need? Is it more water, or food?" Sometimes the reply would be baby supplies. Not everyone speaks English of course, but we had some Japanese-speaking aircrew in our strike group. They helped us come up with translation cards to use when interacting with citizens, with general questions such as, "Is anyone injured? Are there other people who need help, and where/ or what type of assistance do you require?" The aircrews communicated by pointing on the card, or circling standard responses, or having them respond in writing.
Upon bringing these forms back to the ship, we'd share them with our Japanese liaison officers: "Here's what we found out today." We would then plan our missions for the next day, providing more highly focused relief as a result.
I remember it was a cold time of year, and there was snow on the ground. People were without their homes, without heat and hot water. The crew of the Ronald Reagan along with the crews of many of our escort ships donated clothes, jackets, scarves, and so forth. We filled them in large tri-wall shipping containers and delivered them to our counterparts for further distribution.
Q: What was your most memorable event on Operation Tomodachi?
A: The most memorable is that due to our close alliance relationship with Japan, from MSDF Escort Flotilla commanders to other elements of the SDF, we enjoyed immediate close cooperation and coordination. We were able to operate together smoothly and with precision right from the start.
The reactors of the Fukushima nuclear power plant were damaged from the earthquake, so you logically have radiological concerns. A large swath of coastline was devastated by the earthquake and tsunami. Under these combined circumstances, it was an unprecedented situation. Nevertheless, we demonstrated close coordination and cooperation, without rehearsal, in time of need.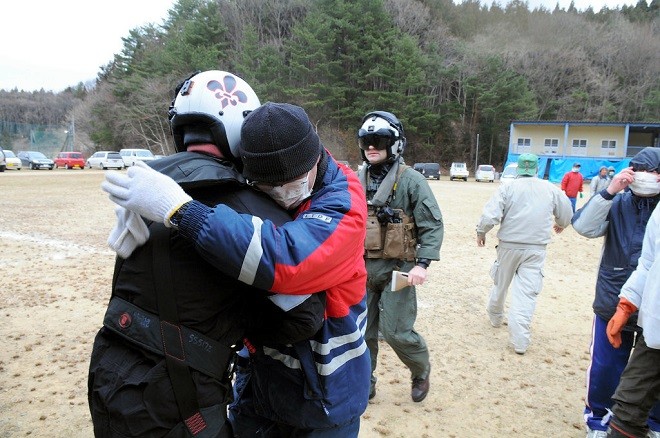 That's a testimonial to the types of things a close alliance can achieve. I think that's one of my biggest takeaways and I am very, very proud to have been a part of that.
Another element that I was impressed with, was how well-organized the citizenry were in the local towns and hamlets; the resilience and spirit of the Japanese people was on display. It was an impressive thing to see. I received repeated reports from our pilots and aircrew, indicating, "how well-organized the local Japanese citizens were. People would not rush to the helicopter. They'd be standing back and lining up, someone was clearly in charge on the ground among them. They were upbeat. They weren't depressed…" These, and similar reports came up again and again. Those are the memories that I certainly take away as I remember the operation.
Q: What were the difficulties you faced there?
A: Well, the most unique thing, of course, is the unusual element of conducting operations while factoring radiological concerns. To be clear, the radiation levels measured out at sea were extremely low level and did not pose a health risk. In fact, the levels were a fraction of the annual amount one might normally receive from naturally occurring sources such as soil, water, air and solar radiation. We were very careful about monitoring, nonetheless. We had detected some amounts of low-level radiation aboard the ship, so we watched the wind very closely. We maneuvered the aircraft carrier accordingly in order to minimize any amount of low-level radiation emanating from Fukushima.
As mentioned, our shipboard detection did detect low level radiation from Fukushima; the monitoring equipment on an aircraft carrier is very sensitive. Our qualified nuclear propulsion plant operators were trained in radiological controls and we all knew that such a detection must be monitored closely and mitigated. We monitored, tracked, reported and decontaminated. Most navies have some level of radiation control training, on nuclear powered ships such as Reagan, that level of training is very high.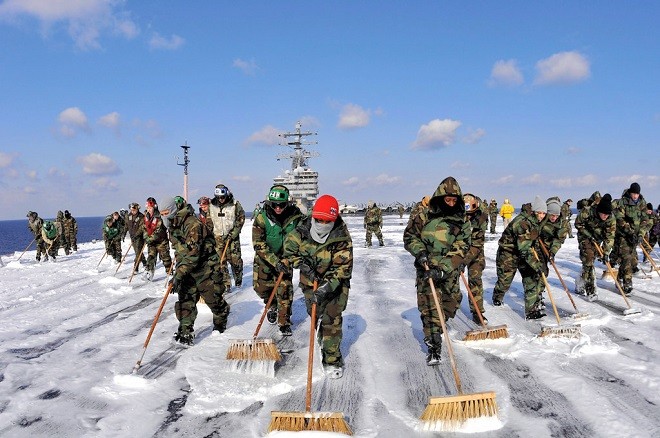 I've often been asked the question, "How did you maintain calm?" and "Weren't the personnel scared?" The answer is that we didn't have a problem with this because the information flowed from the bottom-up. Meaning, the people that were reading the instruments, the radiation control techs and other personnel engaged in monitoring onboard, were all highly trained. They had the monitoring information before I did, and they knew the facts.
Q: I remember that the U.S. Embassy in Japan issued an evacuation order for American citizens staying within an 80-kilometer radius of the power plant. Meanwhile, the Japanese government only ordered evacuation within a 20-kilometer radius. How did you view the differences or gaps between the U.S. and Japanese messages?
A: I understand your question. There's a difference. One was larger radius, and more conservative. The other one's smaller. But honestly, I didn't think about it at all. My focus was entirely at sea and with Reagan Strike Group and dealing with our mission. We were standing off over a hundred miles from Fukushima. We're a self-contained unit and have flexibility. We watched the wind and we were very thoughtful as we maneuvered. As afloat units you can maneuver and do certain things, such as decontaminate, quite effectively. So, in this case you've got much more flexibility than ashore.
Q: Compared with 10 years ago, how do you view the development of our alliance?
A: I've been retired now for several years. I think our alliance has only gotten better. The biggest thing that's changed in 10 years is the security environment under our feet. Over the last 10 years the environment has become more competitive in the Indo-Pacific. The complexity of the security environment continues to grow. The capabilities of both our forces, Japan and the United States, also continue to grow; and in stride with that, the tempo of operations and exercises. I believe the sophistication and the strength of our relationship has grown, and the basis for why we have an alliance with Japan has been made as clear as ever--by those challenging our shared values.
***
Girrier is president of the Pacific Forum, a Honolulu-based think tank. He formerly served as deputy commander and chief of staff, U.S. Pacific Fleet and director for operations (J3). He earned a master's in public administration as a Moreau Scholar from the Kennedy School of Government at Harvard University, specializing in negotiation and conflict resolution. At sea, he commanded Carrier Strike Group (CSG) 7, USS Ronald Reagan Strike Group and CSG-11, USS Nimitz Strike Group. In the Ronald Reagan Strike Group, he conducted combat deployment in support of Operations Enduring Freedom and New Dawn and provided disaster response for Japan during Operation Tomodachi.