SENDAI--Fumihiko Imamura, one of the nation's leading tsunami experts, realized that no textbooks or training could ever have prepared him for the towering waves generated by the 2011 Great East Japan Earthquake that claimed countless lives in the Tohoku region of northeastern Japan.
Imamura, now 59 and an engineering professor and director of Tohoku University's International Research Institute of Disaster Science (IRIDeS) here, recalled he had been calling for precautions against a possible quake off Miyagi Prefecture when the temblor hit.
The 2011 tsunami was far more destructive than Imamura had thought possible. The realization prompted him to pursue a line of research to see how lives could be saved if a similar disaster strikes.
Imamura and his team of young researchers are analyzing Miyagi prefectural police records from the medical examinations of 9,527 people killed in the disaster. The vast quantity of data fills a USB flash drive that is strictly guarded in an IRIDeS room.
"All the victims (numbered 1 to 9,527 in the data) have their own names, lives and families," said Shuji Seto, 30, an assistant professor of tsunami engineering at the IRIDeS, who is a project member. 
The team members are "listening" to the voiceless tsunami victims dead to figure out the deciding factor in whether a life is saved or lost and if people swept away by tsunami can survive.
REGRET, HESITATION
The police data includes not only the causes of the victims' deaths, but also the locations and dates the bodies were discovered. It also details whether they were found in their vehicles or outdoors as well as each victim's gender, age and address. Their names are not shown in the records.
The information in the database was created by the prefectural police in the aftermath of the 2011 disaster to ensure the victims' remains were returned to bereaved families as quickly as possible.
Prior to the magnitude-9.0 earthquake, Imamura actively toured coastal areas to promote evacuation drills and other safety steps. In hindsight, he keeps asking himself if he could have done more during his trips to devastated areas following the tsunami.
Under standard tsunami evacuation procedures, people are supposed to "flee as quickly as possible after an earthquake." The 3/11 disaster led him to consider ways for people to survive even "if they cannot escape or fail to flee in time."
To achieve that goal, Imamura knew it would be essential to access data that showed the circumstances of the victims at the time they perished in the tsunami.
Imamura had hesitated to delve into data on the deceased for research purposes, mainly out of consideration for the victims' families. But he finally reached out to the prefectural police four years ago.
The police authorities encouraged him to make good use of the data.
Their records provide important personal information about each victim.
To pass screening by the university's ethics committee, details on where bodies were found and the addresses of victims were blurred by displaying them in seven-digit zip codes.
CASE ANALYSIS, OTHER STEPS
It was decided to take an interdisciplinary approach to the project on surviving a natural disaster. This entails carrying out tsunami simulations as well as considering appropriate rescue and medical operations coupled with disaster preparedness education and drills.
The analysis of the victims' data is handled primarily by Seto and a group of graduate students. They found some likely fatal elements.
When they compared the population during the day with the number of people who drowned by area in the central part of Ishinomaki, Miyagi Prefecture, they discovered the death rate was higher for sections with water depths of 2.5 meters or higher.
Among areas with such high water levels, the risk was relatively low in factory and harbor districts near the sea. The researchers reasoned that offices in those districts had provided comprehensive evacuation drills to protect employees from the risk of tsunami.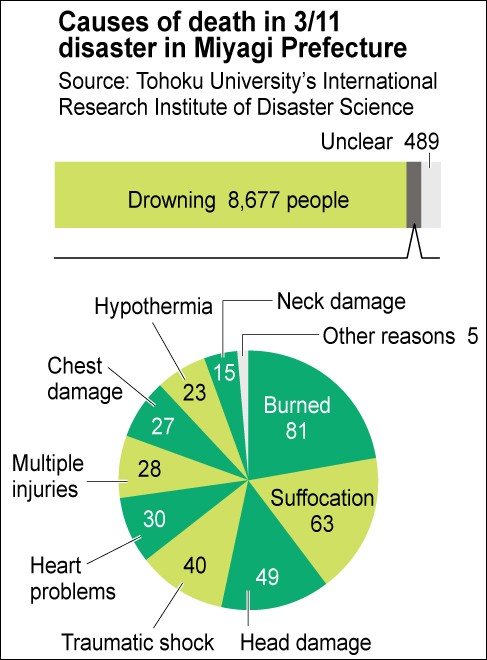 Though representing a tiny fraction of the total, some people perished from hypothermia. Of 22 such victims found on land, 16 were aged 70 or older. Seventeen bodies were uncovered indoors.
They appeared to have lost body heat after staying wet and weakened at shelters or fleeing to second floors because their homes were inundated. The researchers are now looking at ways to share what they learned to develop effective countermeasures.
Seto and other team members visited the prefectural police repeatedly to seek advice from investigators and to examine relevant documents from 10 years ago. They also interviewed police officers about the difficulties they encountered identifying bodies.
As a next step, they plan to analyze detailed causes for deaths due to being hit by pieces of debris and other objects. In particular, they are interested in head and neck damage or traumatic shock.
About 90 percent of the tsunami victims apparently drowned. According to medicolegal experts and other sources, many victims died from a complex combination of causes.
The prefectural police records identify no less than 140 causes of death.
The researchers are planning to conduct simulations using a dummy and stream reproduction equipment based on the estimated tsunami depth and speed at spots where bodies were discovered.
Being able to protect one's body while being swept away by tsunami is seen as one possible way to protect life. With this in mind, the researchers are also developing a floatable backpack to be filled with emergency supplies with a company in Saitama Prefecture.