ISHINOMAKI, Miyagi Prefecture--About a year ago, Juri Sato, a 13-year-old resident of Ishinomaki, wrote a story about her sister, who died in the 2011 earthquake and tsunami.
In the story, titled "Shiroi Hana wo Motsu Yosei" (Fairy with a white flower), a fairy holding a white flower in its hand appears in front of Riko, a junior high school student.
"This is a magical flower," the fairy says. "It can grant your wishes, but only for three times."
When Riko was 3, her 6-year-old sister died from a disease. Riko makes her first wish on the white flower: "I want to see my sister."
Her sister then appears, wearing pajamas. She is invisible to their parents.
"Riko" is Juri, a first-year junior high school student, but it wasn't a disease that took the life of her sister, Airi, who was three years older than her.
After a strong quake hit the city on March 11, 2011, Airi boarded the bus that picked her up from her kindergarten. As it was traveling in the city's Kadonowaki district, located along the sea, the bus was hit by the massive tsunami and a fire broke out, killing Airi.
The Great East Japan Earthquake left nearly 4,000 people dead in the city, the hardest-hit area.
Juri adored her sister. The day before the disaster, they stayed alone at home for the first time. They were given strawberry sandwiches as a reward and ate them together.
On Christmas Day, Juri would write a letter to Santa Claus, saying, "Please let me see my sister." After entering elementary school, she became interested in writing essays.
She likes watching TV drama series and always imagines how their stories will unfold while she is taking a bath. She began writing her own short story when she was a third-grader in elementary school.
In the story, a white-bearded god urges a girl to make a string telephone so that "something will happen." The god then tells her to throw it into the sky. After the girl throws it high in the air, the string keeps stretching farther into the sky. When she presses her ear to one end of the line, she can hear her sister's voice.
But that was all Juri could write because she couldn't imagine how her sister would have grown up. 
Her sister is smiling in all the pictures displayed in her house. Juri can only remember that her sister didn't like peanuts and would place them in Juri's dish when they ate "Kaki no Tane" snacks together.
Juri learned from her mother about the time she stayed home with her sister and how they ate strawberry sandwiches.
About a year ago when schools around Japan were temporarily closed to contain the COVID-19 pandemic, she decided to complete her short story and opened her laptop to get started.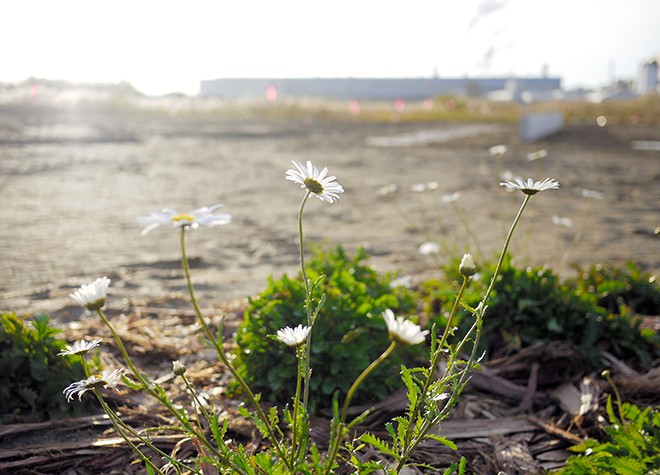 Four years after the earthquake and tsunami, oxeye daisies bloomed where her sister died as if they came to see Juri on Airi's behalf, inspiring Juri to write a story using the flowers as a motif.
In the story, the sister Riko is reunited with is still 6 years old. She calls Riko, who is now older than her, "Riko one-chan" (literally, elder sister). They play house together and ride on a swing.
But something is different. The sister can't play with anyone but Riko. 
In the photographs displayed in their home, Airi was always smiling because she was so sociable, always chatting with her mother and playing a lot with her father.
Riko decides to make her second wish on the flower: Send her sister back to heaven.
"You'll be able to talk with many people once you return to heaven," Riko tells her sister as she holds back tears.
The story ends with Riko making her third wish: "May my sister be able to keep on smiling forever."
Juri apologized to Airi as she wrote the scene where Riko sends the sister back to heaven.
"It's sad, but the best ending I could write," Juri said.
A park is being built in the seaside area where Airi died to commemorate reconstruction from the tsunami and opens on March 28.
Juri belongs to a softball club at junior high school. She practices sliding a lot during club activities, sometimes putting a hole in her sports uniform.
Her sister, if she was alive, would be in her first year of high school.
"Airi might have had a boyfriend," her mother told Juri before Feb. 14, Valentine's Day. "I wonder what kind of boy she would have dated."
"You never know, maybe he would have just been some flakey type," Juri replied. Then they both broke into laughter.
That morning, as she does daily, Juri greeted a smiling photo of Airi, and wished her, "Good morning."