Ripple effects from the novel coronavirus pandemic have led to the first drop in land prices across Japan in six years.
The drastic reduction in foreign tourists and the shortened business hours bars and restaurants have been asked to conduct during the pandemic have sparked a major fall in land prices, especially in major urban centers.
Land prices fell 0.5 percent compared to a year earlier, the land ministry said on March 23, announcing land prices as of Jan. 1.
Residential land prices last year rose 0.8 percent, but fell 0.4 percent this year, the first drop in five years.
The decline was greater for commercial property. While commercial land prices rose 3.1 percent last year, they fell 0.8 percent this year.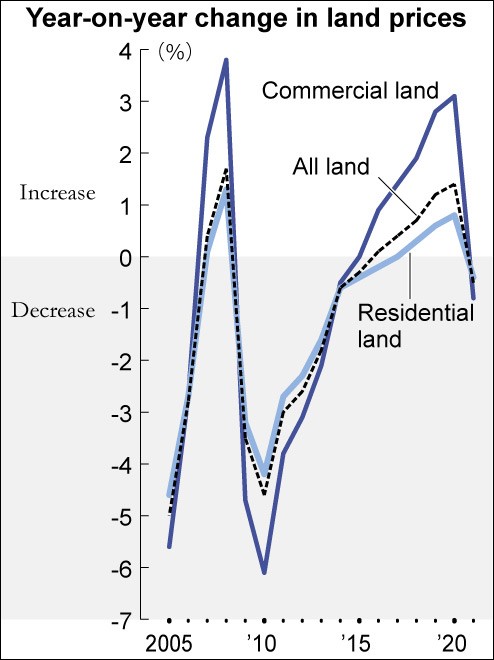 Osaka city was one of the areas hardest hit by falling land prices.
Its Dotonbori shopping area had in the past attracted swarms of foreign tourists, particularly from China, who often went on massive shopping sprees that boosted the local retail and restaurant sectors.
Zuboraya, with a 100-year history, was a popular fugu restaurant in the area. But after it temporarily closed operations in April 2020 due to the COVID-19 pandemic, Zuboraya shut down for good in September.
Though six months have passed since the closure, the building Zuboraya used is still vacant.
The building is managed by Osaka-based Oki Fudosan Co. One company official said while there have been a few inquiries about the building, no one has progressed to the point of negotiating rent.
"Before the novel coronavirus pandemic, rent for the entire (six-story) building was around 12 million yen ($111,000) a month," an official in charge of sales said. "It was such an attractive location that we were bombarded by inquiries despite the high rent."
The site of the building had a land price of 8.05 million yen per square meter in 2020. The figure was a 4.7-fold increase over a seven-year period. But this year, the land price plunged 28 percent, the largest decrease anywhere in Japan.
The land price drop was greater in the three major urban areas of Tokyo, Osaka and Nagoya compared to other regional areas.
Prices of all land in those three areas decreased 0.7 percent. For commercial land, prices fell 1.3 percent after those prices increased 5.4 percent a year earlier.
Regional cities such as Sapporo, Sendai, Hiroshima and Fukuoka, where major redevelopment projects are under way, had an average increase in land prices of 2.9 percent, a far cry from the 7.4 percent rise a year earlier.
But other areas benefited from the pandemic.
All eight areas in Karuizawa, Nagano Prefecture, included in the land ministry study recorded land price increases.
According to an official with Tokyu Resort Corp., which manages properties in the town long known as an area for second homes for wealthy residents of the greater Tokyo metropolitan area, there has been an increase in individuals purchasing homes in Karuizawa to work from home.
(This article was written by Takehiro Tomoda and Ryuhei Tsutsui.)