Yuka Kanzaki decided to translate poems composed by a woman with cerebral palsy to send a message that disabilities never slow down people like them. 
"People tend to think that they cannot do anything if they have disabilities, but I want them to know that we can play active roles," said Kanzaki, who has muscular weakness throughout her body due to nemaline myopathy. 
Kanzaki, 24, said she was deeply moved when she first read "Sakura no Koe" (2015), a collection of poems by Naoko Horie, who is bedridden.
Horie, 26, has composed poems by using her hand, which she can move slightly. Her works are written using simple and gentle words and give a soft impression.
"I felt sympathy because her feelings reflected in her poems are very strong and came straight to my heart," Kanzaki said.
Kanzaki was diagnosed with nemaline myopathy when she was about 6 months old. She is on a breathing machine and lives with her parents in Inagi, western Tokyo.
Kanzaki started attending English conversation classes when she was 3 and graduated from the Department of Literature and Culture in English at Tokyo Woman's Christian University.
She now works as a contract worker at IBM Japan Ltd. to translate in-house documents.
Fusae Suzuki, 84, who promotes kimono for disabled people, served as a bridge between Kanzaki and Horie. She provided a catalyst for the production of Horie's poetry collection and asked Kanzaki to translate it into English.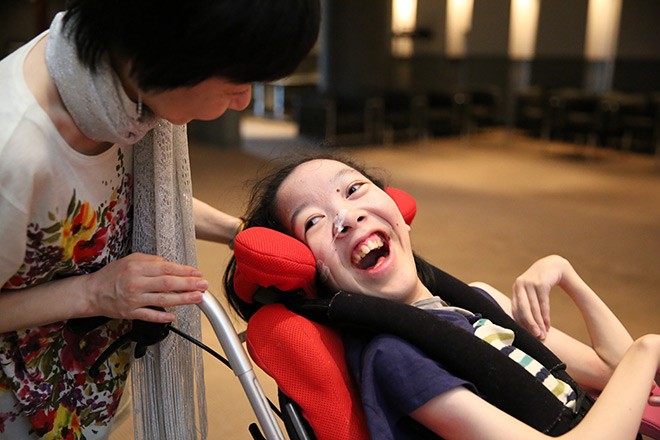 Kanzaki never translated poems before, although she uses English at work on a daily basis. She was nervous at first but decided to take on the challenge.
"I thought there was something that I could express because I have disabilities and have experienced similar feelings," she said.
Kanzaki started her translation work in March last year, selecting 30 poems from "Sakura no Koe" and those posted by Horie on her Facebook page.
She thought those poems convey how Horie feels and thinks about a variety of things despite her disabilities.
"I made sure that I shouldn't use difficult words in my translations so that I could deliver Horie's soft expressions and warm vibes," Kanzaki said.
The fact that she learned English composition skills during her school years, as well as her experience in analyzing literature works from multiple perspectives, came in handy, she said.
"Sakura no Koe: Bloom in my Heart" was completed after it was supervised by her acquaintance who is proficient in English. English texts translated by Kanzaki are printed next to Horie's original Japanese texts.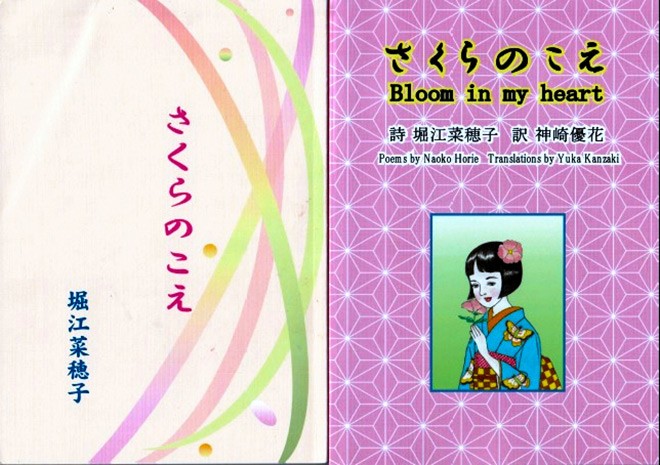 Kanzaki's dream is to play a part in building a society where everyone, with or without disabilities, can apply their talents for work.
"I hope my translation work can contribute (to that goal)," Kanzaki said. "I want people around the world to read Horie's poems so that I can deliver her feelings to many people."
Two thousand copies were self-published. The book is priced at 500 yen ($4.50), including tax and excluding shipping fees.
For inquiries, visit Sakura Kimono Kobo's website at (http://sakura-zukuri.jp/).
* * *
"The songs by people without voices"
Listen to their songs
By those who can't speak and communicate
through their voices.
Listen to their songs
Not with your ears,
but with the bottom of your heart.
They sing strongly.
Without voices,
They sing surely.
What the songs make is
Not the sounds, but the air vibrations
--For it will touch your heart.
"In the whole world"
I am the only one
In this whole wide world.
There's no one exactly same as me
Among many people.
I am the only one.
If I have a disability,
No matter how difficult to live my life is,
Nobody can take my place.
So,
I proudly live my own life as what I am.