Prime Minister Yoshihide Suga hailed the start of COVID-19 vaccinations for senior citizens, but opposition lawmakers, local politicians and the public said the rollout is taking too long and faces enormous hurdles ahead.
Japan's supply of the vaccine is not the only thing that has fallen short of demand. Many local governments are having a hard time finding enough nurses to administer the shots.
The government apparently wants to vaccinate all people 65 and older by the summer, but it remains unclear when the process can be completed for this age group, who are at greater risk of developing severe symptoms from novel coronavirus infections. The first shots for seniors were administered on April 12.
Even more unclear is when the general population can receive the vaccines. They might have to wait until summer or beyond before they can be inoculated.
"We will make every effort so everyone can be vaccinated as soon as possible," Suga told reporters on April 12 at a vaccination center set up for senior citizens in Hachioji, western Tokyo.
The Suga administration had already been criticized for its slow response to the third wave of novel coronavirus infections from late 2020, and officials are looking to the vaccination program as a lifeline for higher approval ratings.
Inoculating as many residents as possible could also be the key to holding the Tokyo Olympics as planned this summer.
A national public opinion poll by The Asahi Shimbun conducted on April 10 and 11 found that 76 percent of voters believe the government is "slow" in delivering the vaccines, while only 17 percent said the program is proceeding "smoothly."
About 100 million doses are expected to be delivered to Japan by the end of June. But how quickly those vaccines can reach the people is another matter.
At the April 12 session of the Lower House Audit and Oversight of Administration Committee, an opposition lawmaker noted that only about 1 percent of Japan's entire population had been vaccinated, the lowest figure among the Group of 7 nations.
Suga said the careful approval process for the vaccines meant time was needed before the shots could be given.
A high-ranking administration official expressed hope that vaccinations of senior citizens could be completed by mid-July.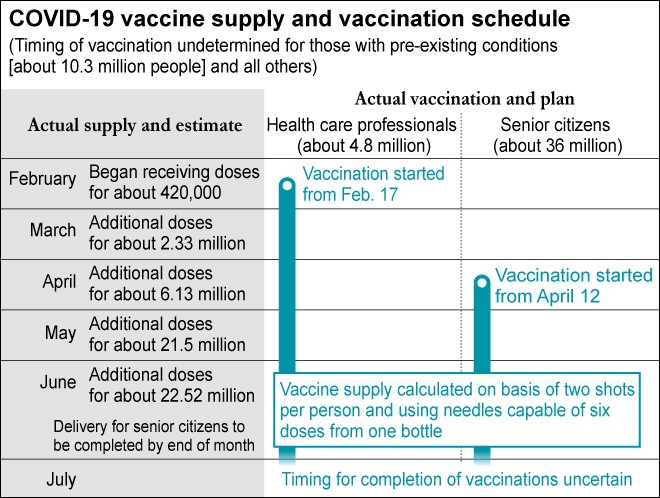 But some local governments were having trouble securing the needed nurses to carry out the vaccinations. The health care sector is currently facing a tighter situation with increases in COVID-19 cases, which have led to the application of pre-emergency measures in six prefectures.
The health ministry asked the 1,391 local governments that are setting up special vaccination centers to give a progress report as of March 25.
Even among the 532 local governments in urban areas, about 20 percent said they were having problems securing the needed number of nurses.
Seven percent of the local governments said they had not found a single nurse for the vaccination program.
Under the law for worker dispatching businesses, only rural areas facing a chronic shortage of nurses are allowed to have nurses dispatched to their jurisdictions.
So for urban areas, many will likely face a shortage of nurses once the vaccination program for senior citizens gets into full swing after the end of the Golden Week of national holidays on May 5.
During an online meeting of the National Governors' Association held on April 12, a number of participants said municipal governments were asking for a more specific schedule on when vaccines would be delivered because they had no idea how to plan to give shots to all seniors in their jurisdictions.
(This article was written by Dai Nagata, Sawa Okabayashi and Harufumi Mori.)