A Supreme Court ruling May 17 holding the state and building material makers responsible for asbestos-related health problems was bittersweet for many of the plaintiffs.
"It took as many as 13 years to reach this point," said Kazuo Miyajima, who heads a group of plaintiffs in a lawsuit filed in Tokyo in 2008. "Somebody is dying each month. Thirteen years is too long."
He said 186 plaintiffs died before the top court's first united ruling over lawsuits concerning health damages caused by asbestos.
The Supreme Court ordered the state and building material companies to pay damages for cancer or other illnesses that victims developed after years of exposure to asbestos at construction sites.
About 1,200 affected workers or bereaved families involved in 33 court battles will be eligible for compensation payments based on guidelines worked on by the ruling Liberal Democratic Party.
However, the ruling left out construction workers who may have inhaled the substance while outdoors. And given that nearly 3 million buildings in Japan may still contain the substance, experts say health problems caused by asbestos could continue for years or even decades to come.
Asbestos, a naturally occurring fibrous mineral, had been widely used in building materials because of its durability, fire-resistant properties and low price. But it was later found to cause a lung cancer called mesothelioma and other diseases, particularly among workers who inhaled the substance at construction sites.
Presiding Justice Takuya Miyama of the top court's First Petty Bench held the state liable for neglecting to take steps to sufficiently regulate asbestos, such as obliging construction workers to wear dust-proof masks as a precaution while working indoors.
He also said the state's liability spans from 1975, when the dangers of asbestos could be recognized, to 2004, when the manufacture of asbestos and its use for building materials were basically banned.
He said the responsibility also covers asbestos-related health problems of freelance and self-employed workers.
The government had argued that it was liable only for the health damages of company employees, citing the Industrial Safety and Health Law.
But the top court ordered the state to pay self-employed workers based on the philosophy of the law to create a safe and comfortable work environment.
The ruling also said the dangers of asbestos were the same, regardless of the status of workers.
The court found building material makers liable for failing to warn workers about the dangers of asbestos.
The companies had argued they should not be held responsible because it was unclear if their specific materials were identified as hazardous.
The court, however, ruled that it is reasonable to presume that victims were exposed to their materials, judging from the periods of when and where they were sold, where the construction work took place, and the companies' market shares in the product.
COMPENSATION PACKAGE PLANNED
The government is now set to submit a bill during the current Diet session to establish a relief system for an estimated 10,000 victims nationwide. A fund will be established to provide relief money to victims who were not among the plaintiffs.
Payments from the fund will limited to those certified for industrial accident compensation insurance as victims of diseases caused by asbestos.
A team of LDP lawmakers drafted guidelines for the settlement. The state and the plaintiffs on May 17 agreed on the terms, which will require the government to pay between 5.5 million yen ($50,400) and 13 million yen to each victim, depending on the severity of their health conditions.
But the LDP team delayed a decision on how much the construction material manufacturers should pay because the extent of liability of each company differed under the court's decision.
The team will continue discussing the matter.
By 2019, more than 8,000 construction workers were recognized as victims of asbestos-related diseases. But most of them have shied away from fighting their cases in court.
Each year, about 1,000 people qualify for asbestos-related industrial accident compensation. Around half of them worked at construction sites.
Yuriko Yamamoto, who co-heads a group of plaintiffs in Osaka, said she was devastated by the top court's decision to exclude outdoor workers from the compensation payments.
Her husband died at 67 in 2012 after working as a roofer.
Yamamoto, 72, said her husband would return home covered in white dust after using an electric saw to cut decorative slates for roofs.
"It is impossible to believe that asbestos played no part in causing diseases in people who worked outdoors," she said. "I cannot accept what the court is saying."
LINGERING DANGER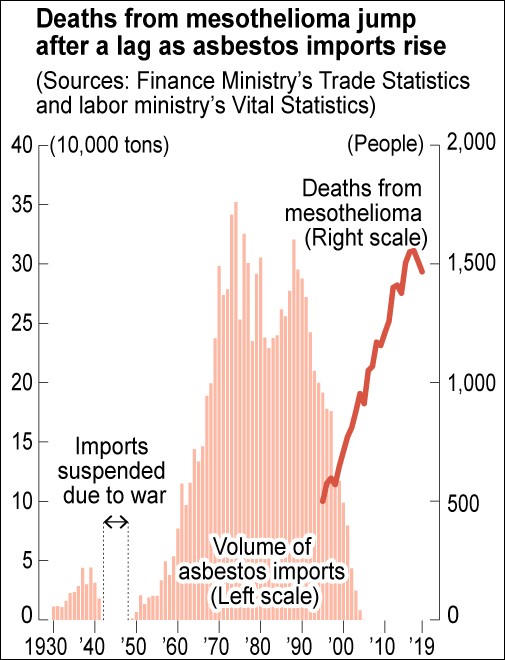 The government heavily promoted the use of building materials containing asbestos when the country was rebuilding from World War II and rapidly expanding its economy.
Imports started in 1887 and peaked in 1974.
The health hazards of the substance became known in the 1960s, and researcher issued warnings about its use.
Around 2.8 million buildings in Japan still contain asbestos-related materials, according to the land ministry.
A ministry estimate in 2009 showed the peak dismantling period for such buildings will occur around 2030. All structures that use asbestos will be gone by around 2055, according to the ministry.
But when those structures were being constructed before the ban on asbestos, the dust from the substance could have affected not only construction workers but also residents in the vicinity.
Experts said the steady increase in number of buildings dismantled could expose more people to asbestos dust.
Of the 2.8 million buildings, local governments have selected 270,000 large ones for asbestos removal and to prevent its dust from spreading as a priority project. But precautionary measures have yet to be taken for many other buildings.
Asbestos has been called a "silent time bomb" because it usually takes victims decades to develop illnesses after inhaling the substance.
It is possible that some may suffer from lung cancer or other asbestos-related diseases due to their exposure to asbestos decades earlier, the experts said.
(This article was compiled from reports by Shunsuke Abe, Yo Noguchi, Yosuke Yamamoto, Ryota Goto and Yusuke Morishita.)