Sake has been the biggest loser in the alcohol market from the shift to drinking at home during the COVID-19 pandemic, statistics show.
Although wine and other alcoholic beverages have largely maintained or even increased their sales, sake sales have declined by more than 10 percent year-on-year.
Sake brewers have perhaps suffered the most from COVID-19 restrictions that have curtailed after-work drinking sessions, and they have largely failed to expand their customer base.
Masaaki Ito, 40, a company employee living in Tokyo's Suginami Ward who used to drink at least 3.6 liters of alcohol every week, explained why sake is not his preferred beverage at home.
"I hardly drank at home before, so last year, I drank alcohol only once every several months," he said.
When he did drink at home, he chose shochu, shochu-based "chuhai" beverages and canned beer, thinking he should finish them soon after they were opened.
"Sake products available at supermarkets are sold in a narrow price range and are not good enough in quality," Ito said. "The fact that sake has a high sugar content was a negative factor for me because I lack exercise."
BRISK SALES OF WINE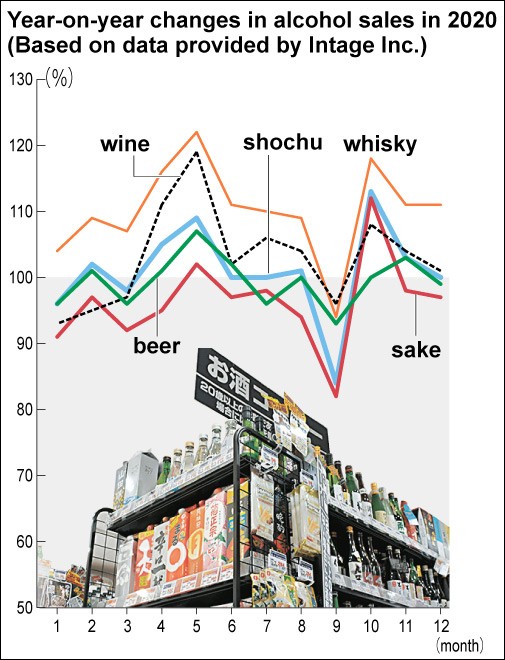 According to a National Tax Agency survey conducted in 2020, the taxable shipping volume of "seishu" (refined sake), which covers most sake varieties, totaled 418,554 kiloliters, or 89.6 percent of the previous year's volume.
Other liquors also showed declines, but not as sharp as the drop for sake.
The taxable shipping volume of fruit wine was 352,195 kiloliters, or 93.3 percent of the year before, while the figures for multi-distilled "ko-rui" shochu and single-distilled "otsu-rui" shochu were 93.6 percent and 97 percent, respectively.
The volume for spirits, which include gin and rum, increased by 9 percent from the previous year, while liqueurs, which cover chuhai and other beverages, rose by 7 percent.
The same survey showed the beer volume was 77.4 percent of the previous year's total. However, third-category beer-like beverages, which are included in the liqueur category under the tax law, are enjoying brisk sales.
Domestic shipments of third-category beverages increased by about 3 percent from the year earlier, surpassing those of regular beer, according to an estimate based on announcements by four major beer breweries.
Overall, regular beer and beer-like beverages, including low-malt "happoshu," fell by 9 percent.
All alcoholic beverages shared the same tendency: their sales at restaurants and other establishments plummeted in the pandemic, while sales of relatively cheaper drinks for household consumption remained strong.
According to a survey on alcohol sales at retail stores in 2020 conducted by marketing company Intage Inc., sales of many beverages have increased since last year thanks to stay-at-home demand, including a 3 percent rise for wine. But sake sales have dropped by 4 percent.
Wine-making giant Mercian Corp. said wine satisfied the needs of people who want to indulge in some "luxury."
The company said its sparkling wines with prices under 800 yen ($7.35) and other beverages that cost between 500 yen and 600 yen were particularly popular.
"An increasing number of households have time to spare," a company representative said. "Bottles ranging from 500 milliliters to 750 milliliters are perfect sizes for small gatherings. It seems that they have won support from customers because they look good at online drinking parties."
CHEAP IMAGE
"People pay 700 yen for a glass of sake when they go out, but they don't drink it at home," said Hitoshi Utsunomiya, a board member of the Japan Sake and Shochu Makers Association.
Although sake experienced a boom of sorts in the past decade, consumption has actually been on a fairly constant decline. Its taxable shipping volume has shrunk to around 25 percent of its peak.
"Sake makers, especially small- and medium-sized breweries, have found an advantage in selling high-grade 'ginjo' brews and other premium sake for higher prices when the market is shrinking, but their efforts were upended by the pandemic," Utsunomiya said.
Satoaki Yamada, chief of the first research division at Sakebunka Institute Inc., which spreads information about sake, said sake makers have failed to come up with effective measures to expand the customer base.
Actually, ginjo, "Junmai" (pure rice) and other premium sake account for less than 30 percent of overall sake consumption.
"Regular sake, including those available in paper cartons, which account for more than half of consumption, are simply seen as cheap sake," he said.
Another underlying cause of the decline, Yamada said, is the fact that many sake breweries are small and couldn't promote their products like beer makers whose sales top 1 trillion yen.
"Sake is not served on the table even during the New Year holidays," he continued. "Sake is losing ground as it fails to offer classic combinations, such as wine for steak and beer for 'yakiniku' grilled meat. It's a critical situation."
ATTRACTING YOUNGER DRINKERS
However, Yamada said there are signs that sake could experience a revival.
"Low-priced, fragrant and fresh-tasting sake can draw broad support," he said.
Takara Shuzo Co., for example, released a sake with an aroma suggestive of banana, which is produced with yeast alone and no artificial flavoring.
Available in 250-milliliter bottles, the product became a hit among customers mainly in their 30s.
Kiku-Masamune Sake Brewing Co.'s paper-packed sake product has been praised for its aroma on par with a higher-grade "daiginjo" brew.
More than half of paper-packed sake buyers are believed to be 65 or older, but those in their 40s or younger accounted for half of the purchasers of this product, the company said.