HASHIMA, Gifu Prefecture--A grandmother's gift led to Eito Hara's decades-long fascination with "kaiju" monsters, his renown as a sculptor and alarmed looks from people shocked by his passion for the creatures.
A special exhibition featuring about 10 lifelike sculptures of kaiju and dinosaurs created by Hara from newspapers and other everyday materials are on display at the Hashima Movie Museum here.
Scattered across the venue are heads modeled after a carnivorous allosaurus, monsters from live-action movies, including Gamera and Gyaos, and other paper sculptures.
Hara, 65, who lives in Gifu, was born in Gujo in the prefecture. His obsession with kaiju started after he asked his grandmother to buy him a Godzilla toy when he was a child.
He made kaiju sculptures with paper clay and other materials after he entered elementary school and continued to hone his skills on his own.
When Hara was in his 20s, he took a job at Kaiyodo Co., an Osaka Prefecture-based company that has a large fan base for its exquisitely crafted models and figurines.
Although Kaiyodo's products range widely from live-action superheroes to anime characters, Hara was mainly in charge of creating kaiju sculptures.
He made more than 50 varieties of kaiju, including molds for a ready-to-assemble Godzilla kit.
His sculpting skills gained recognition. A silhouette of a figurine created by Hara was featured in a movie poster for "The Return of Godzilla" released in 1984.
Hara left Kaiyodo after about 10 years. He then served as manager at a toy shop while continuing to build kaiju sculptures.
He retired from work last year to concentrate on sculpting with newspapers and other simple materials.
He said he wanted to emulate the technique of Teizo Toshimitsu, a sculptor who created a clay model of the Godzilla suit used for the original film released in 1954. The model was made with newspapers pasted on a framework of bamboo sticks.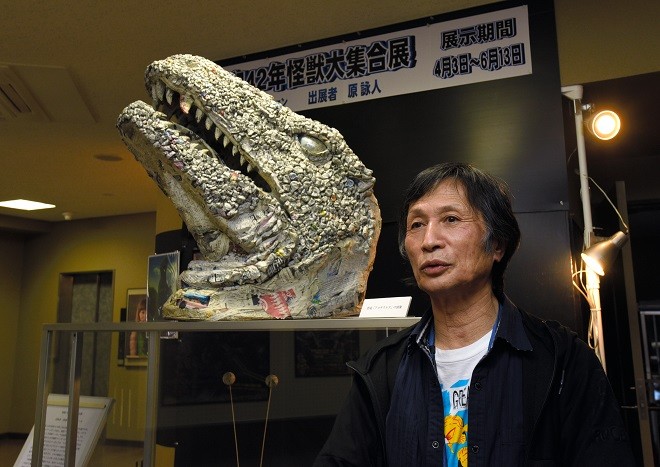 Hara glues strips of newspaper together into the form of a kaiju, and mainly uses cardboard boxes as support for the waist and other parts of the body. Many rolled up pieces are placed in rows to create a coarse skin texture.
It takes about three days for Hara to complete a paper sculpture about 30 centimeters tall. But he spent six months for a Godzilla about 2.5 meters tall and more than 3 meters long, he said.
The artist hosts a crafts class for the public to promote the charms of kaiju. He also helps the Hashima Movie Museum organize exhibitions.
"He is incredibly passionate and energetic about kaiju," said Ryoichi Kondo, a former director at the museum who now serves as an adviser.
When Hara talks about kaiju, he often gets so excited and carried away that people around mistakenly believe he is engaged in a quarrel.
His kaiju sculptures, along with old movie posters, are featured as part of the museum's exhibition dedicated to films produced by Daiei and Nikkatsu studios.
The event runs until June 13. Admission is 300 yen ($2.70).
Hara's collection of dinosaur sculptures and other items is also on display at the lobby for free until July 11.
"Kaiju had been seen as kid stuff, but now they have become art," Hara said. "Kaiju are really cool."
The venue is closed on Mondays. For information, visit the museum's official website at (https://hashima-rekimin.jp/).