ASHIYA, Hyogo Prefecture--Interactive 3-D virtual reality photographs have been created to promote three historic buildings of modernist architecture in Ashiya city to the world.
One of the buildings featured in the VR content is the Yodoko Guest House (the former Yamamura family residence). Designed by U.S. architect Frank Lloyd Wright (1867-1959), it was completed in 1924 and is designated an important cultural property.
The other two buildings, the former Ashiya Post Office Telephone Exchange (Ashiya Monolith) and the former Miyazuka-cho housing complex, are government-registered tangible cultural properties.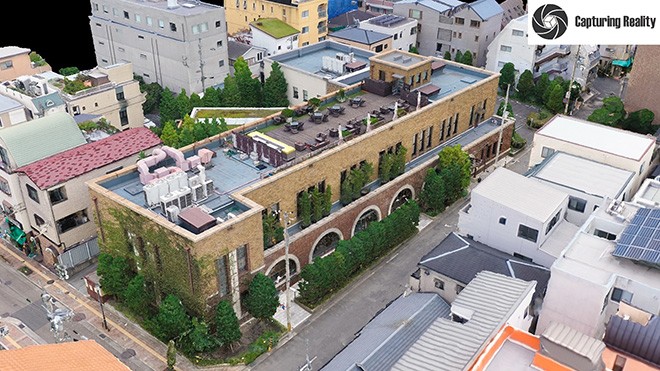 VR service provider Hacosco Inc., based in Tokyo's Shibuya Ward, pitched the project idea to the Ashiya city government after taking note of the three buildings. A production committee comprising members from Hacosco and the city's education board was then founded.
Online visitors can see each building in two different programs.
One is through a 3-D panoramic photograph assembled from multiple digital images of the exterior shot by a drone. The other uses an interactive photo that lets viewers virtually stroll inside and around the structure by pressing the screen.
"We hope people will see the images and visit the actual sites when the novel coronavirus pandemic settles down," an education board official said.
The virtual tours can be accessed by scanning the QR code with a smartphone or tablet, or visiting the special website at (https://hacosco.com/ashiyakindai/).