Sena Irie has found many forms of inspiration in her drive to become an Olympic boxing champion.
First, it was manga. Then, playing games or encouraging words from her coaches.
But most of the time, she drew inspiration from frogs, her favorite animal.
"I'm not interested in Shibuya or Harajuku at all," the 20-year-old university student would say of the trendy Tokyo districts. "I want to spend my off-time with frogs."
On Aug. 3, Irie won the gold medal in the women's featherweight 54 to 57-kilogram division in boxing at the Tokyo Olympics. She is the first Japanese female boxer to win an Olympic medal, and the third Japanese pugilist to win an Olympic gold medal.
"I don't remember a thing," an ecstatic Irie said after the fight. "The next I know, I was changing. It's surreal. I pinched myself many times. And I still feel like I'm in a dream."
Born and raised in Yonago, Tottori Prefecture, Irie loved playing in the Sea of Japan, where she dove to catch seashells.
When she was a second-grader in elementary school, she read "Ganbare Genki," a manga comic series about a boy who wants to be a boxer like his father.
She immediately started practicing her boxing moves and punches.
"The more I practiced, the better I boxed. It was fun," Irie recalled.
The 2012 London Olympics changed her life.
Women's boxing was added to the Olympics for the first time. Irie was still a sixth-grader then.
But the following year, Tokyo won the bid to host the 2020 Summer Olympics. People around her got their hopes up that Irie would be a star at that event.
"It became too late for me to quit even if I wanted to quit," she said of the expectations.
When she was a high school student, her father gave her a mobile phone. When asked to pick a number, she selected "2020."
In March 2020, she earned a spot to represent Japan at the Tokyo Olympics. She would be the first Japanese female boxer to compete in the quadrennial sports event.
But the joy was short-lived. The COVID-19 pandemic forced organizers to postpone the Games for a year.
"I have been training for a year since the decision, and it's been really difficult," Irie said in May this year.
She even mentioned "retiring" from the sport.
"I think I will quit boxing when I graduate," she said. "After the Olympics, I will start looking for a job. I love frogs, so I want something to do with frogs. Or, games. Because I love games."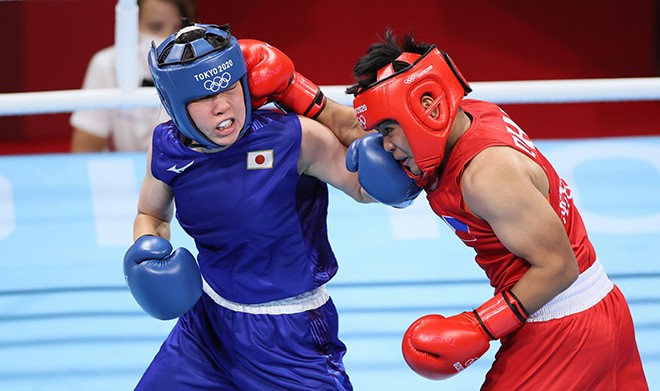 For Irie, the Tokyo Olympics were supposed to be a flurry of festivity and jubilant people.
But the pandemic has changed everything, and holding the Olympics became a polarizing issue.
"I couldn't enjoy training at all," she said. "I just wanted to go home."
When things got particularly tough, Irie would open a pictorial book on frogs for healing purposes.
She would also visit a Japanese garden alone to stare at tadpoles swimming hard in a pond.
She said she also leaned on the encouraging words from a top official of the Japan Boxing Federation: "You will open the door for a new history."
After winning the quarterfinal bout on July 28, Irie said, "The door has opened by about 5 millimeters."
Preparing for the July 31 semifinal, Irie sought inspiration again from frogs. She named her strategy against Great Britain's Artingstall Karriss, "Operation aggressive tsuno-gaeru (horned frog)."
It worked. After the hard-fought 3-2 win, Irie said, "Now the door is open 5 centimeters."
Irie was dominant from the preliminary rounds to the semifinal, winning all four matches by decision.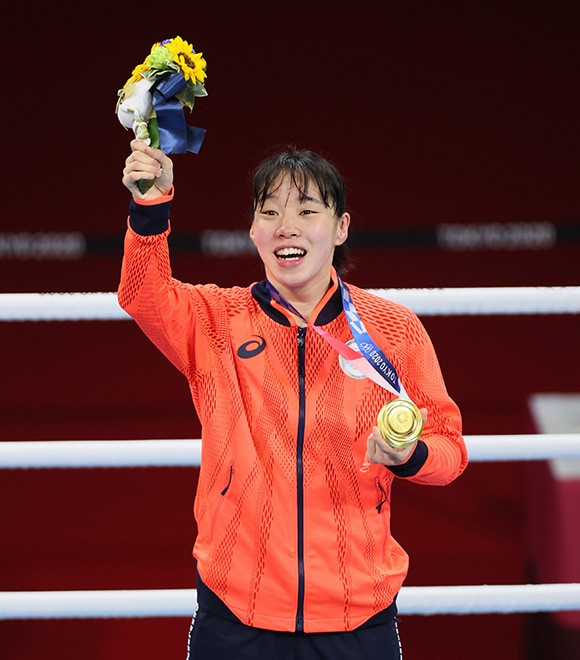 Vladimir Shin, one of her coaches, was impressed and told her, "You are growing really strong."
That made Irie happy and wonder, "Am I moving closer to a frog?"
Before the final bout against Nesthy Petecio of the Philippines, who won a world championship in 2019, Irie joked, "If I win, I think the frog will grow feathers."
After the gold medal victory, Irie jumped up and down on the ring like a frog. Tears were flowing.
"I will keep telling myself this is real," she said. "I've become the world's No. 1. But it still doesn't feel real. I want to look at the gold medal many many times."
(This article was compiled from reports written by Kogo Shioya, Yuko Kawasaki and Kenichi Hato.)