Used car prices at wholesale level are now at their highest levels in 10 years, driven by stay-at-home demand and a global shortage of semiconductors, the "brains" behind the electronics in car engines.
Some used models, which are mainly traded through auctions where vehicles are sold to buyers with the highest bids, are now even more expensive than new cars.
According to leading used car auction platform USS Co., the average auction price in June was 859,000 yen ($7,900), up 18.8 percent from the same month a year earlier.
The figure represented the 13th month of consecutive increase and was the highest level in a decade.
"Every model is in short supply," a representative said.
A car dealer in Yamagata Prefecture recently tried to purchase used models of Toyota Motor Corp.'s Yaris Cross and Suzuki Motor Corp.'s Jimny but gave up after being told they cost several hundreds of thousands of yen more than new ones.
"There is a growing demand for second cars because customers want to avoid close contact with others while the novel coronavirus pandemic is still raging," the operator said. "With new cars taking longer to be delivered, people are increasingly in the market to buy used cars if they are readily available."
Inquiries about used car leases are also rising.
Tokyo-based startup Nyle Inc. said the number of lease contracts in June grew by six times year on year.
"With deliveries being delayed, those who can't wait for new cars are leasing used cars," a publicist said.
A global shortage of semiconductors is one of the causes of the delays in deliveries of new vehicles as manufacturers prioritize production for gaming consoles and electric appliances to meet growing demand from stay-at-home lifestyles.
Major semiconductor maker Renesas Electronics Corp. halted some of production lines at its Naka Factory in Hitachinaka, Ibaraki Prefecture, in March due to a fire.
Although the supply from the factory has returned to pre-fire levels, the structural shortage remains unresolved.
Many automakers struggling to secure semiconductors have been forced to reduce production.
With fewer new cars being produced and sold, the number of used cars taken in for trade has dropped, resulting in higher prices for used vehicles.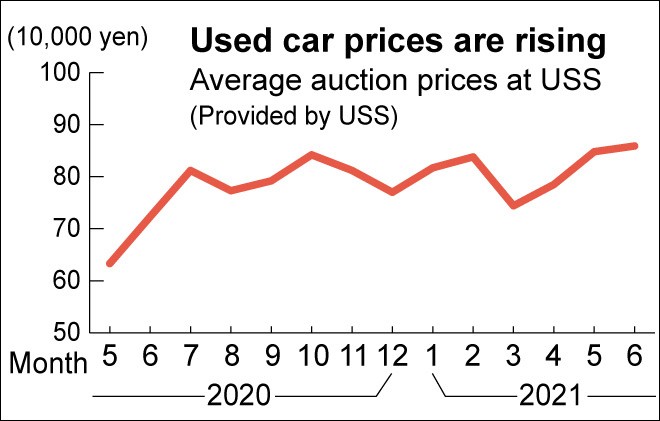 "It seems that prices will continue to hover at high levels for the time being," said Masashi Hodotsuka, a senior manager at Japan Research Institute.
While rising prices obviously rattle consumers, some used car dealers are making a killing.
For example, the stock price of Idom Inc., which operates the used car dealer chain Gulliver and is listed on the First Section of the Tokyo Stock Exchange, soared by nearly 80 percent from the end of 2020.
"Rising used car prices against the backdrop of the coronavirus pandemic and the semiconductor shortage has been a trend in the United States and elsewhere around the world," noted Chihiro Ota of SMBC Nikko Securities Inc. "It seems that businesses will continue to boom for related companies."