A 35-year-old man who lives in the Kanto region has finally found his true calling in life after years of struggling with mental health problems and fighting to hold down a steady job.
Since childhood, he was frequently told dispiriting things such as, "You are tactless."
For most of his adult life, he felt he was slow to learn work-related tasks and had difficulty multitasking. He shuffled from one job to the next.
Fast forward to today, the leaf-cutting artist known as Lito has earned devoted followers around the world.
"His cutout technique is unbelievably complex," one foreign online media outlet said in praise.
"It is as if he holds a picture book on his palm, and the leaf is telling a story," another said.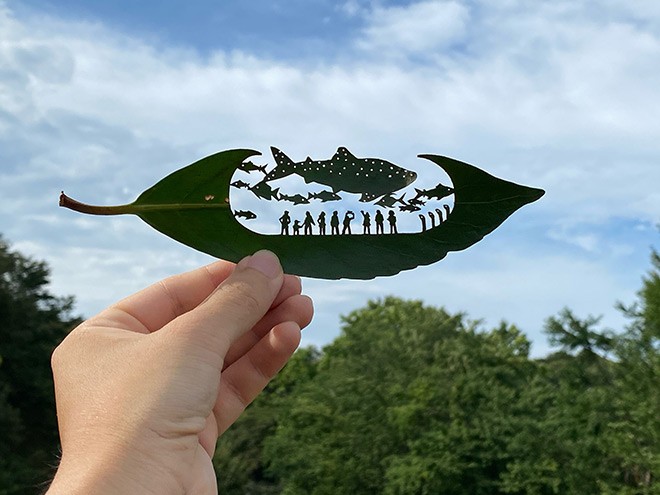 Lito makes his artworks by carving intricate shapes and designs into leaves that he finds on the street.
With his technique, the leaf slowly morphs into an incredibly detailed picture. In one, a bear and a hedgehog console a crying rabbit. In another, a giraffe and a penguin watch a shooting star together.
Lito held a solo show at a bookstore in Tokyo in May. All 30 works put on display were sold.
One of them fetched 150,000 yen ($1,355).
He only began creating these kinds of works last year.
It all started after he was diagnosed with ADHD (attention-deficit hyperactivity disorder) and learned that what he had long believed to be shortcomings are simply character traits.
He used to work in the restaurant business. But he could not keep working at the same place for long and drifted from job to job.
Struggling to learn how to work as smoothly as his coworkers and handle multiple tasks at the same time, he often failed to build healthy personal relationships at work.
One day, he searched the phrases, "tactless" and "failing at work," on the internet.
The term "developmental disorder" immediately jumped out at him.
"Everything written there described me, literally," he recalled.
He went to see a doctor and was diagnosed with ADHD.
He said he was relieved because what he had thought to be a lifelong hardship was not because of a lack of competency but rather a personality attribute.
He quit his job and decided to focus on "things I can do" and not "things I can't do."
He drafted up a list of things he is bad at and analyzed his weaknesses.
In the process, he realized he is good at doing detail-oriented tasks and that he has great concentration.
Then he saw leaf-cutout art on social media created by a Spanish artist.
"Maybe I can do this, too," he thought.
By studying the artist's example, he made one of his own and posted it on social media. It immediately garnered attention.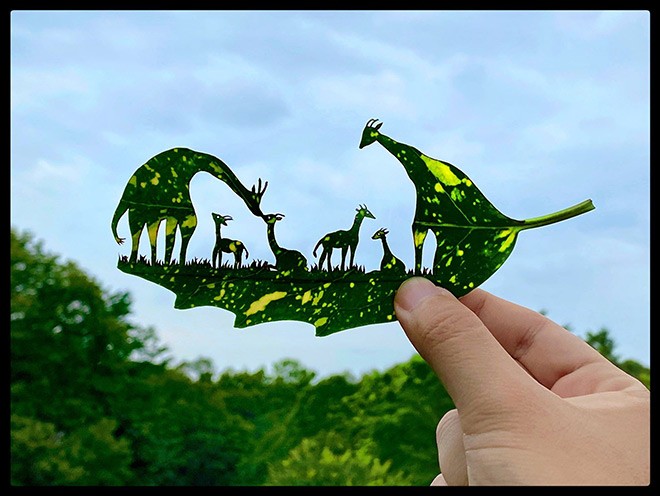 Now, on a typical day, Lito will go out to a nearby park to collect leaves that are easy to work with in terms of colors and sizes.
Then, he thinks up a story based on each leaf. He decides on a main animal character as well as a supporting cast and develops a theme.
He sketches an outline on the leaf and begins to make an incision with a design knife with surgical precision.
The leaves are very delicate and each is unique. Due to the delicate nature of the work, he must frequently change his knife blade throughout the process. It takes him more than several hours to do.
But he can usually complete an exquisite artwork in just one go.
Then he takes it outside for a photo shoot. It takes a few more hours for him to come up with a title and post it on social media.
His work usually features the sky as a backdrop. That allows viewers to see the color of the sky through a cutout and enjoy the dreamy atmosphere, he said.
But because of that, he's always working under a tight deadline.
"Once the sun goes down, I cannot take a picture. So, I'm desperate to get it done on time every day," he said.
A book of a collection of his art published in May has been in reprint and already sold more than 50,000 copies.
His calendar is filled with solo exhibitions until next summer.
He said he was nervous about his future after being diagnosed with ADHD.
But leaping into a new journey could teach people who are struggling as he did that there are ways to capitalize on their strengths, he said.
"You may be making many mistakes and losing confidence in yourself," Lito said. "But I want to say that you surely have your specialty and there are people who will support you."