BLOOMINGTON, Minnesota--While U.S. presidents often seek to boost the nation's infrastructure, such as highways, roads and bridges, President Joe Biden held a cutting-edge example in his hand.
In an online meeting from the White House in April with CEOs of semiconductor companies, Biden held up an iridescent disk and said, "Chips, like the one I have here, this is infrastructure."
The CEOs participating in the meeting represented such major companies as Google, Intel, Hewlett-Packard and Taiwan Semiconductor Manufacturing Co. (TSMC), the world's largest semiconductor foundry.
But the wafer that Biden held up was manufactured by SkyWater Technology Inc., based in Bloomington, Minnesota.
Thomas Sonderman, 58, SkyWater's president and CEO, said of that moment, "It was a great honor and a sense of pride for all SkyWater employees."
Sonderman participated in the online summit from his office here and reflected on that meeting in an interview in late May with The Asahi Shimbun.
SkyWater was a unique presence at the summit because it only has about 600 employees and its sales are less than 1 percent of Intel's.
SkyWater was invited partially because of the increasingly fierce competition between the United States and China for supremacy in economic and military matters that will turn on advanced technology such as artificial intelligence and other areas that are heavily dependent on semiconductors.
Due to the key role semiconductors play, national governments have taken the lead in trying to win the competition.
While the United States has placed emphasis on semiconductor research and development, much of the actual production is consigned to companies in Taiwan and elsewhere.
But with the intensifying competition with China as well as the effects of the novel coronavirus pandemic, there has been increasing concern about the risk in being dependent on other nations for semiconductor manufacturing.
"Globalization is here," Sonderman said. "We are a global society and we need to recognize that, but there's certain critical infrastructure that nations need to pay attention to."
SkyWater is a major wafer fabrication facility, known commonly as a wafer fab, that supplies the U.S. military, among others. More importantly, it is the only U.S. investor-owned and U.S.-based fab.
That has now become a major strength for SkyWater as concerns are being raised about the safety of the semiconductor supply chain and due to the extreme importance placed on confidentiality by the U.S. military.
In a sense, SkyWater represents the move to reclaim a dominant position in the semiconductor sector through the fusing of government, military and private companies.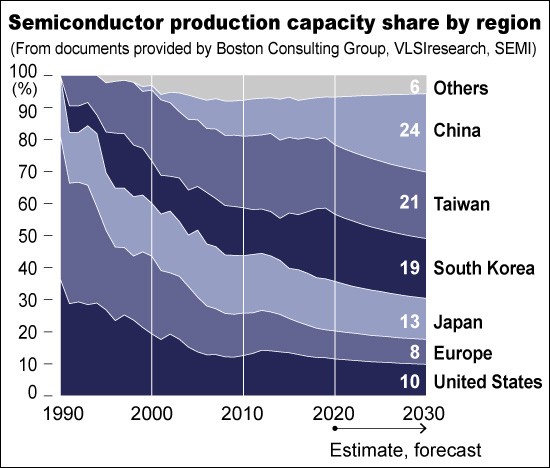 STAKING OUT NICHE THROUGH 3-D CHIPS
To get a feel for what SkyWater was trying to achieve, a reporter visited its Skytech Center in Bloomington.
Because electronic circuits now exist in a world measured in nanometers, or one-millionth of a millimeter, a powerful microscope was needed to view the maze-like structure of a chip.
John Spicer, 63, executive vice president in charge of operations at SkyWater, said, "The whole landscape of going from the invention of this little microchip to where we're at today where there's millions of chips that do different things, it's amazing to me."
Employees are dressed in what appear to be space suits to ensure cleanliness of the plant facility. And the Skytech Center has been designed to keep dust particles to an extreme minimum.
The center was constructed as an advanced research and development facility with funds from the Pentagon and its affiliated agency, the Defense Advanced Research Projects Agency (DARPA).
The research at the center is not only moving away from embedding microscopic electronic circuits on a flat surface, but also from the silicon used to make the chips. Instead, carbon nanotubes are being used to, in effect, stack the chips into a 3-D form.
SkyWater CEO Sonderman called what was being done at the Skytech Center "a resetting of Moore's Law."
Gordon Moore, a co-founder of Intel, famously predicted in the mid-1960s that the number of transistors on a chip would double about every 18 to 24 months. That has since been known as Moore's Law.
The competition in the miniaturization of chips has led to the dominance in the semiconductor manufacturing sector by TSMC.
No longer able to compete, many U.S. companies have instead focused on research and development as well as chip design rather than manufacturing.
The smaller the width of circuits, the more transistors can be jammed into a chip, improving its performance. Because TSMC has succeeded in producing the most advanced semiconductors with circuit widths of less than 10 nanometers, Taiwan now accounts for about 92 percent of all the chips of that size produced in the world.
And while TSMC is now seeking to create chips with circuit widths of 3 nanometers, the main chips produced by SkyWater have widths of 90 nanometers.
Given that difference, SkyWater had to find a new area in which it could compete and came up with the revolutionary 3-D stacking technology.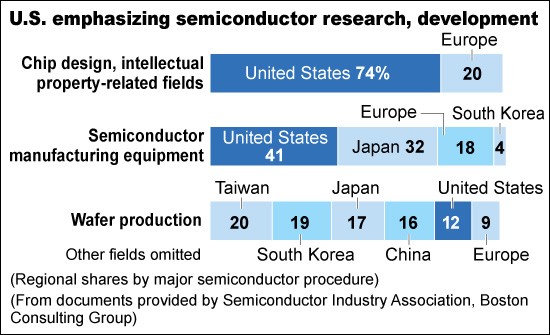 Clearly in SkyWater's corner was the U.S. military, which had long held concerns about the globalization of the semiconductor industry. It is now said that to complete a typical chip, parts and other materials have to cross national borders about 70 times before the final product is manufactured.
That "just-in-time" supply chain has, in turn, been a key source of global economic growth.
But major confusion can erupt if that supply chain is disrupted due to natural disasters or other factors.
And there are especially strong concerns within the U.S. government and Congress about the excessive dependence on TSMC for advanced semiconductor production.
A major reason is that Taiwan is at the core of the confrontation between the United States and China. If the supply of semiconductors should be disrupted by a military skirmish, the effects on the U.S. economy and military strategy would be unimaginable.
Ever since its birth, the semiconductor industry has been closely linked with military technology as well as space and aeronautical development.
DARPA has played a vital role in developing major postwar technology, such as the internet. It also provided funds to Moderna Inc. after it was established in 2010. The pharmaceutical company has now developed one of the COVID-19 vaccines in wide use around the world.
SkyWater has been working closely with the U.S. military since 2017 when it received certification to work with it. The following year, DARPA approved a joint project between SkyWater and the Massachusetts Institute of Technology for research into 3-D chips.
Since 2019, the company has been receiving as much as $170 million (about 19 billion yen) from the U.S. Department of Defense for the production of semiconductors capable of withstanding high levels of radiation in space.
Sonderman has no doubt that the support provided by the U.S. government and military had been vital in producing positive results.
"While we're a small company, we know how to make public-private partnerships work," he said.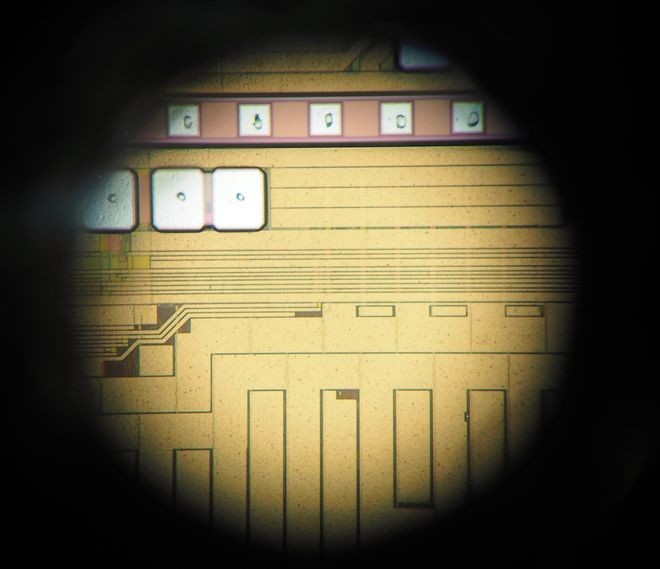 NATIONS WORKING TO PROP UP CHIP INDUSTRIES
Semiconductors are considered the foundation that will determine which nation comes out on top in economic and military competition centered on such key technologies as artificial intelligence and high-speed communications.
In a sense, semiconductors will be for the 21st century what petroleum was to the previous century.
While the novel coronavirus pandemic led to sudden economic slowdowns in 2020, semiconductor demand was up, particularly for computers that were in sudden need with the increase of teleworking. And while semiconductor demand for use in automobiles was initially expected to be down, there was actually a much stronger recovery.
The semiconductor supply was hurt this year due to a fire at a plant of the major Japanese semiconductor manufacturer Renesas Electronics Corp.
According to World Semiconductor Trade Statistics, global sales of semiconductors for 2021 is being estimated at $527.2 billion (about 58 trillion yen), an expected increase of 20 percent over last year.
However, various nations have begun implementing industrial policies to rebuild the global supply chain in a manner advantageous to them.
Under President Donald Trump, the United States strengthened export restrictions on semiconductors to China. The Biden administration maintained that policy, but there has been growing concerns in Washington due to the chaos in supply brought about by the COVID-19 pandemic.
In addition to reinforcing cooperative efforts with allies, the U.S. Senate in July passed the U.S. Innovation and Competition Act, which would set aside $52 billion to strengthen domestic semiconductor production and the supply chain.
Similar large support measures for the semiconductor industry are being pushed in Europe, South Korea, Taiwan and China. In June, Japan also came out with a strategy to reinforce the domestic production base for semiconductors under a state project.
But some experts have expressed skepticism at whether such measures will have the desired effect.
For example, China is said to have provided about $200 billion over a decade in subsidies that were not always well-defined in terms of actual purpose. Even after such expenditures, China's competitiveness in the semiconductor industry lags behind the United States and Taiwan.
T.J. Rodgers, 73, the founder of Cypress Semiconductor, pointed to the inefficiencies and slow decision making on the part of governments and said, "I've always looked at government as an interference, not a help, not a partnership."
CRAFTSMEN'S SKILLS DETERMINE QUALITY
The competitiveness of each nation's semiconductor sector can be said to have developed by companies employing a diverse workforce as well as taking advantage of the globalization symbolized by a huge overseas market.
But while SkyWater is a 100-percent American company, just a few minutes' drive away is the plant of Polar Semiconductor Inc., affiliated with Sanken Electric Co., a major Japanese semiconductor company.
Surya Iyer, 52, the vice president of operations and quality at Polar Semiconductor, believes other factors also play a role in a successful semiconductor industry. Originally from India, Iyer pointed to craftsmen's skills on the plant floor, as well as a culture that encourages free thinking along with cooperation with other individuals and nations based on trust.
A visitor to the Polar Semiconductor plant gets the impression of being on a spaceship because not only is the plant interior painted white, but the employees also wear white uniforms. Efficient plant operations are due, in part, to the cooperation from industrial robots that transport wafers within the well-organized plant.
There are said to be between 400 and 1,400 steps in the production of wafers, including applying oxide film to the surface and covering it with a photosensitizing agent. Applying photography principles, circuit patterns laid out on a glass plate are etched onto wafers by applying ultraviolet light to the pattern. Repeating such steps with precision produces the extremely fine electronic circuits.
The various steps reminded the reporter of the process used in Wajima lacquerware, a subject covered in my early days as a journalist.
"A company could say 'I'm going to stop supplying you with this,'" Iyer said. "I expect those kind of problems to be zero to very small where businesses are free to do what they want. A supply chain is more resilient if there are options in democratic countries."
While some of the problems stemming from excessive globalization may have emerged through the confrontation between the United States and China as well as the novel coronavirus pandemic, it is also evident that protectionist government industrial policies also have its own adverse effects. The various nations involved in the competition have still not yet found the equilibrium.