NEYAGAWA, Osaka Prefecture--Toshio Katsuma, a painter, was devastated when he lost the ability to use his dominant left hand due to a sudden illness 11 years ago.
He could no longer draw. It was a crushing blow, and he almost lost the will to live.
But seven years later, the artist fulfilled his longtime dream of hosting a solo exhibition thanks to hard work, and the help of a computer and a friend's pet cat.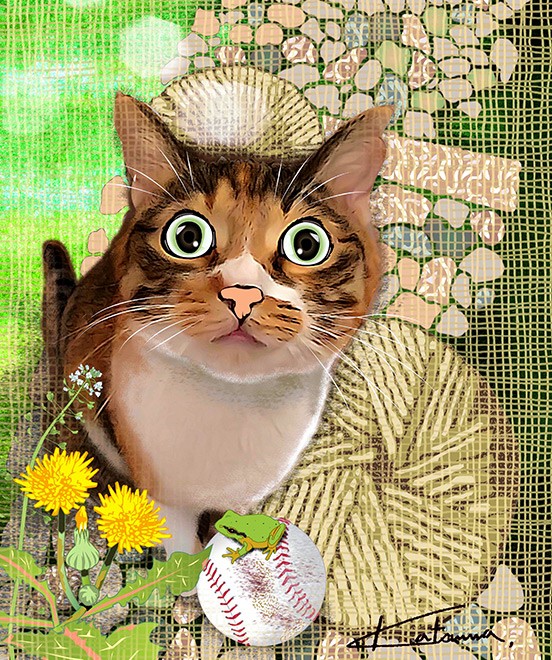 Katsuma, 70, had always been skilled at drawing since childhood.
When he was a junior high school student, his sci-fi comic became popular among his classmates, earning him the moniker of "Manga."
He decided to pursue a career in drawing after graduation, moving on to study at a vocational school for painting instead of a high school.
Katsuma made his professional debut as a manga artist at age 18 when his first work was published in the Weekly Shonen Magazine comic anthology, which also ran the wildly popular serialized titles "The Star of the Giants" and "Ashita no Joe" (Tomorrow's Joe).
Unfortunately, none of his manga works gained popularity and his manga career ended after about three years.
Still, he relied on his painting skills to survive, working as an instructor at a vocational school and providing illustrations for advertisements and other services.
In December 2010, he felt his hands begin to shake. He collapsed at his home in Osaka after working with no sleep to finish a drawing.
He had suffered a stroke.
When Katsuma came to, he felt numb along the left side of his body and couldn't hold a paint brush with his dominant hand.
He was 59 at the time.
His doctor told him he wouldn't be able to work again as a painter.
But Katsuma refused to give up.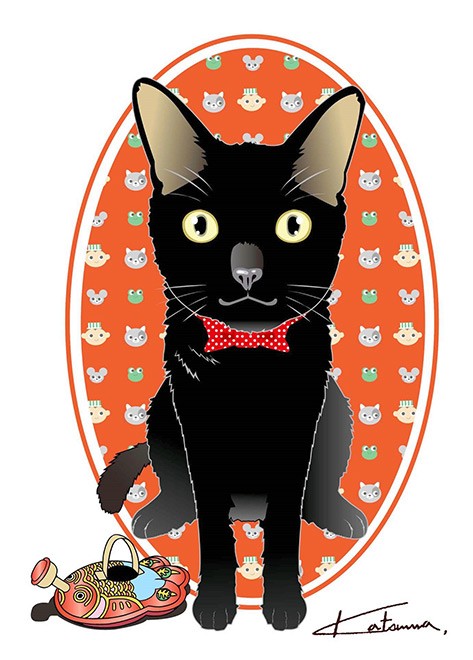 Thinking that he might be able to draw using a personal computer, he moved the mouse with his right hand and drew a picture. He kept at it although he wasn't satisfied with the outcome.
Two years later, a friend asked Katsuma to draw a picture of her pet cat. It made him happy to see that she was delighted with the portrait he created on his computer.
He posted the drawing on his Facebook page, and it instantly attracted hundreds of likes and made him feel confident in his skills.
Since then, Katsuma has posted his drawings online every day.
His models are invariably stray cats. Having lost an important part of himself, he identified with them because they wander around the streets without being noticed by anyone.
His drawings attracted the attention of an art dealer, who helped Katsuma organize a solo exhibition at a department store in Saitama Prefecture in September 2017. It was his first experience showing his works in a gallery.
Some visitors shed tears as they remembered their dead pets.
"I always wanted to draw pictures that would be remembered because I had drawn nothing but manga and other drawings that would be thrown away after a short while," Katsuma said.
It felt like a new path was opening up in front of him, he said.
He has since hosted solo exhibitions at department stores and bookstores in Tokyo, Fukuoka, Osaka and elsewhere across the country.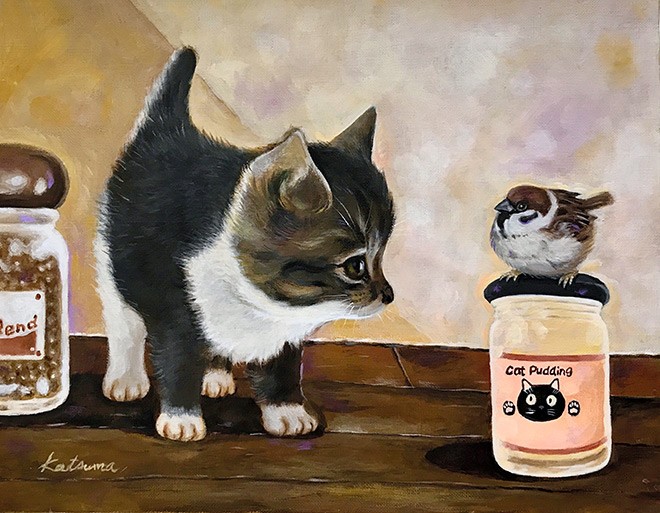 Two years ago, when Katsuma held a paint brush with his right hand, he was pleasantly surprised to find that he could draw as good with it as he once could with his dominant hand.
During a solo exhibition held in January at a department store in Osaka's Minami district, Katsuma drew an acrylic painting of a cat with a paint brush for a live event.
"I want to hold solo exhibitions exclusively using my hand-drawn paintings in future years," Katsuma said.
He said he is now determined to surpass the skill level he was at before he became sick.