The foreign substance found in Moderna's COVID-19 vaccines is a metallic substance, the health ministry announced on Aug. 26.
"It is metal and reacts to a magnet, and it likely fell into (the vaccines) in the manufacturing process," a senior ministry official said.
The ministry said the contaminant was found in a total of 390 doses, which were scheduled to be used at eight vaccination centers in Tokyo and Saitama, Aichi, Ibaraki and Gifu prefectures.
Staff detected tainted vials and removed them from the lineup for use, the ministry said.
The health ministry said there have not been any reports that a tainted jab was administered to someone or any reports of safety concerns as of Aug. 26.
But the ministry said there are about 1.6 million doses of Moderna vaccines that may have also been tainted because they were manufactured on the same production line.
These vaccines have been distributed at 863 vaccination sites around the country and some have already been administered to people.
The ministry said it does not know how many people have received doses from these 1.6 million.
But at least 946 people, including 94 lawmakers, have received a possibly tainted Moderna jab. They were used at a workplace inoculation program operated by the Diet, which started on Aug. 16.
The Defense Ministry announced that 70,000 doses of possibly tainted Moderna jabs were administered at the Osaka International Convention Center, which is a makeshift large-scale vaccination center run by the Self-Defense Forces in Osaka's Kita Ward, during the period from Aug. 6 to 20.
Chief Cabinet Secretary Katsunobu Kato urged members of the public who have received the vaccine to be on the watch for possible health problems.
"If you have felt that something is wrong, please consult your primary physician," he said at a news conference.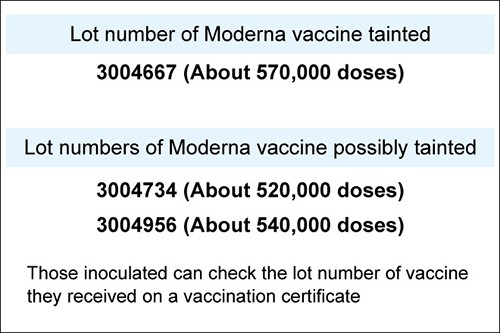 One way to know if an individual has indeed received a Moderna dose that was possibly tainted is to check their COVID-19 vaccination certificate, which typically comes in the form of a sticker received after each vaccination.
The certificate shows the lot number the administered vaccine came from, along with the name of the manufacturer.
The ministry said the tainted 390 doses share the lot number 3004667. About 570,000 doses with that lot number were imported to Japan.
The ministry also released two lot numbers that may have possibly also produced tainted vaccines: 3004734, which contained about 520,000 doses, and 3004956, which had about 540,000 doses.
The health ministry has ordered affected vaccination centers to stop administering vaccines from the stock of these 1.6 million doses.
Takeda Pharmaceutical Co., which imports and sells Moderna vaccines, is urging personnel involved in vaccinations to check each vial carefully, regardless of its lot number.
Even if a vial is not on the ministry's "do not use" list, staffers should "visually check before use for any abnormality, such as a mixed-in foreign substance," the company said.
CANCELLATIONS AND FRUSTRATIONS
Moderna's COVID-19 vaccines have mostly been used at mass inoculation programs operated by large companies, universities and local governments, among other organizations.
The latest revelation has thrown operators of such sites around the country into a mad scramble to deal with the sudden halt of scheduled inoculation programs.
For some, it was not the first time they had to cope with a sudden change of schedule, as the supply of Moderna vaccines has often been insufficient and has at times fluctuated.
A chamber of commerce and industry in Yamaguchi Prefecture was ready to finally launch an organization-wide vaccination program on Aug. 26.
But after the health ministry announced the stoppage earlier that day, the chamber canceled it.
Inoculation of its members was initially scheduled to start a month ago, but it was pushed back.
The latest announcement forced the chamber to brace for yet another delay of the plan.
The Japan Chamber of Commerce and Industry has urged the central government to provide information about vaccine safety and the steadiness of supply, and has also requested that replacement vaccines be sent to affected local chambers.
The Okinawa Prefectural government scrapped a scheduled inoculation of 500 or so people at the Okinawa Convention Center in Ginowan and stopped taking new appointments.
The prefectural government is planning to resume the operation as of Aug. 27 by providing replacement vaccines, but officials said the unforeseeable circumstances have made the situation unclear.
Okinawa officials also revealed that possibly tainted vaccines were administered to 1,480 people at the convention center during the period from Aug. 20 to 25.
But there have been no reports of any health concerns arising from it.
The Iwate prefectural government also announced that 2,477 doses of possibly tainted vaccine were administered at mass vaccination centers run by municipal governments and workplace-related vaccination programs.
News of the recall due to the tainted doses has thrown a wrench into the plans of many other organizations as well.
All Nippon Airways Co. canceled its company-wide vaccination program scheduled at Haneda Airport in Tokyo on Aug. 26 and 27. The company said about 4,700 doses of possibly tainted vaccines had already been administered.
But an ANA representative added, "We have nurses who check each (vial), and no intermixture has been detected."
The University of Tokyo has temporarily stopped accepting new appointments for its own vaccination program, while continuing vaccinations as of Aug. 26 as planned.
Scheduled vaccinations at the International University of Health and Welfare's Akasaka campus, Tokai University's Shonan campus and Okayama University have also been frozen.
SUGA: 'NO MAJOR IMPACT'
Despite all the confusion and frustration, the central government insists this latest mishap will not cause delays in the nation's already lagging vaccination rollout.
"I have been told that it will not have a major impact on inoculations," Prime Minister Yoshihide Suga told reporters on Aug. 26.
The health ministry said replacements for the 1.6 million doses in question will be sent to affected sites to prevent further delays.
But a senior official from the prime minister's office admitted that it will deal a blow to progress in its vaccine rollout efforts.
"Vaccination at (these) sites has been halted for now. So, it will likely have an impact."
ROVI, a pharmaceutical company in Spain that manufactures the Moderna vaccine that has been imported to and used in Japan, said in a statement dated Aug. 26 that it is currently investigating the matter.
"The detection of this particulate matter refers to certain vials of one product lot distributed exclusively to Japan," the company said.
The origin of the incident "may be in one of its manufacturing lines," it said, but "as a precaution, this lot and two adjacent lots have been put on hold."
The company said it, Moderna and Takeda are all working closely with Japanese health authorities "to clarify and solve, if applicable, this incident."