Japan Post Co. is paying rent to retired postmasters who own nearly 6,000 of its post offices, an Asahi Shimbun analysis has revealed.
While the rental arrangements have secured the former postmasters a stable source of revenue for their golden years, it raises questions about conflicts of interest and whether ex-postmasters could be unfairly profiting from the arrangements.
And it is no small matter. The figure accounts for about 30 percent of post offices nationwide run directly by Japan Post.
Many of those buildings appear to have been constructed and leased to Japan Post while the postmasters still worked there.
RENT GOES TO INSIDERS
Of all the country's 24,000 post offices, about 20,000 are managed directly by Japan Post. It rents around 15,000 offices that it does not own.
Japan post pays a collective total of almost 60 billion yen ($546 million) in annual rent for rental post offices. 
According to a Japan Post Holdings Co. securities report, the number of Japan Post offices rented by "staff members and other such parties" was 4,774 at the end of March 2019 and then dipped to 4,609 by the end of March 2021.
That category of owners includes active postmasters, their families and employees of Japan Post group companies. But retired managers of post offices are not covered in the report.
Japan Post does not disclose data on its retired managers.
But according to internal Japan Post documents obtained by The Asahi Shimbun, retired postmasters owned 5,940 post offices in April 2019.
While 2,000 were rented by incumbent managers, 2,774 were rented out by close relatives of active postmasters and employees of affiliated firms. Their total number is consistent with the figure at the end of March 2019 released in the securities report.
This means as many as 10,714 offices are being rented out by current and former postmasters, and other related parties.
That accounts for more than half of the post offices directly run by Japan Post.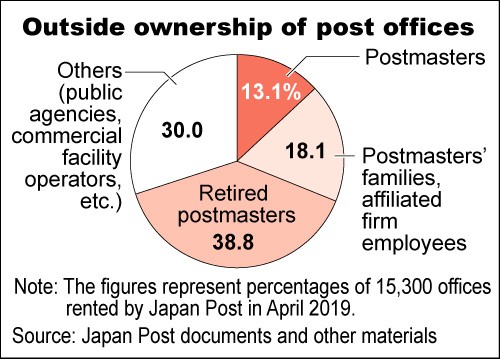 HOLDING ONTO THEIR NEST EGGS
In the early Meiji Era (1868-1912), the postal network was established in part with financial support from prominent persons in local areas. Their descendants often took over as postmasters or post office owners.
According to a postmaster in the Kanto region around Tokyo, nonhereditary managers will purchase properties to rent out as post offices because there are fewer potential hereditary successors these days.
An examination by The Asahi Shimbun of land registries and other related documents found 30 percent of the post offices that relocated over the last three years were apparently bought by incumbent postmasters to rent out to Japan Post.
The large number can be partially attributed to the fact that an association of 19,000 postmasters, now known as Zenkoku Yubin Kyokuchokai, urges managers to purchase such offices.
It is common for executives of some local postmaster groups to ask retired postmasters who have no family members that can inherit their buildings to transfer control of their post offices to the current managers.
But a postmaster in the Kyushu region said that many ex-managers "refuse to give up on their stable source of income," or rental fees from Japan Post, after they retire.
Internal documents reveal the number of post offices owned by active postmasters dropped by 13 percent from April 2015 to April 2019. Those owned by families and group company staff members declined 9 percent over that same period.
But the number of post offices owned by retired managers decreased by just 1 percent.
When postal services were privatized in 2007, an expert panel raised the issue of facing "higher rents than market rates for surrounding areas found in some regions."
Offering unreasonable benefits to employees is a violation of the Tokyo Stock Exchange's listing guidelines, and the exchange screens candidate businesses for this.
Because of this rule, Japan Post introduced a new contract system in 2010 to curb the total amount of rent paid to postmaster landlords.
In response to an inquiry by The Asahi Shimbun, a Japan Post representative declined to "comment on the percentages of contracted post office owners."
Asked about high-rate contracts stemming back from before 2010, the official said steps have already been taken to realize fair rents.
"We have had real estate appraisers confirm our agreements' validity in a review of rental fees."