HAMAMATSU--An unusual collaboration between a newspaper delivery shop and an eyewear accessory company here led to the development of "randoseru" school backpacks that can be used as makeshift emergency flotation devices if children get caught in a tsunami or heavy flooding.
The life-preserving backpack is the brainchild of newspaper delivery agent Joji Shimizu who was left dumbfounded by the loss of life at a public elementary school in northeastern Japan as a result of the towering tsunami generated by the magnitude-9.0 Great East Japan Earthquake on March 11, 2011. More than 80 pupils and teachers perished that day.
It took six years for the two partners to be in a position to commercialize the product, which they are planning to release by the end of the year.
Founded 73 years ago in Hamamatsu and now located in the city's Higashi Ward, Sakae Shokai is a leading manufacturer and seller of eyewear accessories such as eyeglass cases and lens cleaning cloths. Installed with cutting and sewing equipment, the company has made a point of assisting other companies to commercialize their product ideas, including Shimizu's pet project, the life-saving randoseru.
In 2012, Shimizu, 73, who operates a newspaper delivery shop in the city's Naka Ward, visited the ruined Okawa Elementary School in Ishinomaki, Miyagi Prefecture, where 84 children and staff members died or were listed as missing in the 2011 earthquake and tsunami disaster. He couldn't stop thinking about whether there could have been a way to save those precious lives.
He started by making a swim ring out of a urethane material, but gave up on the idea after a friend told him that no child would go to school with a swim ring.
Three years later, he came up with the idea of a floating backpack after he saw his first-grader grandchild carrying a randoseru.
Life-saving precautions recommended by expert bodies such as the Society of Water Rescue and Survival Research call for taking shelter on elevated ground first before floating face up to wait for help when water levels rise.
Conventional randoseru are naturally buoyant. But unless the backpack is attached to the stomach, a person's face would automatically be submerged.
Working with Sakae Shokai's president, 62-year-old Takashi Yoshizawa, Shimizu tried out loads of prototypes.
The main unit is made of nylon fabric. A 10 centimeter-thick urethane sheet is inserted inside the flap that serves as the lid of the backpack. It can be used as a flotation device by bringing it from the back to the front and placing it on the chest.
A thin urethane sheet is also inserted on the back of the backpack to ensure it stays buoyant.
The wearer can also float face up longer and in a more stable manner when the backpack is fastened to the body at the armpits and the groin with plastic clips.
In the presence of lifeguards, a demonstration with elementary school pupils from Hamamatsu was conducted in a pool in May and again at sea in July.
"I felt nervous at first when I couldn't touch the bottom with my feet. But I was able to stay afloat easily once I got the hang of it," said Yuhi Ohara, 9.
"I swallowed a bit of water at first but calmed down after I got my face out of the water," said Miku Masuda, 9.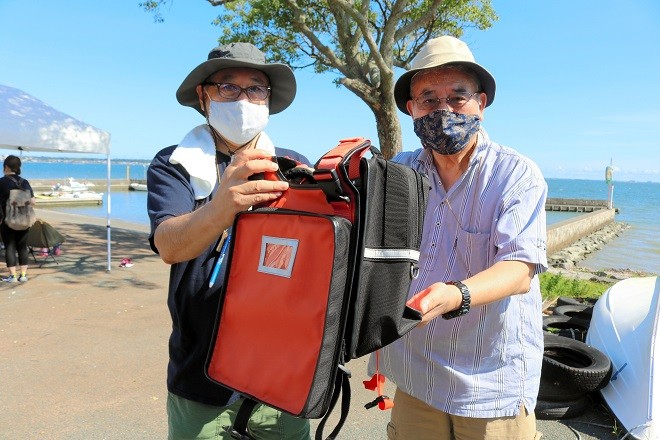 Yoshizawa said it was difficult to adjust the balance to enable first- through sixth-graders to float with sustained stability due to different body sizes and other physical attributes.
He also made the float section of the backpack detachable to allow several children to grab hold of it and float.
The life-saving randoseru is of regular size, although slightly heavier at 1.4 kilograms.
The company will pitch the backpack at a price of 49,500 yen ($450), including tax.
It has applied for a trademark registration under the nickname of "Ukuran."
For inquiries, visit Sakae Shokai's official website at (https://www.sakae-firm.co.jp/).