Shinichi Ise spent 30 years retracing the wartime footsteps of his father, who edited propaganda films in Indonesia, a country occupied by Japan during the Pacific War.
His latest documentary, "Ima wa Mukashi" (Now is the past), explores the meaning behind documenting the war, cutting back and forth between wartime and the present day.
"You can make the past your present as you swing back and forth between recollection and records," the director said. "I hope the audience can feel the power of documentary cinema."
Ise, 72, has built his reputation making documentaries about people with disabilities, dementia and pediatric cancer.
His father, Chonosuke Ise (1912-1973), was dispatched to the Java branch of film company Nihon Eigasha (Nichiei) as an army reporter between 1943 and 1945.
The editor known for such documentaries as "Sakuma Dam" and "Nihon Bankokuhaku" made propaganda films to promote the ideals of the Greater East Asia Co-Prosperity Sphere.
Nichiei's Java branch produced 130 or so films.
"Good Children of East Asia," "Tonari Gumi" and other works were intended to introduce Japanese language and customs to Indonesian people, while the "Romusha" series was aimed at mobilizing laborers to work on civil engineering projects.
The films were stored at an audiovisual archive in the Netherlands, which occupied Indonesia after the war.
Having learned that his father's films were still left, Ise started working on the project 30 years ago to get a sense of what a filmmaker must have felt playing a part in the war.
He re-edited the films reproduced in the Netherlands to incorporate the footage into his latest work.
Viewing scenes of Muslims being forced to bow in the direction of the Imperial Palace in Tokyo left him feeling the propaganda films were nothing more than "massive fakes."
"But you can see someone slacking off while all others are working methodically or another looking absent-minded," Ise said. "What is important is how you see the footage."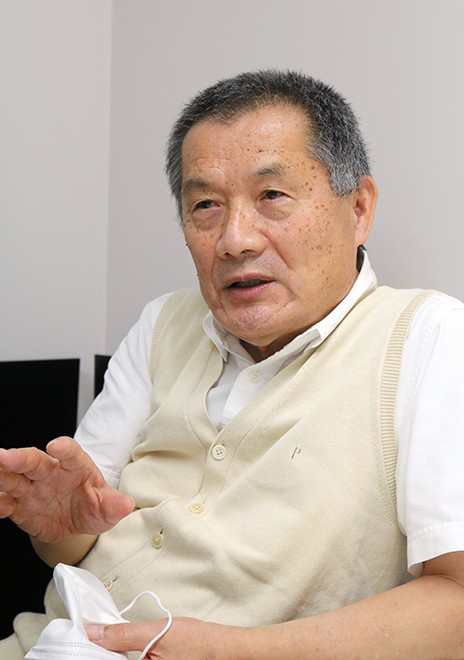 Ise visited Java island twice during the filmmaking process.
An elderly Indonesian man, who was punched by a Japanese soldier during the war, still remembered Japanese words, such as, "You idiot! What's wrong with you!"
Ise found a relief mounted on a wall of a building previously used as Nichiei's filming studio, showing a Japanese soldier stamping on an Indonesian laborer and about to hit him in the face with his rifle butt.
"I felt like I was confronted by the fact that the Indonesian people have not forgotten Japanese brutality," Ise said.
His father left home when Ise was 3 years old. After his father divorced his mother, Ise had little contact with him.
Ise said that was all the more reason for him to give himself plenty of leeway to think about his father through the footage.
For more information, go to (https://www.isefilm.com/%E4%B8%8A%E6%98%A0%E6%83%85%E5%A0%B1-1/).