Operators of casino-centered integrated resorts have been named for three prefectures in Japan--Osaka, Wakayama and Nagasaki--but it's no sure bet as to whether they will see the light of day.
A consortium of MGM Resorts International and Orix Corp. received the rights to operate one planned for Osaka's Yumeshima island district, prefectural and city governments announced on Sept. 28.
In Wakayama Prefecture, Toronto-based investment company Clairvest Group was selected to run an integrated casino resort in July, which is expected to be built in Wakayama city.
Nagasaki prefectural officials in August named Casinos Austria International Japan to operate a future integrated resort proposed to be built in the Huis Ten Bosch theme park in Sasebo.
Officials in these areas will draft a development plan based on these selected operators' proposals and submit it to the central government between Oct. 1 and April 28 next year.
A review committee of the land ministry, consisting of experts on economics, tourism and handling of addiction problems, will evaluate each plan for the impact an integrated resort would have on the local economy and the number of visitors. 
Based on the evaluation, the land minister will decide if these plans will proceed.
Shota Otani of Sumitomo Mitsui Trust Research Institute Co., who specializes in integrated resorts, said, "Osaka is a shoo-in, based on its scale of economy."
But he said it is possible that the ministry will only approve one or two of the three proposed projects to allow a future casino-centered project in the area around Tokyo.
The central government has approved a plan to develop a casino-centered integrated resort in up to three locations nationwide.
A ministry official said, "It is possible that the three (proposed) locations will be approved. It is also possible that none of them will be approved."
When such a decision will be made "is yet to be determined," the official said.
All three projects aim to open a resort in the late 2020s.
But the number of visitors from abroad has drastically decreased amid the long COVID-19 pandemic. Whether the plans will proceed as scheduled remains unclear.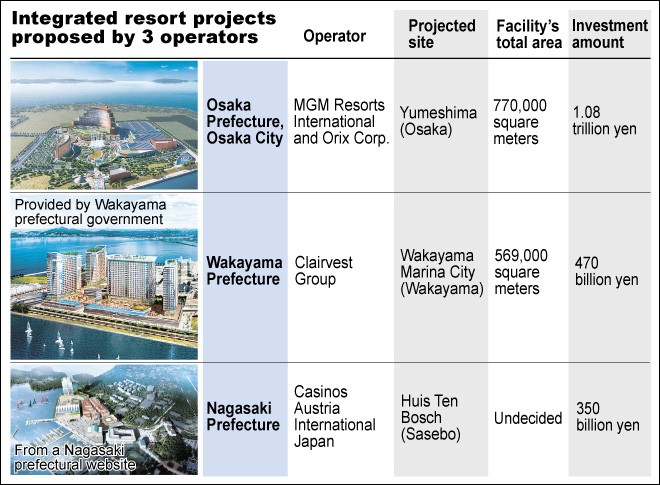 Prime Minister Yoshihide Suga has pushed the building of integrated resorts to boost tourism. 
But in the Yokohama mayoral election held in August, Suga backed a candidate who opposed the city's casino project, and an opposition candidate who also opposed it emerged victorious. 
The city scrapped the project and Suga was forced to face the reality of his weakening political clout.
There has not been a major discussion on the casino issue in the race to choose the head of the ruling Liberal Democratic Party to replace Suga, who decided not to seek re-election. 
In September, a Lower House member received a prison sentence in a bribery and corruption scandal related to an integrated resort project.
A person close to the central government said, "There are many things that are casting a shadow over integrated resorts. It is difficult to bring up the topic in the current atmosphere."
The Nagasaki governor's term will end next spring.
The upcoming Nagasaki gubernatorial election "can be likened to Yokohama's mayoral race and the integrated resort can be a point of contention," said a person working at a Nagasaki-based think tank.
Under Article 10 of the law regarding development of integrated resorts, the central government's license for developing an integrated resort will be valid for 10 years.
Upon renewal, the license will be in effect for five years. 
To renew the license, a local government is required to re-apply for central government approval.
A licensee needs to feel confident that an integrated resort can be operated securely and for a long time before making the massive investment required.  
However, a renewal application could be rejected depending on the makeup of the local assembly and the head of local government at that time. 
A person related to a major bank that is considering loaning money to an integrated resort operator said, "We are, of course, aware of the risk and the possibility that the project may fall through in mid-course."
(This article was written by Ai Asanuma, Shinya Matsumoto, Noriki Nishioka, Ryuhei Tsutsui and Shinya Takagi.)