KYOTO--Thomas the Tank Engine from the globally popular British book and TV series has chugged his way to the Kyoto Railway Museum, making his first entry into a railway roundhouse in Japan.
There is also a roundhouse on the fictional Island of Sodor where Thomas usually stays. He and his friends including Percy, Gordon and James wheel into the facility after the day's work is done.
The roundhouse at the Kyoto museum is one of the largest in Japan, capable of holding 20 locomotives. The nation's oldest engine terminal made of reinforced concrete is designated as an important cultural property by the central government.
Thomas was unveiled on Sept. 9. Sitting on the turntable against the backdrop of the roundhouse, he greeted visitors as he moved his big eyes: "I see many of my friends in Japan here. I'm excited."
Thomas will stay until Jan. 10 next year.
He will remain in the roundhouse all day on weekdays, but he will come out to the turntable on weekends and holidays to chat with visitors, introducing himself and giving quizzes.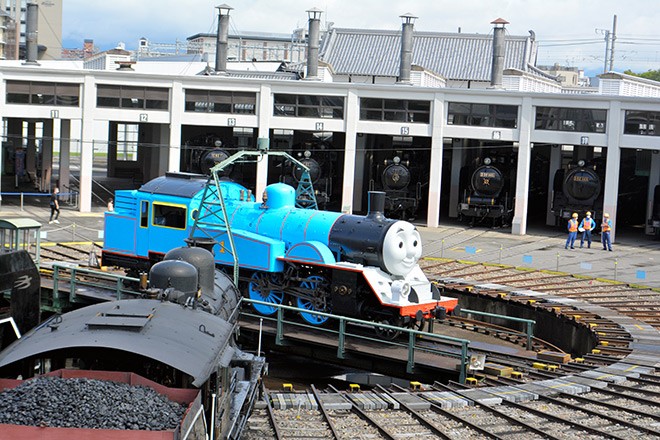 To commemorate last year's 75th anniversary of the first book of "Railway Series" published in Britain, a special exhibition is being held at the museum until Nov. 13.
Put on display are original illustrations from the children's book series, manuscripts handwritten by author Wilbert Awdry and models used for the production of the TV series.
The museum is closed on Wednesdays. For inquiries, visit the official website at (https://www.kyotorailwaymuseum.jp/en/).