Akira Kato is not a yes-man, even to the greatest sumo wrestler of all time, yokozuna Hakuho, whom he admits to disliking, although he served as his hairdresser and informal adviser.
But Kato, who goes by the name of Tokohachi as a sumo hairdresser, felt a little distraught when Hakuho demanded to know if he had "tied Endo's hair up."
Tokohachi, 67, wondered why the yokozuna, who has won a record 45 career championships, was upset that he had "cheated" on him. 
In a 2018 tournament, Tokohachi was free from duty as a "tokoyama" hairdresser because Hakuho, for whom he worked exclusively, had dropped out midway through the competition due to an injury.
Endo, a popular wrestler in the top makuuchi division, heard about his situation and asked Tokohachi to arrange his hair. Tokohachi accepted the offer, and his work on Endo was reported in an online media article.
The story made its way to the injured yokozuna. With his cheeks puffed out, Hakuho accused Tokohachi of having done Endo's hair "up better than mine."
"He (Hakuho) is very jealous as you can see," Tokohachi said with a wry smile.
While Tokohachi often had lunch with those from other stables, younger wrestlers always came to Tokohachi and whispered in his ear that "the yokozuna is looking for you."
Tokohachi is one of the few people with whom Hakuho, who recently announced his retirement, can speak directly and frankly.
While his hair was being tied, Hakuho shared his problems in personal relationships as well as other complaints and troubles with Tokohachi standing behind him.
TOOK A DISLIKING TO HAKUHO
When Tokohachi was studying at Ryogoku Junior High School in Tokyo at age 13, he was advised by his sumo-loving father to work at a stable headed by ex-yokozuna Yoshibayama.
As he hates deferring to seniors even in the sumo community where their ranks have great significance, Tokohachi did not refrain from showing his true feelings in front of Kitanoumi, who was one year older than him in school and later became a yokozuna.
Tokohachi had called Hakuho by name without any honorific title before he was promoted to ozeki, the second highest rank in the sport.
Tokohachi confessed that he is "te ga awanai" with Hakuho, a phrase that literally refers to "being unable to put his hands in place" and actually means "cannot do well with someone" among sumo wrestlers.
No critical conversations or incidents occurred between them, but Tokohachi did not like Hakuho for "some unknown reason." Hakuho, who is sensitive by nature, quickly realized Tokohachi's angst but attempted to keep him close to him.
Tokohachi also had reason not to leave Hakuho, who was speedily rising in the ranks. As it is difficult for those around yokozuna to speak frankly, the top wrestlers typically become increasingly isolated before they know it.
This lesson was learned from Tokohachi's experience of spending time with Kitanoumi.
In fact, fewer and fewer people became unable to voice criticism explicitly to Hakuho. If Hakuho cracked a joke, others would automatically laugh.
By contrast, Tokohachi not only argued back but also dismissed poor jokes, saying, "yeah, yeah" and "makes no sense." His nonchalance appears to have made it comfortable for Hakuho to have him around.
Tokohachi was thus brought by younger wrestlers to the stable to deal with the yokozuna when he was "in a foul mood" on many occasions.
Tokohachi repeatedly showed Hakuho how to behave in the sports community so that he would not be treated like the naked emperor in "The Emperor's New Clothes," whom no one can tell that he has no clothes on because of the consequences.
Especially important among all the topics Tokohachi presented was the need to be polite and considerate of junior subordinates.
Yokozuna are traditionally supposed to pay an "honeori" reward to those who care for the highest-ranking wrestlers in each tournament. But Hakuho reportedly did not comply with the practice for a tournament from which he withdrew halfway through.
Hakuho must have received prize money for bouts he fought before his withdrawal, combined with a considerable amount of allowances. Kitanoumi rewarded his assistants for their devotion even for tournaments he did not compete in.
With that in mind, Tokohachi told Hakuho: "Yokozuna, you know younger wrestlers work for you every day even when you do not take part in competitions. So, you should pay them. No matter how strong you are, you would be deemed to be the stingiest yokozuna in history."
Hearing the frank advice, Hakuho nodded.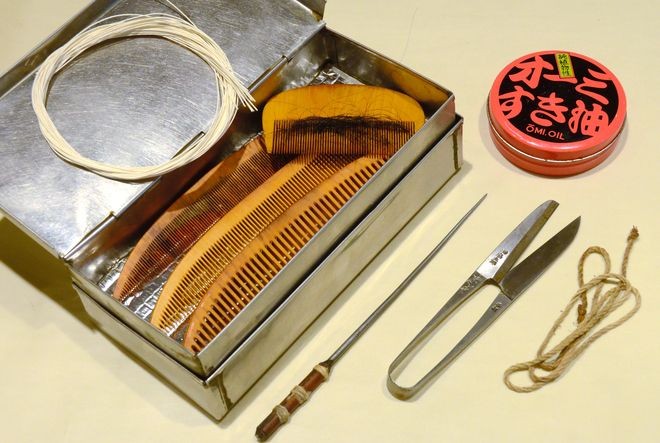 SOFT SPOT FOR HIS HAIRDRESSER
After the 2019 Nagoya Grand Sumo Tournament, Tokohachi retired as the chief tokoyama due to his age. To celebrate his retirement, a party was organized by Hakuho at a hotel in the capital.
Ending his career as a tokoyama, Tokohachi felt the scent of pomade hair wax fading from his body. He developed a serious health problem last year.
When he was staying at his home on the very day his months-long hospitalization ended, Tokohachi heard his cellphone ring. The caller was Hakuho.
The yokozuna told Tokohachi that he "must have come down with a disease because you have nothing to do now." 
"Come visit me on occasion," Hakuho continued. "I know you do not have anything else to do."
His casual remark apparently reflected Hakuho's heartfelt concern about Tokohachi's health. Tokohachi said he can figure out the hidden feelings behind Hakuho's words.
"Even now, I do not like him (Hakuho)," he said. "But I can say that he has become a good yokozuna."