The 24-year-old suspect of a Halloween night stabbing rampage on a Keio Line train told police that he had planned to commit the heinous crime since June, sources said.
According to investigative sources, Kyota Hattori told police, "I had problems with my job and relationships and grew desperate."
Police referred Hattori to the public prosecutor's office on Nov. 2.
The Metropolitan Police Department learned that Hattori had caused trouble at his workplace in June and quit his job, sources said.
"I wanted to commit mass murder and be executed. I started premeditating the crime from June and decided on Halloween because many people would be out," he said, according to sources.
Hattori was wearing a purple suit and a green dress shirt when he was arrested on the train on Oct. 31 and said he was dressed as the Joker, a villain from the Batman comic books.
"I copied the Joker," he said, adding that he "admired" the character because, "The Joker is so comfortable with murdering people."
The costume was "my best outfit that I purposefully purchased to wear for this day," he told police.
POLICE COMPILE TIMELINE
According to statements and security camera footage, Hattori boarded a Keio Line train at Keio-Hachioji Station at around 5 p.m. on Oct. 31.
He transferred to the Keio Inokashira Line and arrived at Shibuya, a major gathering spot for Halloween partygoers.
He walked around the streets of Shibuya, which were packed with costumed revelers.
At around 6:40 p.m., Hattori boarded an Inokashira Line train, then transferred to a Keio Line train headed to Chofu Station in western Tokyo.
At the station, Hattori switched to an inbound Keio Line limited express train bound for Shinjuku at around 8 p.m., police said.
Immediately after the 10-car train departed Chofu Station, Hattori took out a knife and pesticides from his backpack.
According to police, a nearby 72-year-old male passenger saw him and asked Hattori, "What are you doing?"
Hattori then suddenly stabbed the man in the right side of his chest with the roughly 30-centimeter blade.
Police sources said they believe Hattori splashed some pesticide over the man's head.
Hattori then chased after other passengers who were running for their lives, trying to escape to a different train car.
While chasing passengers, Hattori splashed around lighter fluid that appeared to be contained in plastic bottles and then set the liquid ablaze.
The floors and ceilings of some train cars were burned, police found. Police began examining the train cars, which were transported to a rail yard, on Nov. 1.
The man who was stabbed remains in critical condition, while 16 passengers ranging from 10 to 69 years old suffered from throat pain related to the smoke and other mild injuries.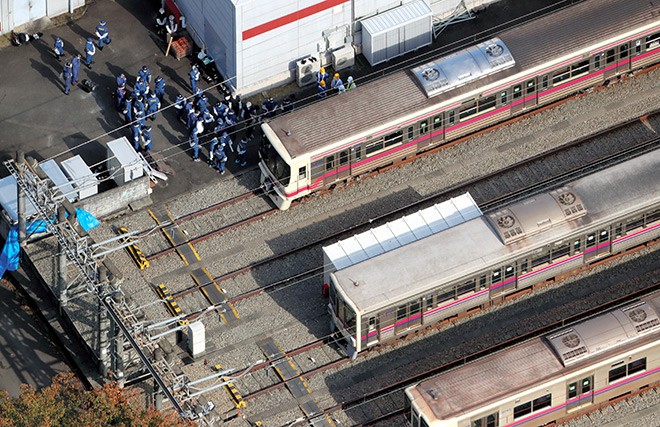 FORMER FRIENDS SHOCKED
According to police sources, Hattori grew up in Fukuoka's Hakata Ward.
He apparently left the city in June, spent about one month in Kobe and another in Nagoya while staying at hotels.
He arrived in Tokyo sometime from late September to early October, moving from hotel to hotel, sources said.
The violent incident shocked Hattori's hometown friends, with some describing him as having a "low-key personality."
A man who attended the same elementary and junior high schools as Hattori said he was quiet and never caused a big scene about anything.
He said the last time he saw Hattori was at the Coming of Age Day celebration to mark adulthood for people turning 20. 
He said he thought Hattori had not changed since childhood and struggled to connect the man he knew with the rampage.
"I don't know him at this stage. What has happened?" the man said.
Another man who went to school with Hattori in elementary and junior high said he recalled the suspect as someone who "did not form a group or participate in groups."
Hattori did not particularly excel in studies or sports, the man said.
"He had little presence."
Hattori was supposed to attend a reunion party at the Coming of Age Day celebration, but the man said he does not remember if Hattori was there.
The man said he was "close" to the suspect.
"I can't help but feel that it is a shame if he really was involved in the incident," he said.
A 50-year-old woman whose son attended the same kindergarten and elementary and junior high schools as Hattori said the suspect was "a kind and quiet child."
She said she called out "Kyo-chan" when she saw him on the street when he was still in high school and he greeted her back.