WASHINGTON--Although Washington remains bitterly divided along partisan lines, a prominent U.S. congressman believes that support for Taiwan may be one of the few areas that members of the two major parties agree on.
Rep. Mark Takano, a Democrat from California, spoke about the recent visit to Taiwan that he led in an interview with The Asahi Shimbun on Dec. 1. Takano, 60, is chairman of the House Veterans Affairs Committee.
Takano described Taiwan as a "vibrant, true democracy" and that it would receive strong bipartisan support from the U.S. Congress.
He also criticized the diplomatic and military pressure being applied on Taiwan by China as nothing more than "bullying."
Takano and four other members of the House of Representatives visited Taiwan on Nov. 25 and 26 and met with Taiwan President Tsai Ing-wen.
During the meeting with Tsai, Takano said congressional involvement in Taiwan was solid.
In the interview, Takano said the position of those who visited Taiwan was "in preserving the status quo in terms of Taiwan's existence."
He added that they "oppose any unification by force."
He went on to say, "We were all very concerned about what appears to be China's bullying behavior."
Chinese military planes have frequently entered Taiwan's air defense identification zone.
Beijing also sharply criticized the visit by Takano's delegation, with the Chinese Embassy in Washington sending letters to the members of Congress asking they not go to Taiwan, according to Takano.
Takano explained that the trip was a routine one that made up for a long suspension of overseas trips due to the novel coronavirus pandemic.
He described China's response as "wholly inappropriate and an over-reaction."
Takano's delegation was the third visit of legislators from the United States this year. In early November, Republican members of the Senate and House visited Taiwan and met with Tsai, but Takano pointed to the bipartisan nature of his delegation.
"I think the Taiwanese government was very, very pleased to see this bipartisan interest and bipartisan support," Takano said.
While Democrats and Republican have often fought furiously over various issues in Congress, Takano said Taiwan "was special" and that was the reason for the bipartisan interest.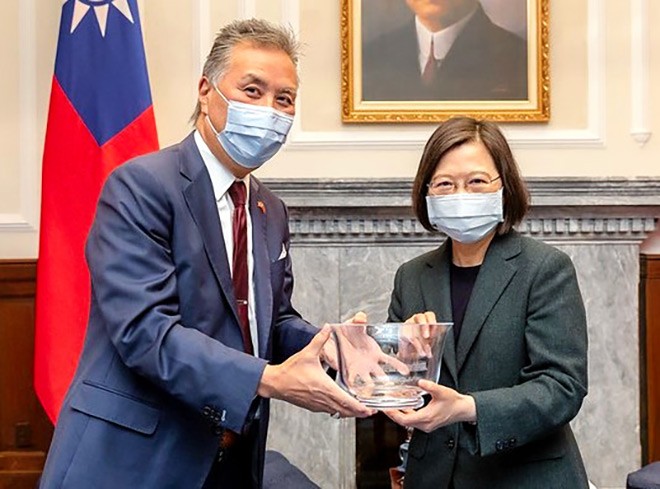 Takano explained the process by which Taiwan evolved from military rule to become a "democratic nation with a vibrant press, where individuals can express opinions that are against the government."
While he also acknowledged that Democrats and Republicans in Congress had different motivations for supporting Taiwan, Takano said both sides were "sincerely interested in opposing bullying behavior and unfair competition" by China.
The Biden administration has also expressed support for Taiwan and invited it to participate in the online democracy summit it is hosting on Dec. 9 and 10, which has angered China. 
(Victoria Edwards contributed to this story.)