When junior high school student Osamu Takeda saw a pole vaulter at a track and field competition for the first time, he found himself lifted to a natural high in wonderment. 
On an early summer day 25 years ago, Takeda was sitting in the stands of an athletic field as a member of the cheering squad for his peers on the track and field club. 
He caught sight of another student around his age jumping more than four meters into the air.
"The scene looked so bright to me," he recalled. "I never imagined there was such a sport."
When Takeda pleaded with the club supervisor that he wanted to try pole vaulting, the advisor procured a bamboo pole.
Takeda spread out a mat on a sandpit and turned to a beginner's guide to begin practicing every day until dark.
Takeda continued until college, but he never competed at the national level.
Still, his enthusiasm never waned.
He wrote his college graduation thesis on the biomechanics of pole vaulting, while he also joined a group in charge of motion analysis at the Japan Association of Athletics Federations.
Takeda believes that pole vaulting is the most glamorous sport in track and field because it lets a human being hover in the air with the use of just a single pole.
"The view that can be seen when passing over the bar is exceptional," he said.
He has always wanted as many people as possible to share the same sensation.
QUEST TO MAKE POLE VAULTING MORE ACCESSIBLE
And that was all the more reason Takeda felt frustrated by the fact that all poles commercially available in Japan were made overseas.
They tend to be overpriced because they are imported by ship, and a typical 4-meter-long pole could cost nearly 100,000 yen ($880).
Since they are not easily replaceable, school club members have to share the same pole with their peers. It is also not uncommon for old poles to break while swinging upward.
Takeda thought that the fact that the essential tool was difficult to obtain made it virtually impossible for the number of pole vaulters in Japan to increase. He decided to take matters into his own hands and make poles on his own.
Ten years ago, he landed a job in a research organization at his former university to support athletes with equipment.
After gaining knowledge in tool making, he started developing poles in 2019 when he was 36.
Vaulting poles can be of any length or diameter and made from any material, while no design plans are readily available.
With no one around to teach him how to make one, Takeda was left with one last resort.
In a camp training site on the university grounds, he held a blowtorch in one hand and a vaulting pole he bought for 100,000 yen to compete in masters meets in the other hand.
He cut the pole with a strong determination and some hesitation. 
"I was so reluctant," Takeda said. "But I wanted to know the internal structure at any cost."
He threw himself into his studies, reading scores of research papers written in English that he deemed useful.
The researcher also conducted a series of experiments to see how flexible and strong his prototypes were.
He never left his lab before midnight. Pressed for time, he sometimes lay on a mat for a nap and washed his hair in the kitchen sink to forgo having to commute.
Takeda couldn't raise enough funds for his project through a crowdfunding campaign, so he had to dig into his savings to withdraw more than 3 million yen.
Takeda was kind enough to answer a blunt question: "Do people call you a pole vault buff?"
"Buff is not enough. They call me a pole vault zealot," he said.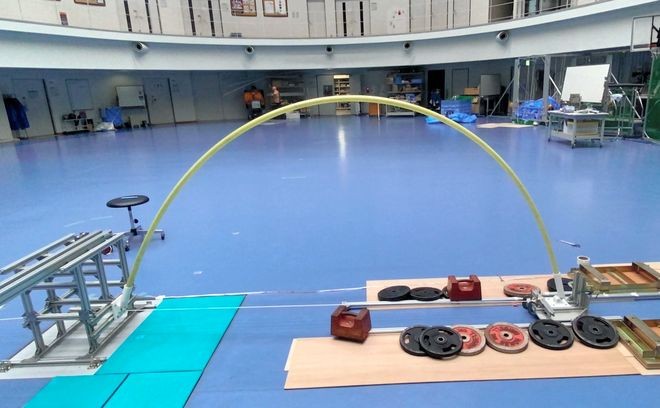 SHARING THE SPORT THROUGH POLES HE MADE
In July, Takeda released domestically produced vaulting poles for the first time. 
They are not only cheaper than foreign models by up to 30,000 yen, they are also good for beginners because they are light and pole vaulters can ride the the pole more easily. 
He also prepared shorter poles that are easier for elementary school students to use because foreign-made ones are in short supply.
One junior high school student broke her own record by 30 centimeters after she started using Takeda's pole, while another junior high school student was delighted after his school bought one suitable for his size.
Takeda feels happy and proud when he comes to think that he is sharing the joy of pole vaulting with others who are using the poles he made.
There was a time when Japanese-made bamboo poles dominated the world and Japanese athletes won medals at the Olympics, but it was during the prewar period.
"I want to see Japanese athletes competing on a global scale with domestically produced poles once again," Takeda said. "It'll be great if I can play a part in that."