The economic impact of the global health crisis is pushing Japan Inc. into a corner, and its only recourse, for now at least, is to shed payrolls as it reconfigures manpower strategies.
For the second year in a row, at least 80 listed companies offered voluntary early retirement programs to reduce their payrolls, according to Tokyo Shoko Research, a private credit research firm. That came on the heels of 93 that did so in 2020 when the COVID-19 crisis first started to take a big bite out of personal spending.
But it is not just the pandemic that has triggered a sea change in the way major companies operate. Global trends also came into play.
For example, even though Honda Motor Co. reported a 40-percent increase in its net profit in the fiscal year ending in March 2021, it still went ahead with an early retirement program from the following spring for employees aged 55 and older. It resulted in 2,000 or so employees applying for early retirement.
The automaker decided it needed to shed staff following its decision to move away from gas-powered vehicles and sell only electric or fuel cell vehicles by 2040.
The automobile and petrochemical industries are among business sectors rethinking their strategies in light of the global trend for companies to reduce their carbon footprint to avert the catastrophic consequences of global warming.
According to Tokyo Shoko Research, around 15,000 people opted for early retirement across Japan in 2021. In 2020, the figure came to 18,635.
It was the first time since 2002 and 2003 for more than 15,000 employees to take early retirement over two consecutive years.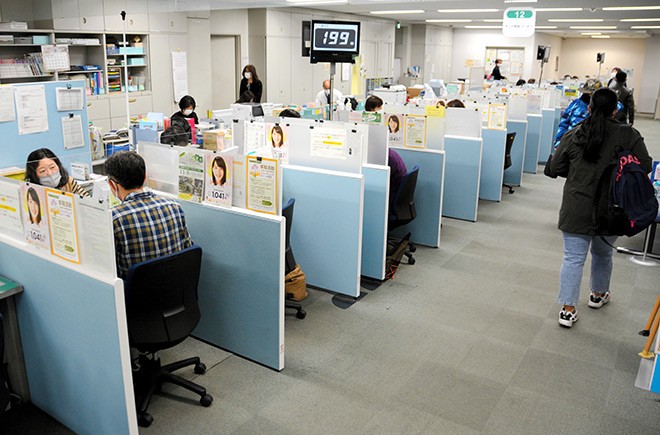 TRUE PICTURE MUCH BLEAKER
However, the actual number is undoubtedly far higher because the Tokyo Shoko Research study did not cover small businesses and other unlisted entities.
Honda was among five major companies that sought at least 1,000 early redundancies in 2021. Another was Japan Tobacco Inc., even though it forecast increased sales and profits in the fiscal year that ended in December.
With domestic demand for cigarettes dwindling and little prospect of sales recovering, JT set a goal of 3,000 early retirees as part of restructuring efforts while it was still recording robust profits. The company also announced the closure of two plants in Kyushu, which will lead to the loss of about 400 jobs.
As in 2020, the apparel and fibers sector spearheaded early retirement programs. But in 2021, nine electric equipment manufacturers and seven in the services sector, including tourism, also implemented early retirement programs.
About 60 percent of the companies that went ahead with such cost-cutting steps recorded a net loss in most recent fiscal year financial results.
Akiyoshi Niki of Tokyo Shoko Research noted two opposing trends are at play among companies going ahead with early retirement programs. One involves those trying to stop the bleeding of corporate losses, while the other covers companies looking to the future while they are still operating in the black.
The health crisis has also dealt a major blow to employment in general, according to statistics compiled by the labor ministry.
They show that about 123,000 people lost their jobs due to the pandemic between February 2020 and December 2021.
Initially, those with irregular work comprised the bulk of people let go. But the latest cumulative figure shows that half were regular company employees.
The prolonged economic impact from the health crisis has forced many companies to also begin letting go of their regular employees, some through early retirement programs.
Tourism is another sector hard hit by the COVID-19 crisis and numerous companies in the field have embarked on major downsizing measures.
KNT-CT Holdings Co., a travel conglomerate that includes Kinki Nippon Tourist Co., implemented an early retirement program between January and February 2021 that led to 1,439 employees taking advantage of the offer among group companies.
The holding company plans to slash its 7,000 or so total workforce to two-thirds of that figure by the end of March 2025 through other
measures, such as restraining new hires.
(This article was compiled from reports by Hisashi Naito, Sho Hatsumi, Kazumi Tako, Junichi Kamiyama and Kyosuke Yamamoto.)