MAIZURU, Kyoto Prefecture--Tried and tested curry recipes prepared by Maritime Self-Defense Force personnel are perennially popular with Japanese consumers. Now, three dishes served at restaurants here are available in sealed pouches as well.
The prepackaged curry sauce mixes are being offered only at restaurants and sightseeing facilities in the city, where the MSDF's Maizuru Naval Base is located.
Nine more versions are expected to join the Maizuru Kaiji Curry series over a two-year period.
The three varieties released in the first batch are: the destroyer Fuyuzuki's spicy beef curry served at 5-Goto Cafe in the Maizuru Red Brick Park; the destroyer Myoko's mildly hot beef curry at Goro Sky Cafe Nanako inside the Goro Sky Tower; and the multipurpose support ship Hiuchi's minced chicken curry at Bayside Place M's Deli in the Maizuru Shinkai Koen park.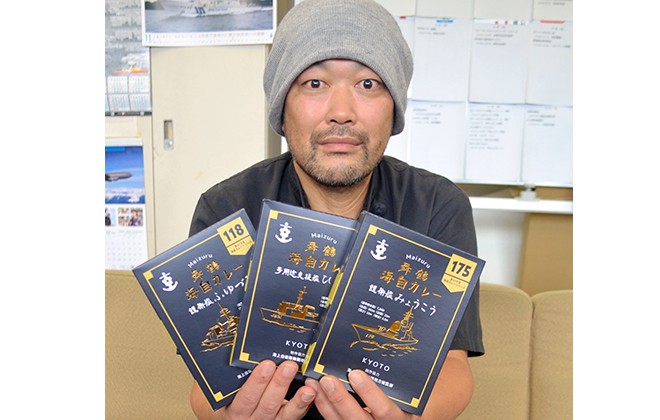 "I hope the series will become a souvenir representing Maizuru and make visitors feel like they want to come back to Maizuru for the curry," said Yukio Gomi, who operates 5-Goto Cafe.
Gomi, 47, played a central role in asking a company in Aichi Prefecture to produce the pre-packaged sauce mixes.
Each package sells for 748 yen ($6.50), including tax. It costs 750 yen at the Goro Sky Tower.
The project is the brainchild of the Maizuru Chamber of Commerce and Industry, which aims to promote local development through curry dishes.
Since 2017, the chamber has encouraged local restaurants to learn from MSDF personnel curry recipes traditionally served on vessels and at naval units based in Maizuru. Twelve restaurants signed on last season.
The curry dishes served at restaurants are all certified by ship captains and others as exactly what crews dine on when they are at sea.