Linguists from around the globe have teamed up to provide accurate facts and bust myths about the novel coronavirus for minority language speakers through a multilingual website.
"This website was very useful to me and my community at (the) initial period of (the) pandemic," Kunzang Namgyal, who lives in the Indian state of Sikkim, located at the foot of the Himalayas, told The Asahi Shimbun in an email.
Namgyal, 41, who speaks Drenjongke, a minority language used by about 70,000 people, said a void of information about the virus at the time had enabled misinformation and myths to quickly spread, throwing the local community into chaos.
There is not as much detailed information available elsewhere in Drenjongke as what is offered on this website, said Namgyal.
The World Health Organization offers an English webpage called "Coronavirus disease (COVID-19) advice for the public: Mythbusters" to correct inaccurate information on the virus.
A team of linguists led by Seunghun Lee, a senior associate professor of linguistics at International Christian University in Tokyo, has been translating information from the WHO webpage into various languages and sharing it for free at "COVID-19 Myth Busters in World Languages" (https://covid-no-mb.org/).
Members of the team sought cooperation for the translation project from some 60 linguists from overseas they had met at international academic conferences. As of Jan. 17, the COVID-19 information was available in 115 languages, including minority and non-official languages.
The project mainly targets languages that have a small number of speakers and have little information available online in the speakers' mother tongues. The languages include Acehnese, spoken in Indonesia, Nuosu Yi in China, Uspanteko in Guatemala, Quechua in Peru, Yiddish in eastern Europe and elsewhere, and Tshivenda in South Africa.
The team's website provides basic information on the coronavirus.
"Antibiotics do not work against viruses, only bacteria," reads one sentence from the English version.
"Exposing yourself to the sun or to temperatures higher than 25 degrees does not prevent the coronavirus disease," says another sentence.
"Hand dryers are not effective in killing the new coronavirus," reads another.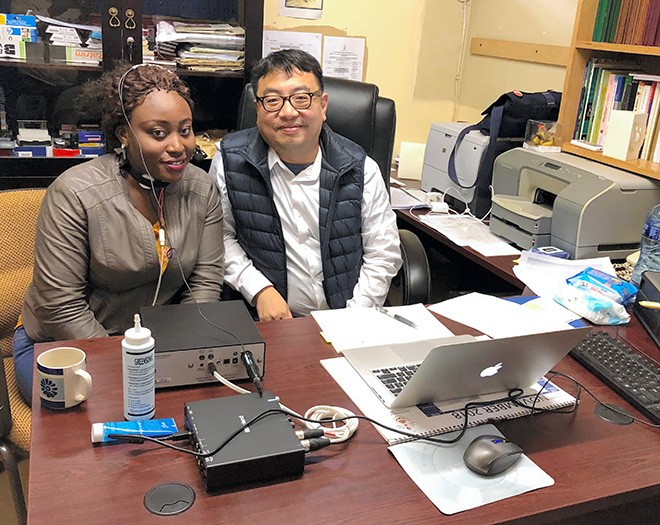 Lee studies minority languages spoken in South Africa. He started the project after realizing that locally available information on the virus is mostly offered in English and Afrikaans, the country's official language, and little has been translated into other languages.
"Locals didn't know about the information that we've taken for granted," Lee said.
Free online machine translation services, including Google Translate, are not always available in minority languages or cannot translate subtle nuances into those languages.
English is an official language in many countries, such as India, but that does not mean everyone there has a good command of it. In such places, myths and misinformation in local tongues can spread more widely than accurate information in English.
Crous Hlungwani, who lives in South Africa where Xitsonga is among the local languages, uses the multilingual website set up by Lee's team. Hlungwani said understanding English should be immaterial since "the virus knows no boundary."
Hlungwani, who lost close relatives to COVID-19, said, "My family and I have been spared, and I think that this was made possible by following the guidelines prescribed in the (WHO's) article."
The multilingual website carries illustrations as visual aids. It also offers audio in some languages and a YouTube video for those using Japanese sign language.
The WHO has warned of the pandemic triggering an "infodemic," a phenomenon where an overload of both accurate and inaccurate information goes viral on social media and across the internet.
But many speakers of minority languages still do not have easy access to even the most basic information on the virus in their mother tongues.
There are an estimated 6,000 to 7,000 languages in the world, although the number varies depending on the definition of a language. The team said it plans to offer translations in more languages and add information on COVID-19 vaccines.
"Linguistics may not be a major field of study, but it can make a significant contribution to society," said Shigeto Kawahara, an associate professor at Keio University's Institute of Cultural and Linguistic Studies, who helps out on the project.