Japanese researchers developed a method to identify the geographic origin of "asari" clams based on a metal element called neodymium in their shells, a finding that has the potential to bring an end to a mislabeling scandal rocking the seafood industry.
Researchers from the University of Tokyo, Hirosaki University in Aomori Prefecture and other institutions found that neodymium weight compositions differ between wild-caught asari from 12 sites in Japan, which has relatively new geological formations, and four sites in China with its older formations.
Kumamoto Governor Ikuo Kabashima announced Feb. 1 that asari shipments will be suspended for two months following reports that clams from China and elsewhere are being sold as produce in the southern prefecture.
Prefectural government officials suspect that some imported asari are mislabeled after they were temporarily kept in waters of the prefecture, which accounted for about 40 percent of the nation's shipments of the tasty marine bivalve in the late 1970s.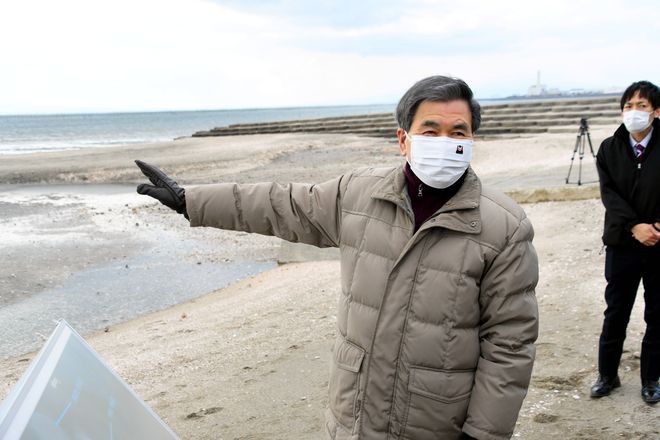 Neodymium is a rare earth element used for magnets and other purposes. Neodymium isotopes differ in weight due to different numbers of neutrons, and neodymium isotope ratios differ depending on geological formations.
As neodymium flowing into coastal waters is absorbed by clam shells, surveying its weight compositions can help determine where asari were raised, the researchers said.
"Clear differences can be identified if geological formations are from entirely different ages, such as those in Japan and China," said Kentaro Tanaka, a specially appointed researcher at the Atmosphere and Ocean Research Institute of the University of Tokyo, who is part of the research team.
"We believe that the method will also allow us to estimate how long clams were raised in China and Japan, respectively. It could serve as a deterrent against origin falsification."
The researchers studied packages of asari on sale at a supermarket that were labeled as having been originated in Fukuoka Prefecture, Kumamoto Prefecture and China.
They found that neodymium weight compositions for Kumamoto-branded asari were about the same as those for Chinese clams, while those figures for shellfish from Fukuoka were similar to levels for clams from elsewhere in Japan.
The findings were published in the international specialized journal Food Chemistry at (https://doi.org/10.1016/j.foodchem.2021.131914) in January.
The fisheries ministry said Feb. 1 it estimates that about 2,485 tons of asari were being sold as produce in Kumamoto Prefecture based on a survey conducted at supermarkets nationwide between October and December, more than 100 times the annual haul in the prefecture in 2020.
The ministry said 97 percent of samples subjected to DNA testing likely contained asari of foreign origin.