Editor's note: The theme of Gohan Lab is to help people make simple, tasty "gohan" (meals).
* * *
The second in the series on popular staple dishes features acqua pazza, an Italian dish of simmered seafood.
According to chef Kuniaki Arima, who oversaw the cooking aspect of the recipe, we should regard it "not as a soup but as a fish dish with enjoyable sauce." Simmering strongly results in a savory, condensed sauce full of the umami of seafood.
Although white wine is used in the recipe, sake will work just as well.
A key is to cook the skin of the fish thoroughly. When cooked slowly on low heat, the skin will turn out toasty and crispy. This way, the fish fat and gelatin will dissolve so the fish will lose its distinct smell and viscous feel.
We suggest you begin by using handy fillets even if they come with the bones, as that will also generate tasty stock.
Originally, the dish features an entire fish that is small to medium in size. The arranged version explains how to handle the fish when a whole sea bream is used. The dish is a feast for the eyes and the stomach.
TOPIC: OLIVE OIL ALSO A PLACE IN JAPANESE CUISINE
The cookery science aspect of this week's recipe was supervised by Rikako Iwamatsu, who works in the corporate communications department of Nisshin OilliO Group that produces and sells edible oil.
While "extra virgin olive oil," top-quality virgin olive oil, has a distinct aroma, she says it tends to dissipate with heat. For this reason, Iwamatsu recommends it is used in salads or in the final stage of cooking.
Although it is usually associated with Italian cooking, olive oil also goes well with Japanese dishes as well as desserts. "As it also works well with soy sauce, enjoy by pouring both on tofu or vanilla ice cream," she says.
Tips on making aqua pazza (Video by Masahiro Goda)
BASIC COOKING METHOD
(Supervised by Kuniaki Arima in the cooking aspect and Rikako Iwamatsu in the cookery science aspect)
* Ingredients (Serve two)
180 grams sea bream (tai) fillet, 200 grams "asari" clams, 5 cherry tomatoes, 1 clove garlic, 10 caper buds, 1/2 slice (3 grams) anchovy, 100 ml white wine, 200 ml water, bit of salt and pepper, some flour, 1 Tbsp olive oil, some Italian parsley
About 295 kcal and 1.7 grams salt per portion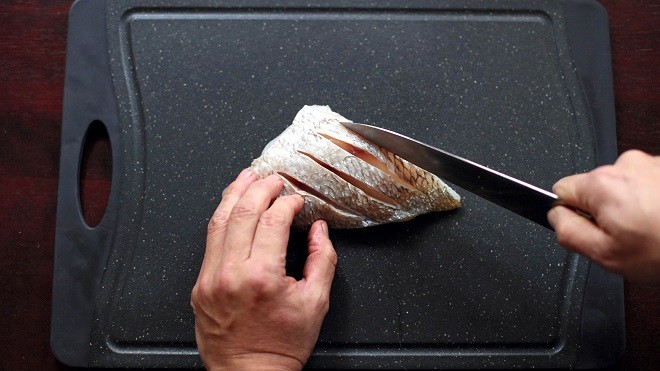 1. Remove sand from clam. Cut cherry tomatoes in half. Halve garlic and crush with flat side of kitchen knife. Chop Italian parsley and anchovy. Make 2 to 3 incisions on skin of sea bream fillets (PHOTO A). Sprinkle with salt and pepper and dust with flour.
2. Pour 1/2 Tbsp olive oil in frying pan and heat garlic on low heat until aroma rises. Cook sea bream from side without skin (PHOTO B), turn after a while and cook skin side until it browns.
3. When fish is cooked nicely, turn so skin side looks up again. Turn up to higher medium heat, add anchovy and cook briefly. Add clams, white wine and water and bring to a boil. Add capers, cherry tomato and cook until the liquid is reduced to about a quarter of the original amount.
4. Serve fish. Boil down soup until it turns into sauce. Pour on fish with clams. Pour 1/2 Tbsp olive oil on top and sprinkle with Italian parsley (PHOTO C).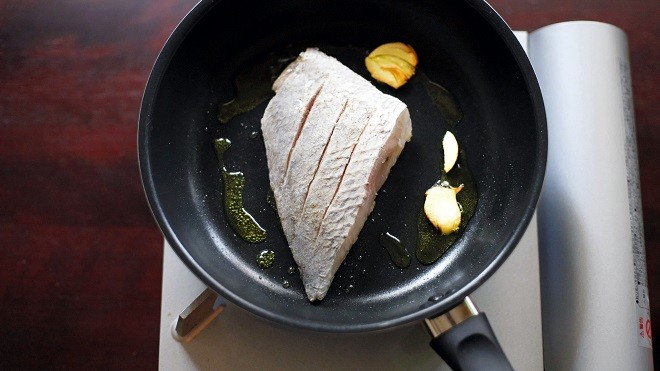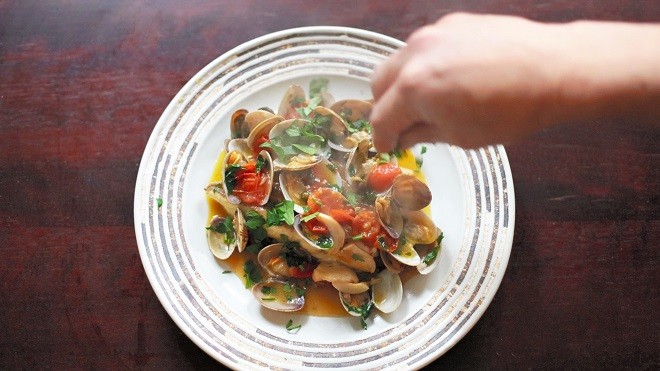 ***
Kuniaki Arima is the owner-chef of Passo a Passo, an Italian restaurant in Tokyo's Fukagawa district.
ARRANGED VERSION
Acqua pazza of a whole sea bream (Serves two)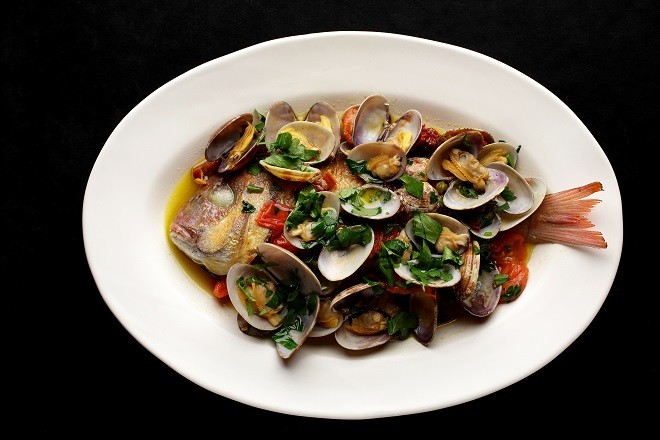 Remove scales and gut from sea bream. Insert kitchen knife from the stomach and slide it along the vertebral column to separate bone from flesh. Turn and repeat on the other side. Make three vertical incisions on the side that will look up when served, sprinkle with salt. Dust both sides of fish with flour and first cook the side that will look up on the plate. Turn and cook the other side. The remaining procedure is the same as the fillets. When simmering, add a dried tomato that is chopped to enhance the flavor.
COOKERY SCIENCE
Olive oil is divided roughly into "virgin olive oil" that is obtained by pressing olives and those where purified olive oils are blended after distinct smells and other factors are removed. The highest grade of the former is the extra virgin olive oil. Its unique pungency and bitterness are mainly derived from the polyphenol contained in the olives.