A special exhibition is now running at the Tokyo National Museum until May 8 to mark the 1,050th anniversary of the death of Buddhist Saint Kuya (903-972).
The Asahi Shimbun is among the sponsors of "The Saint Kuya and Rokuharamitsuji Temple" exhibition in the capital's Ueno district.
One of the highlights of the event is a famous statue of a Standing Saint Kuya with six small statues of Amida Buddha emerging from his mouth.
It is said that the statues represent each character of the sutra "Namu Amida Butsu" (I take refuge in Amida Buddha) transforming into an Amida Buddha.
Modeled after the priest who lived in the mid-Heian Period (794-1185), the 117-centimeter-tall wooden statue was a treasured possession of Rokuharamitsuji temple in Kyoto over the centuries.
Designated by the government as an important cultural property, the statue was crafted by Kosho, the fourth son of master sculptor Unkei, during the 13th-century Kamakura Period. It is the first time in about 50 years for the statue to be seen outside the temple.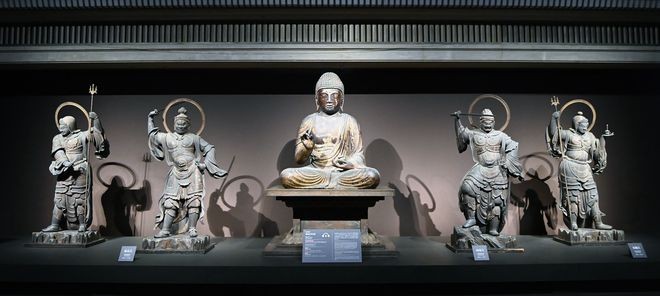 Also on display are many Buddhist statues and paintings from the Heian and Kamakura periods, which are housed at the temple.
They include the Seated Yakushi Nyorai and the Standing Shitenno (Four Deva Kings).
The venue is closed on Mondays and March 22, except March 21, 28 and May 2.
Admission is 1,600 yen ($13.70) for adults.
Reservations are recommended for those seeking a specific time to visit.
For more information, go to the official website at (https://kuya-rokuhara.exhibit.jp/english.html).