TADOTSU, Kagawa Prefecture--Shikoku Railway Co. (JR Shikoku) will introduce a second-generation train for its popular Iyonada Monogatari sightseeing service in Ehime Prefecture on April 2.
It will retain the ambience of the retro-themed inaugural train, which made its final run in December. The exterior will have a metallic finish so that it shines in the setting sun.
"I took over the design of the first-generation train and improved the quality," said Tetsuya Matsuoka, head of the section in charge of design projects. "I hope it will get a lot of use, particularly on occasions such as journeys and celebrations."
The new train was shown to media representatives at JR Shikoku's factory in Tadotsu, Kagawa Prefecture, on Feb. 21.
It will operate between Matsuyama Station and Iyo-Ozu or Yawatahama stations on the JR Yosan Line in Ehime Prefecture.
The third carriage contains a private compartment, called the "Fiore Suite," that is limited to two to eight passengers.
The cabins in the first and second carriages are the same type as those used for the first-generation train, but come with three paired seats. The company said all seats are more comfortable than those for the inaugural train.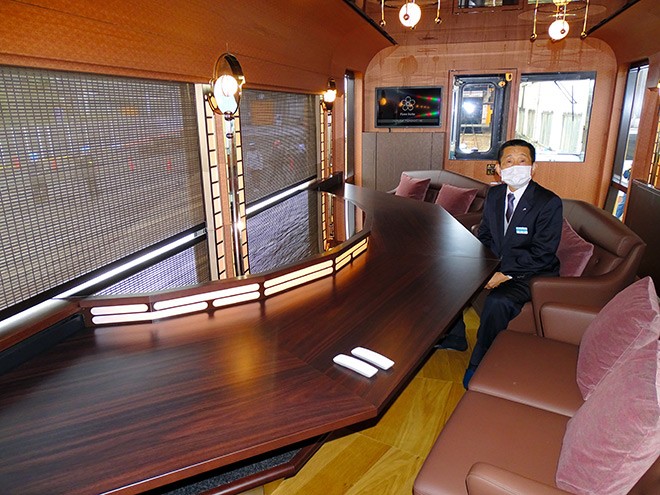 Each seat has a USB port, with free Wi-Fi available.
Some lamps are lantern shaped, modeled after "mikan" oranges, a local specialty of Ehime Prefecture.
Lights on the ceiling and other parts of the train can be switched to sunset-inspired orange and other colors.
More bathrooms have been added, with Tobe ware ceramics used for the wash basins and other accessories.
Train attendants will also be given new uniforms.