TAKAMATSU--Hanami Sorata was overcome with emotion and wept as she read a letter written to her from her mother, Fukuko, to be given to her on the eve of her 20th birthday.
Hanami wished she could have read that letter while smiling with her mother at her side.
But Fukuko had written the letter before she died of ovarian cancer, when Hanami was only 7. 
Hanami, a junior college student in this capital of Kagawa Prefecture, received the letter last autumn.
"To 20-year-old Hanami," the writing on the envelope said.
Fukuko had only five years to live when she was diagnosed with the disease. She visited a hospital complaining of a stomachache and underwent surgery several times during the years that followed.
Fukuko, however, did not lose her cheerful nature as she took time to teach Hanami cooking and draw pictures with her. Hanami believed her mother's illness was curable.
She learned only after her mother's death that she had stage 4 ovarian cancer and her days were numbered.
Her mother had one of her ovaries surgically removed, but the cancer later spread to her large intestine, and she could hardly eat anything during her final days, Hanami was told.
Hanami went to live in her father's family home after her mother died. She seldom shed tears in the presence of her family.
Her grandparents handed her mother's letter to Hanami just prior to her turning 20, which is considered reaching adulthood in Japan. 
"You learned, only the other day, how to turn over in bed," part of the letter read. "I am so impatient to see you as a 20-year-old."
"I am curious to know what kind of long-sleeved kimono you will be wearing," the mother said in another passage, in reference to the traditional dress a young woman wears to her coming-of-age ceremony.
The letter brimmed with affection for Hanami and the wishes that she will remain thankful to other people as she grows up.
EARLY DETECTION OF OVARIAN CANCER VITAL
Hanami was told that ovarian cancer has few obvious symptoms and is often already in an advanced stage when it is found. She learned, at the same time, that her mother could have survived if only her disease had been detected earlier.
Hanami said she came to have a stronger urge, after reading the letter, to help ensure that fewer people will die like her mother did.
Hanami worked with an aunt and with friends her age to set up "Hananana," an advocacy group for promoting cancer screenings. The group's name combined "Hana," part of her own name, and "nana," the Japanese word for seven, to show that Hanami, who was 7, is now grown-up and is doing this.
Hanami decided that her group will focus on encouraging women to undergo cervical cancer screenings, which are easier to take than medical examinations for ovarian cancer. The risk of developing cervical cancer is high even among young women.
As a first step, Hanami set an example by having herself checked. She felt relieved to learn that she had no problems. The experience, at the same time, also led her to realize the importance of the health screening.
One obstetrician-gynecologist told her in encouragement, "Even young people should get checked if they have something to worry about."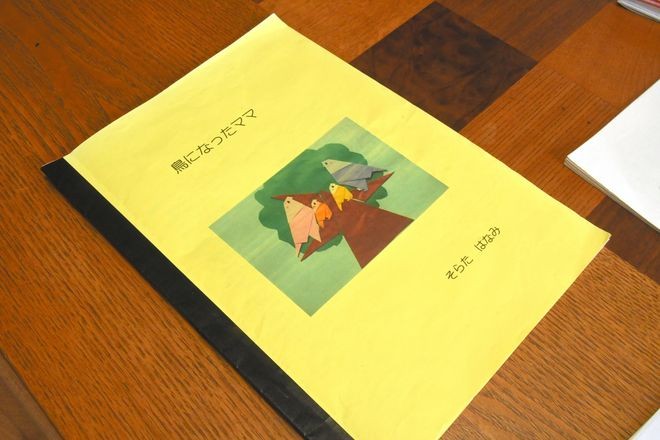 SPARROW STARTED IDEA FOR BOOK
The memory of an illustrated book she had made came to her mind when she was wondering what she should do to encourage more people to undergo medical examinations.
A sparrow became attached to the Sorata family immediately after Fukuko died. The sparrow sometimes even perched on the shoulders and arms of Hanami and her grandfather. The bird appeared very friendly as it cocked its head on one side.
Hanami said she felt as if her mother had returned to be reunited with her.
Hanami's family worked that episode into a booklet titled "Mom turned into a bird." Her grandfather wrote the text for the brochure, which Hanami illustrated and her grandmother printed.
Hanami thought that reworking that booklet into the format of a picture book would help attract broader attention.
She turned to a crowdfunding platform to raise funds for publishing the book, which allowed her to collect some 1.4 million yen ($11,900), nearly double the initial target, from about 200 contributors.
Hanami hired a professional illustrator to redesign the picture book. She also added a postscript to explain why the book was made and to encourage readers to undergo cancer screenings.
After the book came out in February and went on sale at 1,430 yen, including tax, Hanami organized a reading session, where she read the book aloud to an audience of parents with children, and also attended a sales promotion campaign at a bookshop.
In addition, she organized, among other things, a session that allowed an audience of students to ask an obstetrician-gynecologist questions about checkups and anxiety concerning cancer. She also talked to mothers with young children and encouraged them to be screened for cancer.
"Young people probably don't believe they will ever get cancer," Hanami said. "I want people in precisely that category to read my picture book with their children and to go undergo medical screenings."
Hanami said she plans to continue her public education activities even after she begins working for a day nursery as a dietitian in April. She said she is seeking a career in cooking because she had fun cooking with her mother.
She added that she hopes to ensure that fewer people will contract cancer and to cheer up children with the dishes she oversees.