GOSEN, Niigata Prefecture--Togen Yoshihara sings pensively while he plays the guitar on the grounds of a temple here, not for a concert but as a religious rite.
After a video of him chanting Prajnaparamitahrdaya, or the Heart Sutra, while strumming dreamy chords on his acoustic guitar went viral, the chief priest of Yokokuji temple in the Muramatsu district started performing on request.
And his performances are bringing new visitors to his temple.
"A guitar can make more rhythmic sounds than the 'mokugyo' traditional wood block, making it easier for listeners to understand the sutra they are hearing," said Yoshihara, 42.
He also plays for funerals and at other memorial services. While chanting Prajnaparamitahrdaya, Yoshihara slides his fingers smoothly along the fretboard and slowly strums his thoughtfully composed series of chords. As the two disparate styles meet, it produces a unique, relaxing song.
In May 2020, Yoshihara began chanting sutra while playing the guitar around when the first state of emergency was declared in Japan over the novel coronavirus pandemic.
As people started to hunker down at home, a college friend suggested that Yoshihara should "provide something virtuous" to people by making videos.
Yoshihara quickly decided he would play the guitar set to Prajnaparamitahrdaya knowing that with his instrumental skills, the tune would work. He then uploaded the video on YouTube.
The temple was soon inundated with phone calls from viewers who "want to see you perform firsthand." It also helped Yoshihara earn a good reputation among locals.
Yoshihara starts his live demonstrations at the temple's main hall, honoring its main object of worship. He sometimes plays elsewhere on the facility's grounds if visitors request it.
He said he currently organizes as many as 10 sessions a month, and that more worshippers than before are showing up at his temple.
For Yoshihara, the guitar was a tool that enabled him to forget his loneliness during his adolescence.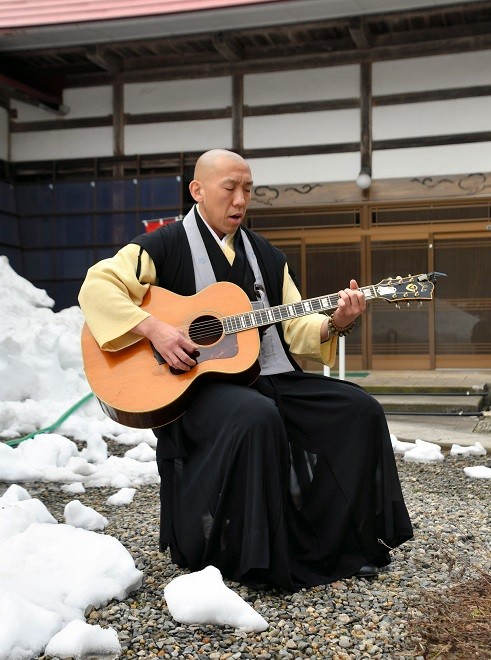 As a youngster, he had lived with his family that ran the temple in Ojiya, Niigata Prefecture. But before he entered high school, he was adopted into Yokokuji by a distant relative.
In his life isolated from his family, Yoshihara relied on an old folk guitar his father gave him to keep him company. He bought a score for "Innocent World," and he became obsessed with practicing the title track by the popular rock band Mr. Children, at times shedding tears alone in his eight-tatami room.
Nearly three decades later, that guitar now serves to glitz up his sutra recitals.
Yoshihara said Prajnaparamitahrdaya illustrates the important Buddhist concept of sunyata (emptiness) and is typically performed at funerals and other such ceremonies.
"This meritorious sutra can be applied to all kinds of scenes," he noted.
Yoshihara produced another online video, this one of a Japanese drum beaten to sutra chanting.
Japan's birthrate is declining, and its population is aging. And the Muramatsu district where his temple is located increasingly looks underpopulated. But Yoshihara hopes his singing will help revitalize the temple, transforming it into a community hub where people can drop by to interact.
He wants to listen to the problems of as many people as possible and provide them with guidance. To achieve that, Yoshihara believes it will "not be enough to just wait around."
"I want people to watch my activities, even though I have to change the traditional style," said Yoshihara.