The struggles of Ukrainian students determined to continue studying Japanese despite the death and destruction in their country were described at an online news conference in Tokyo.
Iryna Shepelska, a Japanese-language teacher at Kyiv National Linguistic University, spoke at the April 1 news conference from Germany, where she had fled to after the Russian invasion.
With tears in her eyes, Shepelska made a plea to her counterparts in Japan: "Please give opportunities to our students."
Japanese schools have, in fact, answered the call.
Some are inviting Ukrainian students to study at their campuses in Japan for free. Others are expanding their online lessons for students in the East European nation.
Many are calling for donations from the public to help cover the expenses.
One fast-expanding program was announced at the April 1 news conference by the International Christian University in Mitaka, western Tokyo.
The school will offer airfare, living expenses and free tuition and stays at a student dormitory for a few undergraduates from Ukraine.
"We hope to provide opportunities and a reassuring environment for students facing difficult circumstances so they can feel the joy of life," ICU President Shoichiro Iwakiri told the news conference.
ICU will be working with Pathways Japan (PJ), a general incorporated foundation headed by Norimasa Orii that provides assistance to refugees, and the Japan ICU Foundation.
The ICU program will be available for five undergraduate students at universities in Ukraine who have studied or are studying Japanese and are proficient in Japanese or English.
After the offer was announced online and through other means, at least 47 students had applied by April 2.
Several other universities have offered to join ICU and PJ's program to host additional students from Ukraine.
Eleven Japanese language schools have also gotten involved, with a target of hosting around 100 students. More than 200 students in Ukraine have applied, officials said.
Ihor Zorii, head of the Ukrainian-Japanese Center at the Lviv Polytechnic National University, joined the news conference from the Ukrainian city of Lviv.
He said air raid sirens force the students to halt their online studies and take shelter at evacuation shelters.
But they do not study there because they do not want to bother others, he said.
The Japan University of Economics, in a separate program, is taking in Ukrainian students from the Kyiv National Linguistic University and the Lviv Polytechnic.
The JUE, based in Dazaifu, Fukuoka Prefecture, had concluded agreements with both Ukrainian universities and was already exchanging students with them.
Seventy-two students from Ukraine wished to benefit from the program, and part of them arrived in Japan ahead of the April 7 start of classes for the new academic year, JUE officials said. The students will be living in a dormitory.
The university has set up a fund for donations so that it can cover all tuition fees and living expenses for the Ukrainians until March next year.
The Okinawa Institute of Science and Technology Graduate University is also calling for donations to provide assistance to scientists and students fleeing the Russian invasion. It has also started procedures to host Ukrainian researchers, university officials said.
More than half of the university's faculty and students are from overseas. It already had a Ukrainian student and Ukrainian staff members before Russia's invasion began.
The officials said the university will tap into the donation fund when it hosts scientists and students and to help Ukraine rebuild its scientific and academic institutions.
PROVIDING ACCESS TO ONLINE CLASSES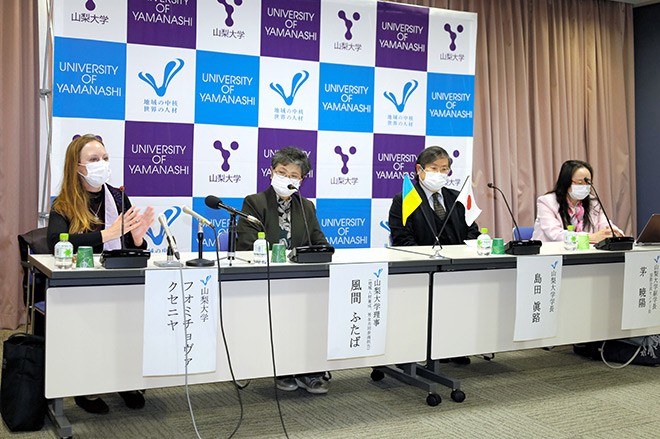 The University of Yamanashi is providing online lessons to Ukrainian students who cannot take classes because of Russia's attack.
The Kofu-based university employs a staff member who graduated from Ukraine's National Aerospace University, also known as the Kharkiv Aviation Institute.
That connection led the Japanese university to offer classes on 13 subjects, including artificial intelligence and the water environment, to students in master's programs at 12 universities in Kharkiv.
The program will use English-language teaching materials that were prepared for international students who were unable to come to Japan because of the COVID-19 pandemic.
University officials said they will send IDs and other access information to the Ukrainian students who are listed as participants of the program.
"One mission of educators is to make ourselves available to students who are eager to study," University of Yamanashi President Shinji Shimada said. "I hope universities across Japan will follow in our footsteps."
The Tokyo University of Foreign Studies (TUFS) will offer online Japanese language classes for Ukrainian university students from late May through September.
The serial classes will be held on the mornings and evenings on Friday every week under the framework of the TUFS Open Academy, an extension program mainly used by working adults.
The fee of 34,000 yen ($277) will be waived.
Eligible students will be able to join the course from Ukraine or a third country. A special class could be set up if many more students apply, TUFS officials said.
TUFS is also weighing a plan to allow Ukrainian students to attend regular classes at the university, the officials added.
The University of Tokyo is temporarily hosting students and researchers of all nationalities who were forced to halt their activities because of Russia's invasion. They can take special programs made available by the university's graduate schools and other research units.
They will also be entitled to Japanese language classes and counseling.
The university plans to cover their travel expenses and provide them with about 80,000 yen a month in living expenses for a year.
It has set up a fund and is calling for donations, saying the university alone cannot cover all of the necessary expenditures.
(This article was written by Hajime Ueno and Senior Staff Writer Fumio Masutani.)