Editor's note: In the Taste of Life series, cooking experts, chefs and others involved in the field of food introduce their special recipes intertwined with their paths in life.
* * *
Beijing-born cooking expert Wu Wen has imparted Chinese home cooking in Japan for years. Our new series on cooking will start by introducing her beansprout stir-fry.
Wu says the beansprout is "a vegetable that represents spring" and is like "a symbol of life." It is an indispensable ingredient of "chunbing" (spring pancake). a traditional Chinese dish eaten to celebrate the first day of spring.
Similar to crepes, spring pancakes are made by kneading flour with water, flattening thinly and cooking in a pan. The pancake serves as a wrapper to roll in beansprout stir-fry as well as meat, vegetables and many other ingredients.
Wu says the dish heralds the much-awaited coming of spring, and her family members enjoyed it together.
Beansprouts are now available year-round at moderate prices. But when Wu was a child, that was not the case even if money was no object.
Her family started growing them at home, keeping track of the days so they were ready by the beginning of spring.
Family members immersed mung beans in water and covered them with slightly thick linen cloth that served as a "futon" for the beansprouts. Everyone in her family looked forward to the roots emerging, followed by the spurt of shoots.
Wu fondly recalls how her grandmother and mother fussed over how the beansprouts grew, saying things like, "It will be too late unless they grow faster" and "We must put them where it is warm."
In the end, they stir-fried the fresh and crunchy beansprouts and enjoyed them in a wrapper made from flour.
They are indeed a symbol of life.
"We take in the vital energy of the beansprouts and wake our bodies that had been in a state of slumber during the winter," Wu says. "For us, beansprout stir-fry is a delicacy."
While it is very simple to make the stir-fry, do add a dash of "huajiao," or Sichuan pepper popular in China, to give aroma. The flowery aroma will subdue the grassy smell of the beansprouts.
The seasonings are kept simple as well. The sweetness of the beansprouts will be highlighted by adding a little salt and vinegar as a hidden seasoning at the end.
* * *
Wu Wen: Born in Beijing in 1963, Wu came to Japan in 1990. The Chinese home cooking which she served to her friends created a stir and kickstarted her career in cooking. Wu opened her own cooking salon in Tokyo in 1997. She has written books, including "Wu Wen no wake atte oishii yasai no okazu" and "Pekin no daidokoro, Tokyo no daidokoro."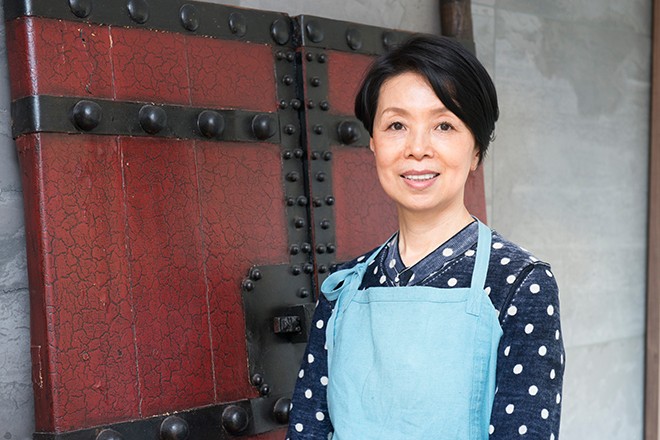 BASIC COOKING METHOD
Main Ingredients (Serve two)
1 bag (200 grams) beansprouts (moyashi), 1 tsp vinegar, 1/4 tsp salt, 10 Sichuan peppercorns, 1 Tbsp oil (light colored "taihaku" sesame oil if available)
1. Remove roots and leaves from beansprouts.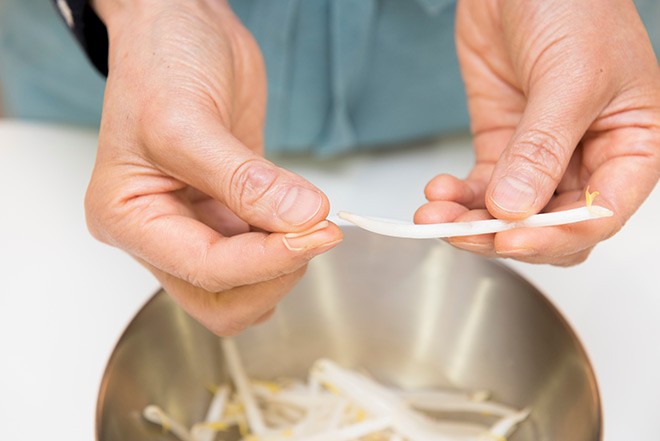 2. Add oil and Sichuan pepper to stir-fry pot or frying pan and place on heat. When aroma rises, add beansprouts and let oil coat them. Stir-fry slowly on lower medium heat until beansprouts become transparent.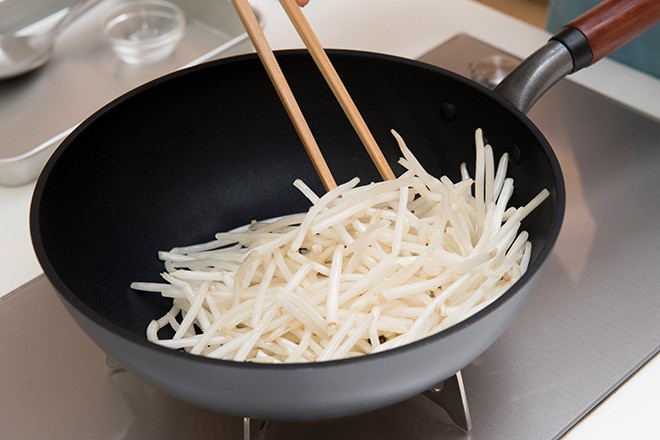 3. Flavor with vinegar and salt.
About 70 kcal and 0.7 gram salt per portion
(Nutrient calculation by the Nutrition Clinic of Kagawa Nutrition University)
SHORT MEMOS
A key is to remove the roots and leaves from the beansprouts. This will improve the texture and leave no fibrous feel in the mouth. The beansprouts will also look nicer, like "silver needles." This takes a little time but do give it a try.
Sesame oil made by pressing toasted sesame seeds produces a toasty flavor. "Taihaku" sesame oil is extracted from pressed raw sesame seeds. Lacking in strong flavor, it adds a refreshing umami to the dishes.
* * *
From The Asahi Shimbun's Jinsei Reshipi (Life Recipe) column