SHARI, Hokkaido--The Japan Coast Guard said April 24 that 10 bodies had been recovered after a tourist boat went missing the day before in frigid conditions off Hokkaido's Shiretoko Peninsula.
It confirmed the deaths of seven men and three women. The fate of the other 16 people who were on board remains unknown.
Details were sketchy, but authorities said the bodies were discovered either at sea or had washed up on rocks on the shore.
An emergency rescue operation involving seven Coast Guard cutters and five aircraft got under way from 4:30 p.m. on April 23 after the vessel, the Kazu 1, sent a distress signal to the First Regional Coast Guard Headquarters based in Otaru, Hokkaido, at 1:13 p.m. while it was taking on water.
Two of the 24 passengers were children.
The Kazu 1, operated by Shiretoko Pleasure Boat, had a capacity to carry 65 people. It departed from this town's Utoro district for a three-hour tour to observe nature and wildlife, including brown bears and white-tailed sea eagles, at the World Natural Heritage-designated Shiretoko Peninsula in Shari.
It was midway through the journey and near the scenic Kashuni Falls in the western part of the peninsula when it sent the SOS, according to the First Regional Coast Guard Headquarters.
Crew members reported that the bow of the boat was submerged and the engine was out of action. They later contacted the boat operator to say the hull of the boat was tilting by 30 degrees.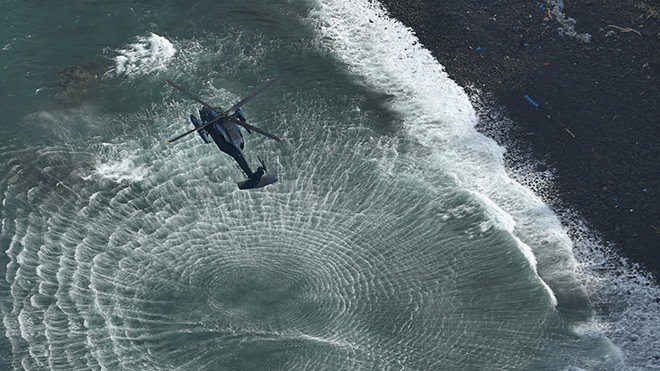 According to the Japan Meteorological Agency's Sapporo Regional Headquarters, the temperature was 5.8 degrees in the Utoro district as of 1 p.m. on April 23.
Weather officials estimated the seawater temperature in the area where the boat lost contact was between 2 and 3 degrees.
The land ministry's Hokkaido Development office said waves in the area were thought to be gusting at around 3 meters as of 1:30 p.m., up from 1.9 meters just hours before.
Gale and high surf warnings were in force around that time, according to the Sapporo Regional Headquarters.
According to the land ministry, the Kazu 1 had experienced problems in the past. They noted that it ran aground while cruising on June 11 last year, but none of 23 passengers and crew members were injured on that occasion.
In May the same year, it collided with a floating object.
Boat tours of the peninsula operate mainly from late April to the end of October.