The central government has increased personnel and strengthened monitoring but is still struggling to predict eruptions among the 111 active volcanoes in Japan and alert people in the danger zones.
A five-level volcanic alert system is used to inform the public and authorities about the state of volcanoes and what measures should be taken to mitigate disaster.
But the alert levels are often raised too late.
Just before noon on Oct. 20 last year, Takahiro Ohkura, a professor with Kyoto University's Aso Volcanological Laboratory, was monitoring volcanic tremors with ground-based equipment when he spotted gray smoke about a kilometer away rising into the blue sky from Mount Aso's Nakadake No. 1 crater in Kumamoto Prefecture.
"Oh, I knew it," he said he thought at the time.
Ohkura, 58, had been on the lookout for a similar event because volcanic tremors had grown in amplitude following a small-scale eruption on Oct. 14.
Other relevant institutions were also watching for developments at the volcano.
The Japan Meteorological Agency, for example, raised the alert level to 2 on Oct. 13 and released "details of volcanic activity" on Oct. 18 and 19. Such extraordinary notices are issued when volcanic activity levels are rising.
The Aso Volcano Disaster Prevention Council, which organizes local governments and other entities in the area, restricted entry into zones within 1 km of the crater. Heavy machinery being used for engineering work was removed from near the crater.
A pyroclastic flow from the Oct. 20 eruption, however, traveled 1.6 km, exceeding the initial projection of 1 km.
Five minutes following the eruption, the JMA raised the alert level to 3 and broadened the no-entry zones to a radius of 2 km from the crater.
No one was injured, but 16 climbers were within 2 km of the crater at the time.
"We are taking it seriously," Keita Torisu, senior coordinator for volcanic disaster mitigation with the JMA Fukuoka Regional Headquarters, said about the delayed response during a news conference following the eruption.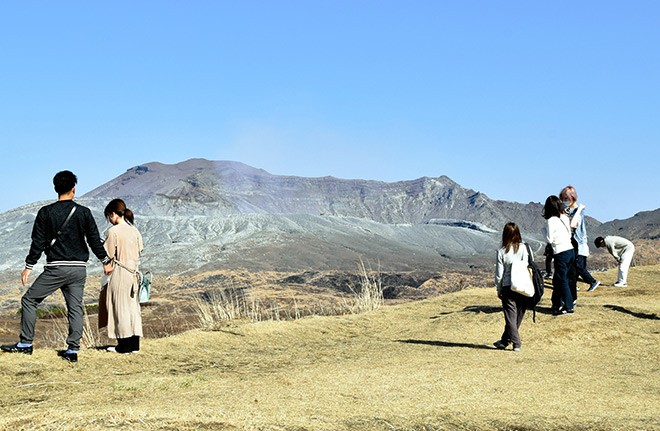 Another volcano erupted before the alert level was raised, leading to the deadliest volcanic disaster in postwar Japan.
Mount Ontakesan, which straddles Nagano and Gifu prefectures, erupted in 2014 while its summit and surrounding area was crowded with climbers. Cinders rained down on the mountain, leaving 63 people dead or missing.
The JMA had detected more than 50 volcanic earthquakes in advance but had maintained the alert level as low as 1.
The central government, drawing a lesson from that eruption, strengthened its volcano monitoring system and information transmission capabilities.
Its continuous monitoring now covers 50 volcanoes, up from the previous 47, while operations of the alert level system cover 49 volcanoes, up from 30.
The JMA increased staff workers in charge of volcanoes at its head office and local meteorological offices from around 160 in 2014 to about 280.
Data on the state of volcanoes and other information are sent from crater cameras and other devices to the four volcanic observation and warning centers in Tokyo, Sapporo, Sendai and Fukuoka for monitoring and analysis.
The JMA still failed to predict the scale of the Oct. 20 eruption of Mount Aso.
The agency has provisionally eased the criteria for raising the alert level specifically at Mount Aso.
"It remains difficult to forecast the scale of an eruption," Ohkura, the professor who has been monitoring the volcano, said. "It is important to be on the maximum lookout when you have caught any precursors and to convey alert level information properly to local communities and climbers."
Precursors play a key role in forecasting eruption scales.
"With the latest improvements in communication technologies, it has now become possible, to a considerable extent, to capture precursors at remote locations," a JMA official said. "But that still comes with inevitable blind spots. Direct monitoring on site remains the most reliable means."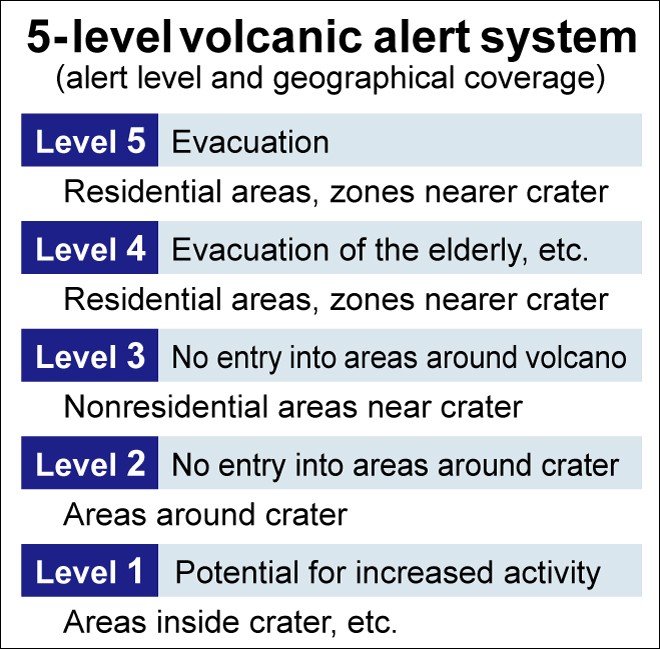 Universities have traditionally maintained observatories near major active volcanoes, with scientists assigned there to monitor the peaks.
Those researchers have been likened to "home doctors" because they are there to capture signs of volcanic activity and to advise local governments on evacuation and other matters.
Scientists, however, have gradually pulled out of the observatories, mainly because of budget cuts after Japan's national universities were reorganized into semi-public administrative bodies in 2004.
Education ministry officials said that, as of April, researchers were stationed permanently at only four observatories: Mount Aso; Mount Unzendake in Nagasaki Prefecture; Mount Sakurajima in Kagoshima Prefecture; and Mount Kusatsu-Shiranesan in Gunma Prefecture.
Hokkaido University's Usu Volcano Observatory (UVO), set up at Mount Usuzan in 1977, has remained unstaffed since a specially appointed associate professor retired from the assignment there in March last year.
Permanent staffing of the observatory ended following budget cuts and a shortage of researchers, officials said.
In 2000, a researcher stationed full-time at the UVO caught precursors of Usuzan's eruption and worked with the town government of Sobetsu to evacuate more than 10,000 people before the eruption.
No one was killed, and the experience is considered a successful case of volcanic disaster management.
The staff withdrawal from the UVO sent shock waves among informed officials. The JMA, on its part, cannot afford to assign replacement staff at Usuzan despite the general increase in the agency's personnel in charge of volcanoes.
The Sobetsu town government has commissioned two researchers who have worked for the UVO to serve as "expert advisers on disaster management," thereby securing continued access to specialist advice.
"Ideally, we want to have a (permanently stationed) home doctor for Usuzan," said Toshiya Tanabe, the 62-year-old Sobetsu mayor who dealt with the volcano's 2000 eruption as a town government official.
"But there is a need to work with experts and relevant institutions to ensure there is a volcanic disaster management setup that works under the framework of the current system."
The volcanic alert system, which the JMA introduced in 2007, uses a five-level scale to show what actions should be taken by disaster management institutions and residents, and which geographical areas are covered.
The system is operated at 49 of the 50 volcanoes under continuous monitoring. The one exception is at Iwoto island, where there are no residents.