WASHINGTON--Steve Bannon, former U.S. President Donald Trump's chief strategist, is confident that the Republican Party will enjoy "a massive landslide this fall" in the midterm elections. 
The remark came in reference to the pivotal congressional elections scheduled for November during an exclusive interview with The Asahi Shimbun.
Bannon, 68, asserted that if Republicans secure a majority of seats in the House of Representatives, they will start impeachment procedures against President Joe Biden.
Bannon was interviewed on April 26 in Washington, D.C. It was the first time for him to speak to a major media organization since he was accused of contempt of Congress.
Bannon refused to comply with a subpoena by the House select committee investigating Trump supporters' assault on the U.S. Capitol in January last year. He was criminally indicted by a federal grand jury in November the same year.
Asked about the House select committee, Bannon insisted, "They're trying to smear President Trump with all these allegations."
Bannon stressed that his indictment was a result of his loyalty to Trump, stating, "I've adhered to that every time he did it," in reference to Trump's having exerted "executive privilege," in declining to provide requested information and cooperating with the committee's investigation.
Bannon lambasted the select committee's efforts to seek Trump's criminal responsibility, attributing it to Democrats attempting to "make sure Trump can't run again in 2024" in the presidential election.
As there is a growing likelihood of Republicans gaining control of both the Senate and House following the November midterm elections, Trump has been increasing his presence in politics again.
Research firm YouGov's opinion poll showed more than 80 percent of Republican Party supporters viewed Trump positively in early May.
Bannon, who is still in close contact with Trump, is regarded as one of the key figures in the former president's involvement in campaigns for the midterm elections and the 2024 presidential vote.
"We're going to have a massive landslide this fall," predicted Bannon.
Bannon said Biden would "be impeached in the House," after the midterm election once Republicans gained a majority.
Cited as reasons for the possible impeachment were the number of illegal immigrants' crossing the U.S.-Mexican border; issues involving Hunter Biden, President Biden's son, over his business dealings with China; and steps taken against the novel coronavirus.
It is, however, believed to be difficult for Republicans to win two-thirds or more of the seats in the Senate through its predicted victories in the midterm elections, which is essential to approve Biden's impeachment.
Bannon admitted "it'll be very unlikely that he'll be removed from office."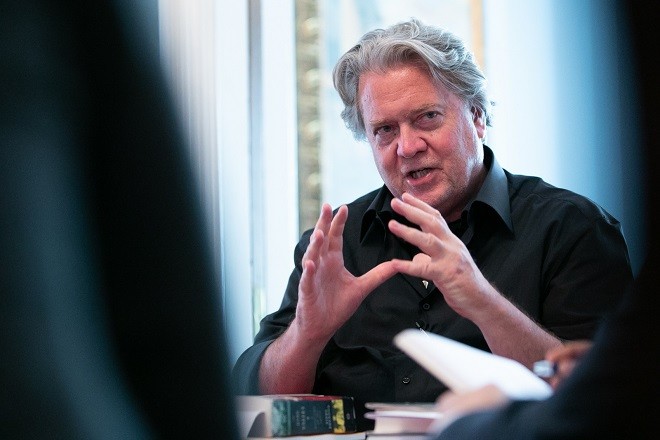 Meanwhile, Bannon estimated the Biden administration's support rating would drop to under 30 percent, adding that Biden would not be able to run again in the 2024 presidential election.
Over the Russian invasion of Ukraine, Bannon described the topic as being "not in the vital national security interests of the United States."
He argued that Washington should not engage in activities to assist in Ukraine's fight, saying, "Ukraine is a European problem. Let the Europeans deal with it."
Bannon explained why the Biden administration is taking a hard line against China similarly as Trump's competition policy against its major economic rival.
"If they did not do that, their poll numbers would drop to zero," he said.
Bannon went on to say: "We're totally divided on everything else. We're divided on economics. We're divided on wokeness. We're divided on cultural issues. We're divided on immigration. We're divided on NATO. The one thing that the American people are united at, 90 percent, is that the Chinese Communist Party is a problem."