KYOTO--To celebrate the release of the new "Shin Ultraman" movie, a special event dedicated to the classic live-action superhero franchise is running at the Toei Kyoto Studio Park here until July 10.
One highlight is an event that encourages participants to look for 48 photo panels of "kaiju" monsters featured in the original "Ultraman" TV series, which started in 1966.
When participants hold up their smartphones at the panel, they can "capture" the monster and obtain an image of its footprint.
Participants receive a poster and stickers depending on the number of footprints collected.
There is an entry fee of 1,000 yen ($7.80) to play. Participants must also download an exclusive app to scan the QR codes with their smartphones.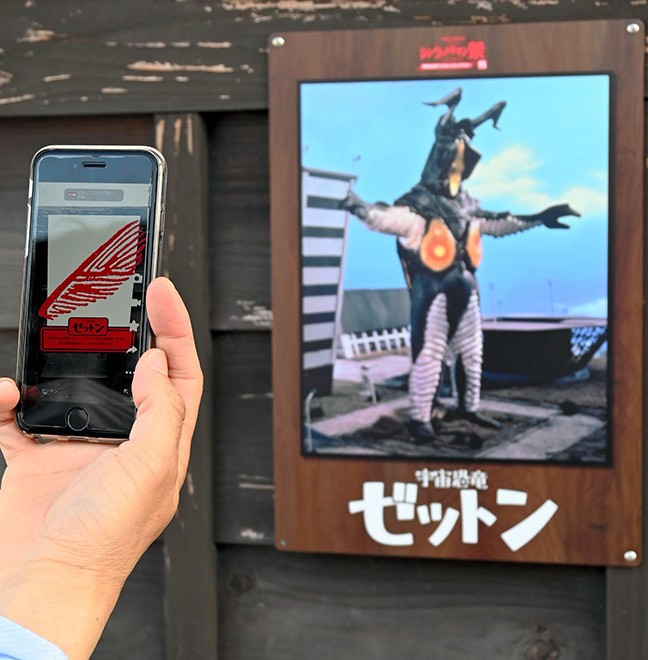 Park visitors can also enjoy a simulation of shooting Ultraman's Spacium Beam at a monster in one area of the venue.
When visitors step on a switch and strike a pose in front of a 2-meter-tall statue of the monster Gomora against the backdrop of an image of Osaka Castle, light and sound effects make them look like they are firing the energy ray from their hand at the monster.
There is also a 1.7-meter-tall statue of Shin Ultraman standing in front of a 15-meter-tall statue of the Evangelion Unit-01 robot's upper body at the theme park.
Drinks and sweets themed on kaiju are served at cafes in the park, such as a no-bake cheesecake featuring patterns of the alien Dada's body.
In addition, Keifuku Electric Railroad Co. (Randen) is operating a tramcar decorated with Shin Ultraman until July 10.
Admission to the theme park is 2,400 yen for adults, 1,400 yen for junior and senior high school students and 1,200 yen for children 3 or older.
For inquiries on the Shin Ultraman Matsuri festival, visit the special website at (https://www.toei-eigamura.com/shinultraman/).