Editor's note: In the Taste of Life series, cooking experts, chefs and others involved in the field of food introduce their special recipes intertwined with their paths in life.
* * *
Naoya Higuchi is a book lover who also liked to write. He won an award at a literary competition when he was in high school.
The novel he began writing at night after managing a restaurant as a chef became his debut work in his 20s.
Higuchi spent time and effort writing "Supu no kuni no ohimesama" (A princess in the land of soup), a novel about a young former cook who is hired by an elderly lady to cook soup for her at her mansion.
Although the story had been serialized in a literary magazine under a different title, the Great East Japan Earthquake, which struck in the year the series ended, prompted him to rewrite it with a different theme.
Originally, the novel's theme had been "unchanging everyday life." The young man prepares the broth and cooks soup every day at the mansion. Higuchi felt such repetition was noble.
However, Higuchi witnessed such everyday life falling apart when the earthquake, tsunami and nuclear disaster struck the Tohoku region in 2011.
When the novel was to become a book, he changed the theme to "memory" and rewrote it in a way that the characters face their families or the memories of the deceased through soup.
"Potage bonne femme," a potage soup that is dear to the main character, makes quite an impression by appearing at the beginning and the end of the story.
In French cuisine, "bonne femme" is given to the names of home-cooked dishes reminiscent of comfort food. Literally "good woman," the phrase means "lady of the house" or "mature woman."
Starting with the novel about the potage soup, Higuchi chose to write pieces themed around cooking. He said he often develops the storyline by focusing on the background or recipe of the dishes.
Higuchi said dishes have a few things in common with novels.
"You eat something delicious with someone. Your outlook on life may change when you read a novel," he said. "Novels and good food both enhance life and enrich it."
While a potato, a carrot and an onion were used this week, celery, cauliflower and a turnip will work well depending on the season.
* * *
Naoya Higuchi: Born in Tokyo in 1981, Higuchi graduated from Hattori Nutrition College. He made his debut as a writer in 2005 with "Sayonara Amerika." He has written many novels, including "Otona Doroppu."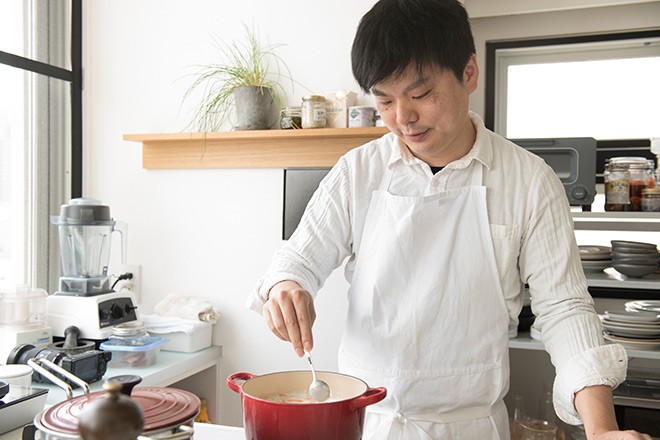 BASIC COOKING METHOD
Main Ingredients (Serves two or three)
1 small (80 grams) potato, 1/4 (70 grams) carrot, 1 medium-size (200 grams) onion, 20 grams butter, 200 ml each of water and milk, 50 ml fresh cream, 1/2 tsp salt, some croutons
1. Peel potato and slice into 5-mm-thick pieces. Finely slice onion against fiber. Finely slice carrot.
2. Add butter, onion, carrot and half of salt to pot, place on medium heat with lid on. When steam rises, turn to low heat and simmer for 5 minutes. When vegetables have softened, add water, milk, potato and turn to medium heat.
3. When pot comes to a boil, turn to low heat and simmer for 7 to 8 minutes with lid on. Turn off stove and cook for another 5 minutes in residual heat. When potato has softened, mix contents in blender.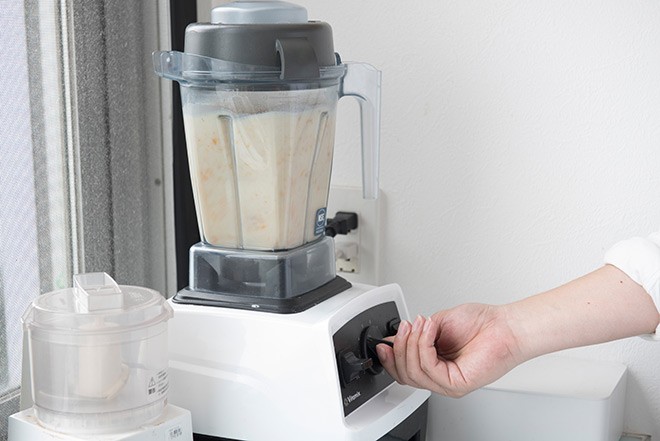 4. Return contents to pot, add remaining salt and fresh cream. Mix and heat. Serve with croutons.
Assuming the dish serves two, about 340 kcal and 1.9 grams salt per portion
(Nutrient calculation by the Nutrition Clinic of Kagawa Nutrition University)
Adding half of the salt when the vegetables are being cooked in the pot will make them soften more quickly. The soup will turn out smooth by adding a small amount of fresh cream that contains more milkfat than milk.
* * *
From The Asahi Shimbun's Jinsei Reshipi (Life Recipe) column