Fears of African swine fever (ASF) are keeping raw ham from Italy, along with sausages made in Germany and other renowned meat products from Europe, off Japanese tables.
The effort to contain the infectious viral disease has impacted the menu of a leading family restaurant chain in Japan, and eateries and retailers nationwide are boosting measures to find substitutes for delicacies from the European countries.
In January, the agriculture ministry banned imports of pork and processed goods from Italy.
That decision has affected the offerings of Italian restaurant chefs such as Kazunori Akita, who works at Yamagata San-Dan-Delo in Tokyo's posh Ginza district.
After the ministry's ban, Akita, 50, received a series of emails from other cooks worrying whether they can continue using raw prosciutto ham and pancetta salted pork.
At San-Dan-Delo, deep-fired vegetables rolled in raw ham serve as a staple on its menu. The fritter dish was developed by the restaurant's owner and chef, Masayuki Okuda, 52.
As 40 kilograms of raw ham is consumed monthly there as a main ingredient, primarily ham slices from Italy that are mass-produced at cheaper prices than their Japanese counterparts were long used at the establishment.
The ministry's decision rendered it difficult for the eatery operator to procure Italian raw ham. Products still available in Japan were processed and stocked before the import regulation, so they will disappear from the market at some point in the future.
RAW ITALIAN HAM OFF THE MENU
Saizeriya Co., a family restaurant operator famed for inexpensive Italian meals featuring raw ham and salami, has stopped selling mature Milanese salami as an appetizer.
Other dishes based on raw ham and pancetta are expected to be removed from the menu as soon as they go out of stock.
"We are considering how to secure alternatives while keeping in mind the possibility of reviewing our menu," said a public relations official of Saizeriya.
Sitting on the second floor of a souvenir shop handling articles from Yamagata Prefecture, San-Dan-Delo also provides raw ham that is made in the prefecture and selected by Okuda. But it accounts for only a portion of its total raw ham consumption.
According to Okuda's accounts, the degrees of salt and flavor differ between raw ham products from Japan and Italy due to their differing climates.
Trying to deal with the recent challenge, Okuda made up his mind to "take advantage of this chance to rely exclusively on Japan-produced raw ham." He introduced a new slicer to make ham thinner.
Under Okuda's plan, San-Dan-Delo will utilize homemade pancetta, which is essential for pasta meals.
Some products in Japan are made at temperature and humidity levels close to those in Italy, and Okuda determined their quality is high enough to be served at his restaurant.
Hearing about Okuda's decision, his acquaintance chefs have contacted him for advice in succession.
"Dishes cooked with Italian-produced ingredients in faithful accordance with recipes are, of course, delicious," said Okuda. "But it is also important to create Italian cuisine meeting Japanese' tastes, taking into account Japan's climate features."
BEEFING UP IMPORT CONTROLS
The agriculture ministry said ASF is endemic to Africa and transmitted by a different virus than classical swine fever (CSF), which has already been confirmed in Japan. There are no effective vaccines or therapies.
ASF infections spread in Asia and Eurasia, with ASF cases reported in Italy, Poland, Germany and elsewhere in Europe.
Japan is so far free from ASF. The occurrence of ASF would gravely impact the nation's animal husbandry, so the government has been bolstering countermeasures since ASF was detected in China in 2018.
Such steps include animal quarantine officials allowed to discard processed meat products brought in by tourists at airports. People attempting to bypass import inspections will face tougher penalties.
The ministry, which has just identified the ASF virus' gene earlier this year from a sausage seized from a traveler, has no intention of lowering its guard.
Pork cannot be imported from countries where ASF has occurred, in principle, under the domestic animal infectious diseases control law.
Exports can be resumed only after ASF-affected states officially declare the eradication of the disease and reach agreements with the Japanese side through talks over detailed import conditions.
ASF-free regions in some infected countries are able to send meat products to Japan. Hungary spent two years discussing the topic with Tokyo so that it could restart imports of specific items in January last year.
However, that kind of agreement has yet to be signed with Italy and Germany.
GERMAN SAUSAGES STILL 'VERBOTEN'
Sausage imports from Germany have been suspended since September 2020.
Yoshiko Nishimura, president of Hareico Japan, which is affiliated with German food firm Dollinghareico, said she is struggling to find a replacement.
"We have been handling sausages from Germany for 35 years, but the situation is very difficult due to the novel coronavirus crisis on top of that (import restrictions)," said Nishimura.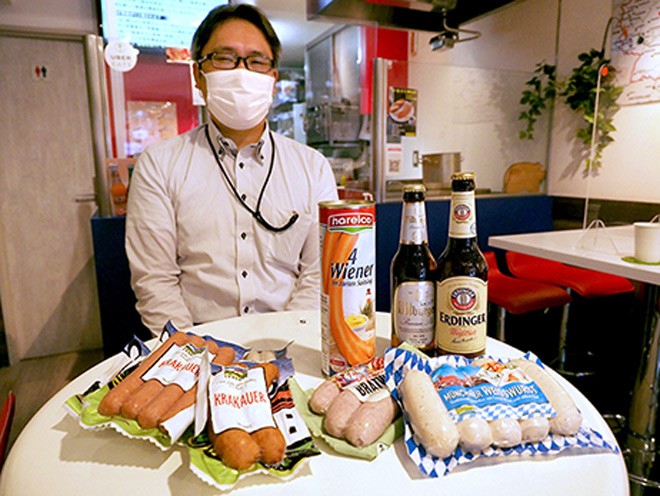 Nishimura said imports are currently limited to canned products that are heated after packaging to comply with Japan's trade requirements. Popular sausages heated and then packed cannot be carried into Japan.
For that reason, Nishimura began purchasing Austrian sausages because no ASF instances have been confirmed in the neighboring country. Still, the import volume has halved from the peak period, when Hareico Japan bought 100 tons of sausages annually.
Hareico Japan is scrambling to raise the understanding among German cuisine restaurants using its imported sausages, billing them as being produced in the German-speaking nation in the same method as that of Munich or other places in Germany.
Its directly run shop in Tokyo's Iidabashi district serves a set of Austrian sausages and German beer.
"We will keep on presenting German cuisine as part of the German culture in Japan," said Koichi Isono, 45, director of Hareico Japan.