About 20 people lined the stairs leading to a restaurant in a multitenant building in the Kichijoji district in Musashino, western Tokyo, at around midday on June 5.
They waited to taste the Babusya REY restaurant's popular Ukrainian dishes, such as borscht and varenyky, a Ukrainian dumpling.
The small restaurant has just eight counter seats.
"The dishes tasted just like the ones I had there," said a woman in her 40s who visited Ukraine six years ago. "They reminded me of the country's beautiful towns, too."
A Ukrainian family who fled their country after the Russian invasion opened Babusya REY in the Kichijoji district, serving Ukrainian cuisine. 
Only five minutes from JR Kichijoji station on foot, it has become busy after its authentic dishes became well-known on social media.
Victoria Bogdanova, 29, who came to Japan as a language student seven years ago and married a Japanese man, and her older sister, Eugenia, 35, are among those operating the restaurant.
Eugenia came to Japan with her husband, her son and her parents at the end of March after evacuating from Ukraine.
Eugenia and her family lived in the Donetsk region, where fierce fighting between Russia and Ukraine has continued.
They initially intended to stay in Ukraine when the invasion started.
However, they decided to evacuate after a place just several hundred meters from their home was bombed and their acquaintances lost their lives, among other incidents.
Eugenia's parents initially refused to go because they managed a clothing shop, but Eugenia persuaded them to leave.
They fled Ukraine in mid-March, leaving their homes and shop as they were.
Eugenia, who lived in an area in the Donetsk region occupied by the pro-Russian separatists, came to Japan via Russia.
Her parents, who lived in an area controlled by the Ukrainian army, crossed Ukraine in a westward direction and arrived in Japan via Europe.
It took both Eugenia and her parents around 10 days to come to Japan.
They were housed in a home run by the Tokyo metropolitan government after arriving.
They had used all their savings to buy airline tickets to fly to Japan. They also had lost any means to earn an income.
Then, Victoria's husband, Yukinori Ogasawara, 30, suggested opening a restaurant.
He said he was recalling the homestyle Ukrainian cuisine he had eaten when he had visited the country three years ago when he made the suggestion.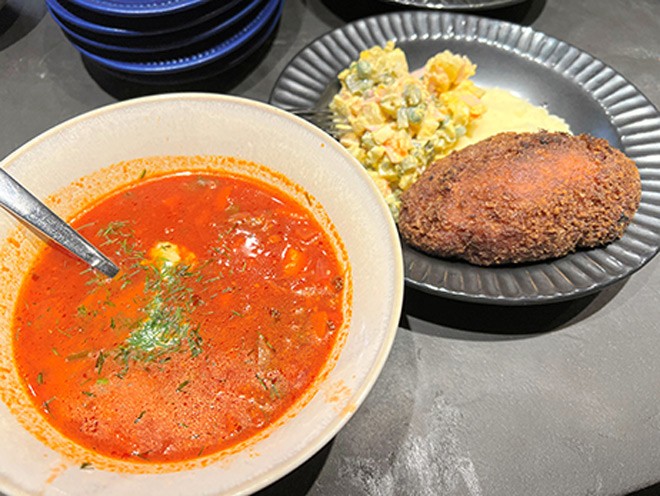 "Ukrainian dishes suit Japanese people's tastes," he said. "Also, my wife's family members said they wanted to do what they could--not just being given support."
The restaurant opened on April 28.
It uses a bar managed by Ogasawara's family members only during the daytime, when the bar is not open.
The restaurant's name was made by combining "babusya," a Ukrainian word meaning a grandmother, and the bar's name.
Victoria's mother, Natasya, 57, does the necessary preparation to cook the dishes.
"These are the dishes we grew up with," Victoria said. "It was a sad event that led to the opening of this restaurant, but I hope it will be a bridge between Japanese and Ukrainian culture."
Babusya REY is open from 11 a.m. to 4 p.m. on Saturdays, Sundays and national holidays.