Editor's note: In the Taste of Life series, cooking experts, chefs and others involved in the field of food introduce their special recipes intertwined with their paths in life.
* * *
Yoichi Honda and his wife are working parents who live with their 4-year-old son and their baby daughter who is less than a year old.
Since he is at home longer, Honda is in charge of the cooking and shopping.
Grilled chicken "spareribs" used to be his son's favorite when he was around 2.
"He would eat up 10, then 15 and would sometimes reach out to our plates," Honda says. 
But one day he suddenly stopped eating them and now, at age 4, does not give them a second glance. The reason is still a mystery. One's preference in food changes with age.
Even menus considered to be popular among children may not appeal to his son.
"He finally took a liking to hamburger steak and curry rice, but spaghetti is not on the list at this point. He may start eating chicken spareribs again, and I am ready to wait patiently," Honda says.
Even when his son does not touch the food served on the table, Honda does not force him to eat.
"Not eating and feeling hungry later is also an experience to be gained," Honda says.
When that occurs, he makes his son wait for the next meal instead of serving him something else.
One of his Twitter postings is titled "Musuko-san gohan," meaning "My son's meals," and lists the youngster's daily menus.
Though he began writing it to keep a record for himself, the tweets show his son's growth process from the standpoint of food.
"So many dramatic things happen when you are doing household chores and raising children," Honda says. "Their expression changes with each day and my son's reactions often give me insights. They are intriguing." 
Honda decides what to cook to suit those situations.
"This is the joy of home cooking. The orientation is different from dishes served at restaurants and it is also important to think of the health of the family," says Honda.
To remove excess fat and cut down on calories, the chicken in this week's recipe is cooked in a fish grill installed in the kitchen stove. The recipe also works well when a frying pan is used.
Yoichi Honda: Born in Fukushima Prefecture in 1983, he is a cooking expert. After earning certification as a nutritionist at a vocational school, he did a stint as a freelance photographer before becoming a cooking expert. He has published books including "Enbun ichinichi 6 g Wagamama otoko wo unaraseru Umai! genen meshi," meaning "6 grams of salt a day: Tasty dishes with less salt that satisfy picky men."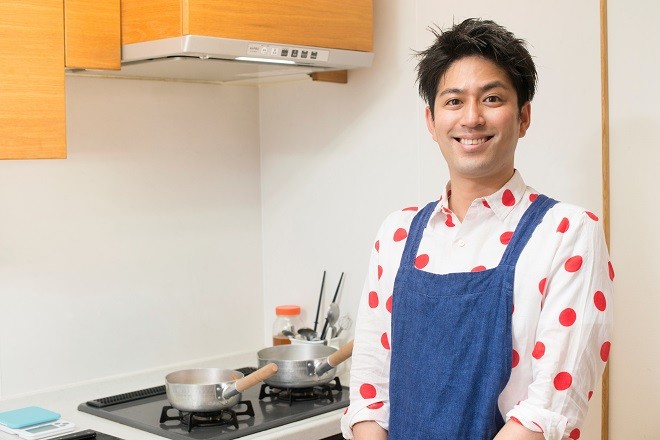 BASIC COOKING METHOD
Main ingredients (Serves two to three)
20 chicken spareribs (10 "tebanaka," mid-section of chicken wings), Seasoning A (1 and 1/2 Tbsp soy sauce, 1 Tbsp sweet mirin sake, 1 tsp sugar)
1. Place chicken in plastic bag, add Seasoning A and knead thoroughly. Push out air as much as possible and leave in fridge overnight.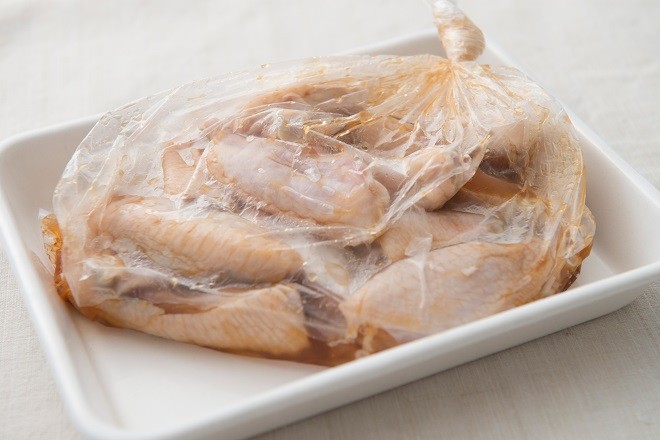 2. Lay chicken in fish grill, cook in medium heat for about 8 minutes. Turn sides and cook for another 8 minutes.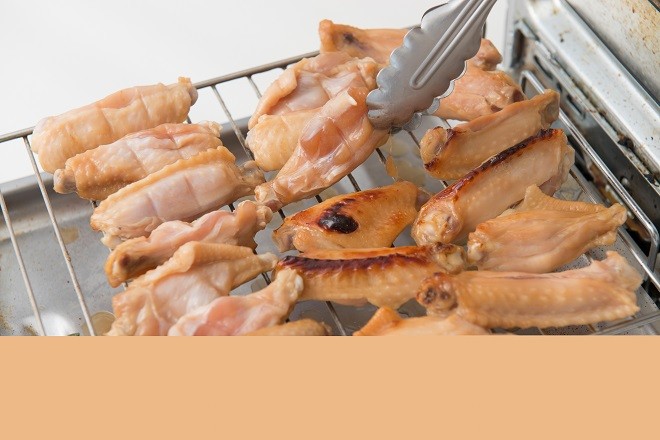 3. Apply sauce left in bag and cook for another 2 to 3 minutes until they take on a glaze.
Assuming that the ingredients served three, about 235 kcal and 1.5 grams salt per portion
(Nutrient calculation by the Nutrition Clinic of Kagawa Nutrition University)
SHORT MEMOS
Chicken "spareribs" are a product where the mid-sections of chicken wings are cut in half lengthwise. They cook quickly.
When serving them to children, wait until the grilled chicken has cooled. For adults, they can be served mixed with white sesame seeds or pepper.
* * *
From The Asahi Shimbun's Jinsei Reshipi (Life Recipe) column