Editor's note: In the Taste of Life series, cooking experts, chefs and others involved in the field of food introduce their special recipes intertwined with their paths in life.
* * *
Junko Ueda has come up with many dishes, such as packed box lunches for children and side dishes to send to one's parents who live away.
All her creations are rooted in her own experiences.
After striking out on her own as a cooking expert, Ueda gave birth to twin boys in her early 30s.
"Until then, I believed that 'people would eat if I served tasty dishes,' but things were trickier with kids," says Ueda, 58.
The boys had different likes and dislikes and sometimes would not even taste the food.
When her sons were around 3 years old, she began working with them in the kitchen. Their first task was tearing up the cabbage.
Instead of pushing them to learn cooking, she made it a point to "have them do what they can in small steps and in a fun way."
When they became able to use a kitchen knife and the stove, the variation in the dishes grew.
When her sons were in the sixth grade, Ueda made their favorite deep-fried chicken and sweet and sour pork with them.
"What counts is the small successful experience of feeling, 'It tasted great, and I had fun,'" she says. "Then even when they move away from cooking during their busy high school days, they can draw on the memories when they grow up and get down to cooking."
Her twins are 25 now and live separately. Each cooks for himself when he has the time.
Ueda's recipe for "meatballs simmered in curry-flavored tomato sauce" is structured in a way that children can cook them on their own.
There is even no need for a kitchen knife if frozen broccoli is used.
Since some children do not like the sticky feel of the ground meat on their fingers, the meat is kneaded in a bag. Do not worry if the meat mixture is not formed into nice balls.
To prevent the frying pan from becoming hot, the heat is turned on after the meatballs go in the pan. When rice is cooked, you will have a complete meal.
"The important thing is to keep things safe," she says. "When using fire, an adult should be there to check with them.
"A child in the late elementary grades can cook on his or her own until the end, while those in the early grades can place the meatballs in the frying pan."
Junko Ueda: Born in 1964 in Hyogo Prefecture, Ueda completed a home economics course at a two-year college. She studied Western cuisine and confectionery at the Tsuji Academy Technical College and worked as a staff at the school for about three years.
Ueda later honed her skills in Switzerland and France. Upon her return to Japan, she became a patissier before setting up for herself. She has written books including "Hitori de dekiru kodomo kicchin" (Children can work on their own in the kitchen), published by Kodansha Ltd.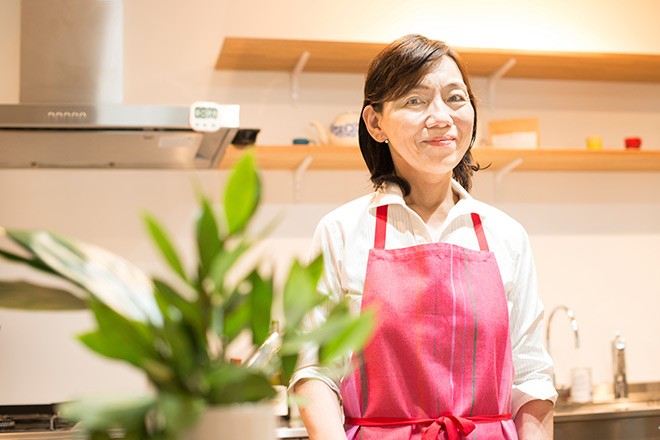 BASIC COOKING METHOD
Main Ingredients (Serves two)
200 grams mixed ground pork and beef (aibiki-niku) (lean type), 2 Tbsp each of breadcrumbs and milk, 3 Tbsp olive oil, 1 (400 grams) canned tomato (diced type), 1 tsp curry powder, 6 florets of broccoli (either boiled or frozen)
1. Add breadcrumbs and milk to plastic bag and knead until breadcrumbs turn soft. Add ground meat, two pinches salt and bit of pepper. Knead about 20 times until content is mixed.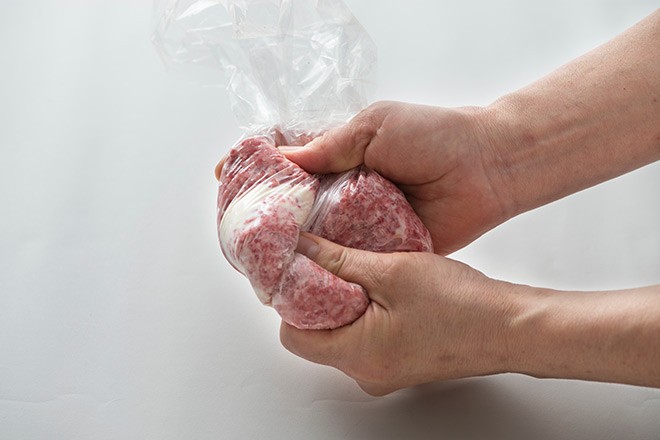 2. Pour oil in frying pan. Scoop out a bite-size meat mixture from bag with spoon. Push mixture on frying pan with another spoon. Repeat. Place pan on medium heat and cook for about 2 minutes. Turn stove off, steadily hold handle of pan and turn sides of meatballs using turner or tongs.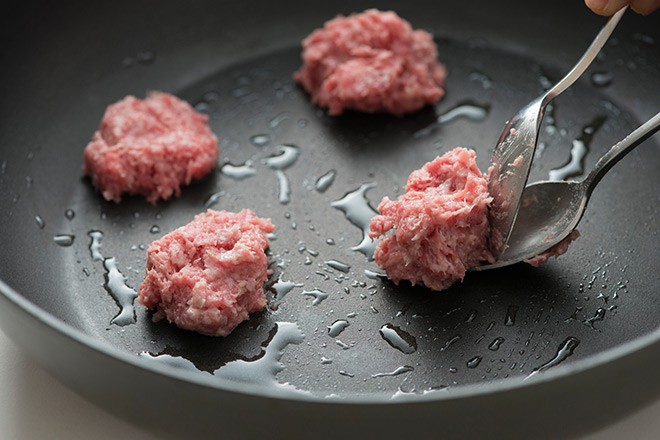 3. Add canned tomato and curry powder to pan with meatballs and place on medium heat. When pan comes to a boil, mix entire content, turn to low heat, place lid and simmer for 5 minutes. Remove lid, add broccoli, 1/3 tsp salt and bit of pepper. Turn to higher medium heat. Simmer for another 3 minutes or so while holding the handle firmly and mixing occasionally. Serve on plate.
About 500 kcal and 1.8 grams salt per portion
(Nutrient calculation by the Nutrition Clinic of Kagawa Nutrition University)
* * *
From The Asahi Shimbun's Jinsei Reshipi (Life Recipe) column