More political figures are coming forward to disclose they had dealings with the Unification Church or affiliated groups in light of the organization's sudden high profile following the slaying of former Prime Minister Shinzo Abe in Nara earlier this month.
Satoshi Ninoyu, who chairs the National Public Safety Commission, and Ishikawa Governor Hiroshi Hase held separate news conferences July 26 during which they described their association with the church, known formally as the Family Federation for World Peace and Unification.
Ninoyu, 77, a former Upper House member of the ruling Liberal Democratic Party and a former Kyoto city assembly member, revealed that he served as head of an executive committee for an event hosted by a group with ties to the church.
The commission, one of a number of politically neutral agencies affiliated with the Cabinet Office, exercises supervision over the National Police Agency and overall police administration. Ninoyu assumed the NPSC post last October.
The event in question was titled, "Peace Road 2018 in Kyoto."
"It was like a celebration of peace," Ninoyu told reporters, adding that he was "asked" to lend his name to the event "to start a movement."
"I have no further association," Ninoyu stated.
"There is an office of the Unification Church near my office in Kyoto," he added.
Church members "occasionally visit my office," he said. "I have dealings with many different people because I am a politician."
Ninoyu said he is not a member of the church.
"People were gathering, so I said a brief word," Ninoyu said as he described his involvement at the event.
ISHIKAWA GOVERNOR, TOO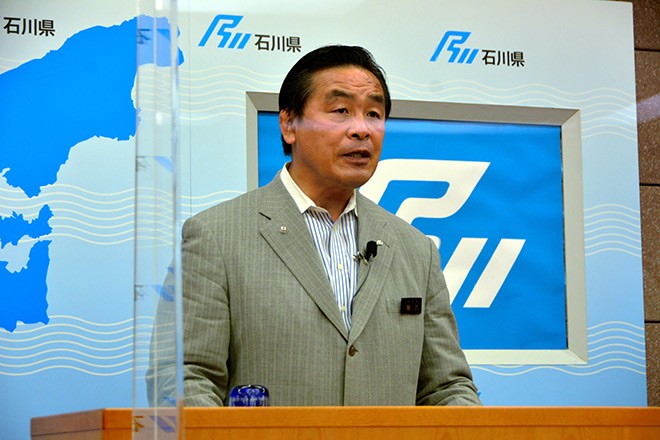 Ishikawa Governor Hiroshi Hase also disclosed that he had received support from the Unification Church in past elections.
Hase is a former LDP Diet member who served as education minister in the Abe administration from October 2015 to August 2016. He used to belong to the party's Abe faction. Hase won an Upper House seat in 1995 and served as a Lower House member from 2000 to 2021.
He said he received support "from a lot of different religious organizations," including the Unification Church, adding that he learned of this fact after he interviewed an aide who has served him since his Diet member days.
Precisely when he received the support and what it entailed remained unclear.
"I don't know because I didn't hear specifically about that" from the aide, Hase said.
But "generally speaking," he said support would include "putting up posters, creating a directory of supporters, asking to mobilize people for a gathering and holding a gathering."
Asked if he has attended any event related to the church, Hase said, "Not that I'm aware of."
Tetsuya Yamagami, the 41-year-old suspect in Abe's murder, told police he held a grudge against the Unification Church, citing difficulties he faced growing up due to massive donations made to the church by his mother.
He also said he targeted Abe because he thought the former prime minister had ties to the Unification Church.