Chiaki Matsuyama is a first-class licensed architect and also a top-notch prepper, whose home is furnished with the necessities to survive earthquakes and other natural disasters.
Matsuyama, 51, who lives in Koshigaya, Saitama Prefecture, close to Tokyo, showed off rice, water and other relief goods kept in a tool shed. Stocked foodstuffs are mainly easy-to-buy items people often consume in their daily lives, such as instant soups.
"I stockpile many items, and they are repurchased every time they are eaten or used," said Matsuyama. "I reconsidered which articles inside my household are really necessary for me, settling space-related issues for doing without the shed."
Matsuyama stated that at times she cooks meals with a portable gas stove on the wooden deck facing the yard where a rainwater tank is set up to procure water in the event of a disaster. The accumulated rainfall is normally utilized to water plants.
Tadayuki Sato, 50, who referred an Asahi Shimbun reporter to Matsuyama, explained the concept of Matsuyama's residence.
"Her lifestyle is designed in the way it would prove helpful in the event of a calamity as well," said Sato, suggesting the portable stove can also be used during an emergency, though it is usually taken advantage of simply by Matsuyama for a change.
'PHASE FREE'
Sato, head of the Phase Free Association in Tokyo, said he proposed his "phase free" idea in 2014 to provide advice for gearing up for disasters for people unfamiliar with the topic.
The concept is among many phrases and notions developed following the 2011 Great East Japan Earthquake and tsunami to protect lives from catastrophes that repeatedly strike the country.
The idea, after which Sato's association was named, is that differences in lifestyle should be eliminated during emergencies and under normal circumstances. That way, countermeasures against disasters will be beefed up at any time, or in any phase, according to Sato.
In his student days, Sato learned disaster mitigation engineering. He then visited Okushirito island, which was destroyed by a tsunami spawned by an earthquake in 1993 off southwest Hokkaido, for his research.
When Sato went to a coastal area in the Tohoku region affected by the 2011 earthquake and tsunami 18 years later, he found the region was devastated in the same manner as he saw in Hokkaido.
Given a succession of natural disasters that have caused similar damage to the nation, Sato pondered what to do. What he settled on was increasing people's awareness, as enthusiasm for disaster preparedness weakens over time.
Sato briefed participants in his lectures on the need to take pre-emptive steps against disasters as a nonprofit group head. But they were slow in swinging into action, so Sato weighed another method to heighten their ability to respond to emergencies.
The factor was efforts in the private sector.
Although government authorities and citizens are responsible primarily for disaster management, time and funds set aside for that objective are limited.
Meanwhile, private businesses are spontaneously pitching attractive energy-saving, fuel-efficient items in the eco-friendly market, helping improve the global environment. Sato felt their high motivation can likewise work toward disaster preparation.
Acting on the thought, his association in 2018 started working with companies to design and develop products and services based on the phase-free concept.
It alike certifies offerings in the market as being compatible with the notion, so that recognized articles can be displayed on its Japanese website at (https://cf.phasefree.net/product/).
"A characteristic of phase-free products is that they can conveniently be used both during normal times and emergencies," said Sato. "I would like people to choose products from the perspective of whether they will help in times of disaster and to share their awareness with others around them."
A representative example Sato cited as a phase-free offering was a paper cup whose surface is painted in brown, orange and yellow. The back of the cup shows milliliter-based water levels between the different hues, allowing the container to double as a measuring cup for processing milk powder and other foods in times of disasters.
Also among a series of phase-free items Sato referred to were a minivan inside which the driver can spend nights by folding the seats, a jacket that can serve as a pillow and a single-seat couch to turn into a bed.
"Things that are needed in usual times are needed in times of disaster as well," he said. "Having more phase-free products around yourselves will make your lives affluent and, naturally, resistant to disasters at the same time."
ANTI-DISASTER PARK IN TOKYO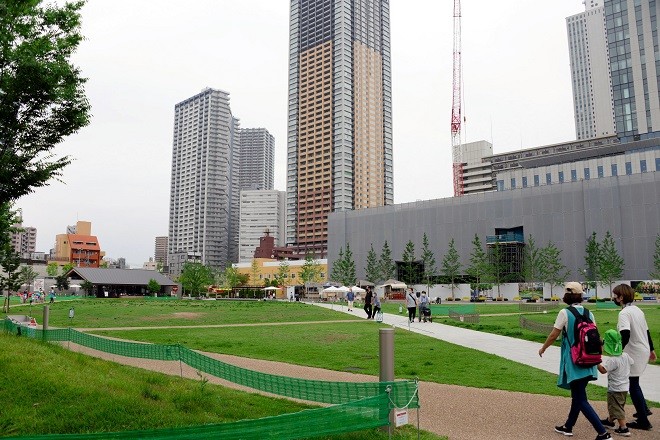 Ike Sunpark opened in 2020 at the former site of the Japan Mint in Tokyo's Toshima Ward within a 15-minute walk of Ikebukuro Station, in accordance with the concept of phase free.
The park's symbolic 6,600-square-meter grass field provides recreational space for residents, which on a recent day included a strolling couple, a running child, a man practicing the violin and a family having a bento lunch box on a mat.
Whereas the massive space is as huge as a soccer field, no large facilities are installed there.
"We have received requests from citizens, but no facilities are set up intentionally," said a ward representative in charge of the park's management.
That is because the grass field can serve as a heliport to transport injured individuals and relief goods when a natural disaster occurs.
Faucets and sockets for a cafe by the field, a curry shop and other traveling stores can supply water and electricity during emergencies.
A special restroom fitted with 15 stalls is rendered accessible not only for large events but also for disasters, because the flush toilet facility works with well water.
"The restroom is available even on non-emergency occasions, meaning no distinction is drawn between normal and unordinary times," said the ward official. "It is a phase-free one."
While Yoshino cherries, ginkgoes and other seasonal trees are planted on the park's grounds, Chinese evergreen oaks on the southeastern side boast fresh green leaves to stop any fire from spreading further from the area behind it crowded with wooden homes.
A warehouse within the park is specially designed to respond to natural disasters, storing generators, balloon-shaped lighting and tents.
Benches there can double as cooking furnaces if their seating panels are removed. No less than 100 tons of drinking water is discreetly kept in a tank below the red manhole at the edge of the grass field.
(This article was written by Hidemasa Yoshizawa and Hirotaka Kojo.)