The government is set to maintain its current selling prices for imported wheat for millers starting from October to help combat sharp surges in the cost of commodities due in part to the war in Ukraine.
This will mark the first time since October 2008 for the government to take steps to maintain prevailing prices for the grain.
Prime Minister Fumio Kishida will issue instructions Aug. 15 to keep resale prices level when the government convenes a meeting on prices of goods and wages, according to official sources.
The move comes amid concerns in government circles of a possible backlash from the public already grappling with soaring prices of a wide variety of food products, including bread and noodles, as well as fuel.
Producers of soft wheat flour have raised prices more than once since July 2021. 
The government secures wheat through planned purchases and sells it to millers and other businesses. It sets the resale price for a six-month period each year--the first one from April and the second one from October--based on the most recent purchase prices, along with other factors.
In April, the government raised the price by 17.3 percent from the preceding October-March period, making the hike the second highest resale price for wheat since the government started pegging the cost to market forces in fiscal 2007.
Kishida pledged in June to resort to measures to curb the selling price if the costs for imported grain continued to remain extremely high.
Without government intervention, resale prices for imported wheat from October could rise by around 20 percent, according to experts.
In 2008, the government contained a surge in the selling price to 10 percent, rather than the 23 percent that had been expected, with a similar step following a sharp increase in food prices around the world that year.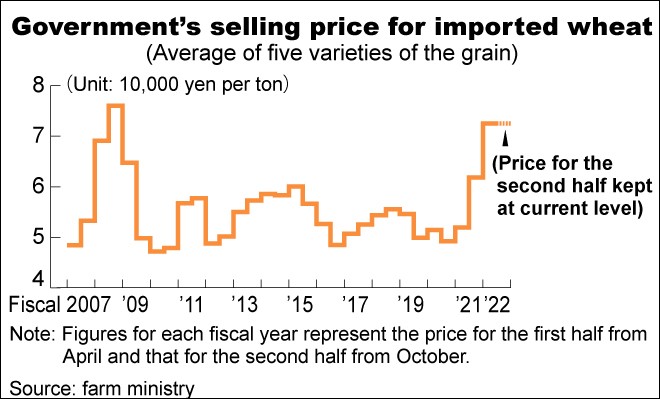 Keeping the selling price unchanged means the government will be left with reduced funds for the next purchase of the grain since it cannot count on reaping a profit from the resale between October and March.
A likely scenario will be that the government will make up for the shortfall by diverting public funds.
A survey of 105 food manufacturers in late July by Teikoku Databank Ltd. showed that prices of nearly 20,000 items will be raised by the year-end.
The dramatic surge in food prices is expected to continue for months to come as makers mull further hikes due to the depreciation of the yen, which exacerbates prevailing costs of commodities.
(This article was written by Sho Hatsumi and Kazumi Tako.)